The Covid-19 crisis is likely to encourage even more shoppers to opt for healthier choices when it comes to soft drinks so it's a great time to review your range and make sure you have the right offer for the current climate.
---
The world may have fallen to bits in recent weeks with the coronavirus pandemic wreaking unholy havoc with every aspect of life – but local retailers have nonetheless been spared (so far) from the enforced closures that have decimated the hospitality industry and the wider 'non-essential' retail industry.
This means the sector has little choice but to do the best it can and cope as well as possible with the new world order we find ourselves living and working under. Staying as well stocked as possible in vital categories like soft drinks is critical at this point, but it's also hugely likely that the current health crisis will once again focus the minds of consumers ever more keenly on health and healthier options.
The shift towards healthier, often low- or no-sugar products has been accelerated by Covid-19, but it's a trend that was well underway before we'd even heard of the term 'social distancing'.
"Some 65% of people agree that they are proactively trying to lead a healthy lifestyle [CGA, April 2019]", says Phil Sanders, Out of Home Commercial Director at Britvic. "And that has led to an increase in the value of low-calorie drinks of around 3.7% [Nielsen, Jan 2020].
"As well as a move away from high sugar products, the want for healthier alternatives has caused shoppers to cut down on alcohol or avoid it altogether. This means the soft drinks category is becoming increasingly important as a means of helping retailers to drive drinks sales and plug the gap left by lost alcohol sales.
"The latest figures reveal that around one in five Gen Z's are now teetotal [ONS, May 2019], making health less of a 'trend' and instead a generational behaviour change."
With this shift in mind, SLR looks at some of the latest healthier options available to retailers to tempt shoppers into a purchase or two.
Irn-Bru Xtra summer flavours revealed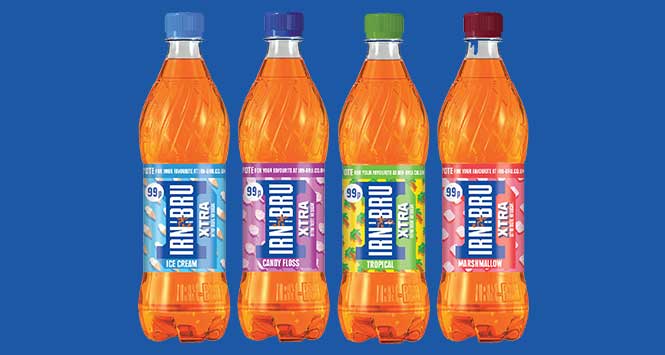 Irn-Bru fans have voted for 'Tropical' and 'Ice Cream' to become the two new limited edition Irn-Bru Xtra flavours this summer.
Almost 13,000 votes were cast in a Facebook public vote, with Tropical and Ice Cream declared winners. Both flavours will now go into production at AG Barr's factory in Cumbernauld and the new drinks will be available in Scotland from mid-May.
Facebook followers of the iconic Scottish drink were urged to get behind their favourite flavour by using emojis to vote. 5,300 people chose Tropical and 4,000 fans opted for Ice Cream to beat Candy Floss (2,400 votes) and Marshmallow (1,000 votes).
The two limited edition Xtra flavours will be available in 500ml (RRP 99p) and 1.5-ltr (RRP £1.29) bottles across Scotland.
Colourful new look for Pepsi Max flavours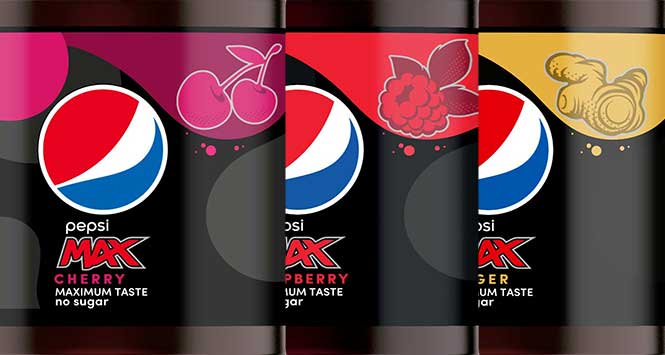 Pepsi Max is planning to invigorate the flavoured cola sector with a colourful new packaging redesign across its range: Cherry, Raspberry and Ginger. The bold new Pepsi Max rebranded packaging has been created to appeal to younger consumers with the quirky new design that brings the flavours to life, which will drive purchase intent and sales.
The Pepsi Max flavours make up 53% of the total flavoured cola segment and Cherry is the number one flavoured cola in the category [Nielsen, Jan 2020]. Pepsi Max Raspberry was also the number one soft drink launch in 2019 [RMS, Jan 2020].
The new packs are appearing now on TV and the rebrand will also have digital and in-store support. The Pepsi recycling message will also be included on the caps of Pepsi Max Raspberry, and on the back of packs for the remaining flavours, to ensure sustainability is at the front of shopper's minds.
Draw attention to low and no!
Britvic urges retailers to ensure they draw shoppers' attention to their low and no sugar soft drinks offer in-store. Here are some top tips:
Allocate a dedicated section of the chiller to this category, to highlight the healthier, low sugar and low-calorie options. This provides a distinction from traditional soft drinks and makes it easier for customers to identify the correct product for their needs.
It's also worth breaking the category down further into carbonated and still options to show customers some variety and make them aware of alternatives.
Be sure to include a range of formats that are fit for a variety of shopper missions.
For immediate refreshment, it is important to stock a broad range of single serve low- and no-sugar soft drinks, while the larger packs work well for those on a top-up visit.
Coca-Cola Energy debuts cherry variant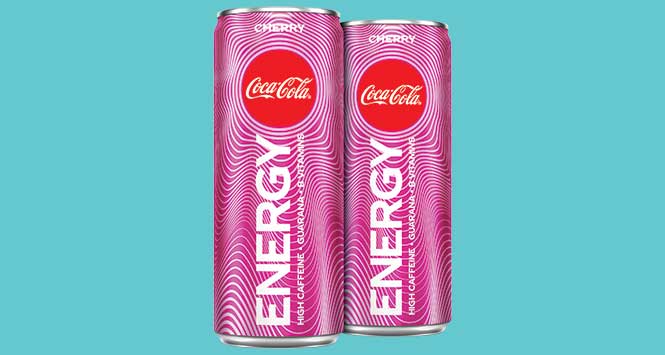 Coca-Cola European Partners (CCEP) is building on the success of the launch of Coca-Cola Energy, which clocked up almost £4m worth of sales in 2019, by unveiling a new cherry-flavoured variant to broaden the appeal of the range.
Available now, Coca-Cola Energy Cherry will help retailers to capitalise on the demand for flavour innovation in the energy sector by combining GB's most popular cola flavour with naturally derived caffeine, B vitamins and guarana extracts, but with no taurine.
Coca-Cola Energy and Coca-Cola Energy No Sugar now also have an extra Coca-Cola taste and the cans have an enhanced look and feel that draws greater distinction between the two variants. The can design of Coca-Cola Energy Cherry reflects the full range, but comes in striking pink which delivers maximum on shelf stand out.
All variants come with branded shipper trays that help deliver further stand-out in the chiller and bold new POS to highlight to shoppers that the range provides an energy kick and the unique taste of Coke.
The three-strong Coca-Cola Energy range will be supported by a multi-million-pound marketing campaign kicking off this month which includes out-of-home advertising.
Capri-Sun's new blackcurrant flavour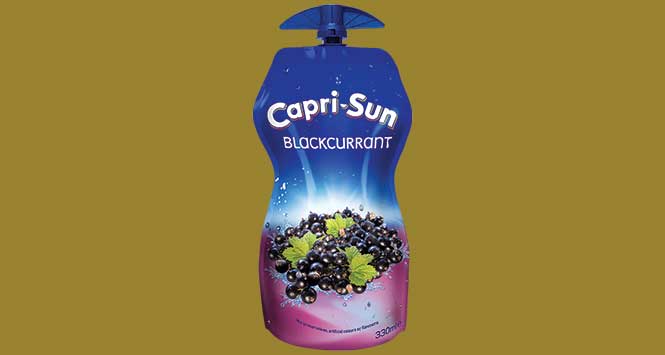 Coca-Cola European Partners (CCEP) is is expanding its juice drinks portfolio with the launch of Capri-Sun 330ml Blackcurrant which will join Capri-Sun Orange 330ml and Capri-Sun Cherry 330ml on-the-go pouches.
Available now, the new variant will help retailers make the most of the consumer demand for on-the-go blackcurrant-flavoured juice drinks which are now worth £62m.
The new variant is made from real fruit juice, contains no preservatives or artificial flavouring and is Soft Drink Tax-exempt. Ideal for on-the-go consumption, Capri-Sun Blackcurrant will be sold in 330ml pouches with easy to reseal twisty tops. The Capri-Sun 330ml range continues to be a popular choice among consumers and is in 37% value growth.
Capri-Sun 330ml Blackcurrant comes in cardboard shelf-ready-packaging that displays key product messages to shoppers. It can also be easily stacked, providing an ambient secondary display solution.
The launch of the new flavour will be supported by a wider £6m Capri-Sun marketing campaign throughout 2020. The campaign will feature above-the-line, social and digital, as well as in-store activity and highlight that the entire Capri-Sun range contains nothing artificial, as well as offering consumers a choice of low and no added sugar products.
Fruit Shoot education campaign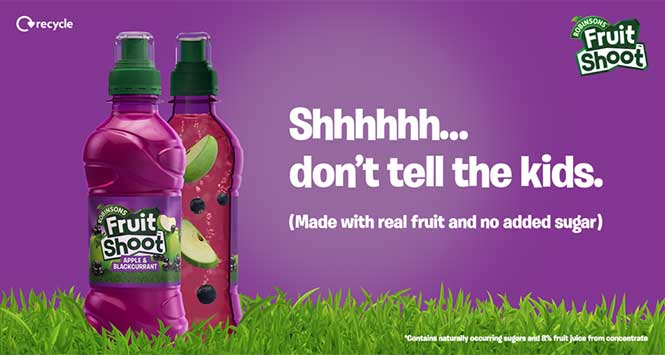 Robinsons Fruit Shoot has launched a £1m media campaign to educate parents and health conscious consumers alike on the positive credentials the product boasts. The campaign tackles misconceptions about of the quantity of sugar and artificial ingredients in children's soft drinks and reveals the truth about Robinsons Fruit Shoot.
The eye-catching creative will be visible across traditional channels including national out-of-home, digital and cinema advertising in addition to a targeted radio campaign. The activity will be upweighted during the second largest kids' drinks trading period – the Easter school holidays – when the target audience will most likely engage with the messaging.
With no added sugar and containing real fruit, Fruit Shoot believes that clearer communication around these statements will positively affect intent to purchase and the brand perception.
Fruit Shoot continues to see growth within the market, seeing a +2.9% increase in sales in the last 12 weeks, vs. a -3.1% decline across the category [Nielsen, Jan 2020]. The brand hopes the campaign will positively influence shoppers and propel the growth of the category as a whole.
Ranging and merchandising
Some advice from Phil Sanders, Out-Of-Home Commercial Director at Britvic:
Offer 'permissible' options – Latest figures reveal that around one in five Gen Z's are now teetotal , making health less of a "trend" and instead a generational behaviour change. With 65% of people agreeing that they are proactively trying to lead a healthy lifestyle , it has led to an increase in the value of low-calorie drinks (+3.7% ). It's therefore essential that permissible soft drink options are available to support customers looking to lead heathier lives. Offering low and no sugar options like Tango sugar free, 7UP Free and Pepsi MAX® will allow customers to enjoy their favourite drinks without compromising on health or taste.
Showcase top products – Best sellers should be given extra shelf and chiller space. Consider double facing popular products and use additional POS to direct shoppers to their location in store. Include an additional fixture close to the till to capitalise on last minute impulse purchases.
Pair with food – Linking your soft drinks range with your food to go offering is a great way to encourage cross-category sales. Customers are increasingly looking for food and drink on the go, so make the process as easy as possible for busy shoppers. Meal deals or drink and snack combos are ideal for customers looking for a quick, on the go solution.
Robinsons Fruit Creations – Blackberry and Blueberry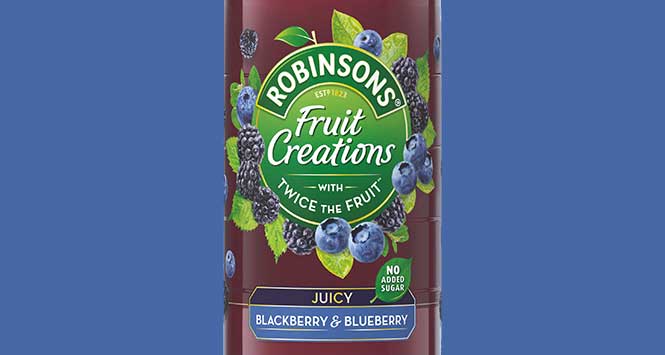 Robinsons, the UK's number one squash brand [Nielsen, Dec 2019], has introduced a blast of berry flavour to its Fruit Creations range – Blackberry and Blueberry. The new flavour delivers an intense and juicy burst of tangy blackberry, paired with rich blueberry, providing a premium taste designed to suit adult taste buds. It also delivers on people's desire for healthier products, containing no added sugar and twice the fruit of the core range, making it a more permissible choice.
7UP Free extends its range with new cherry flavour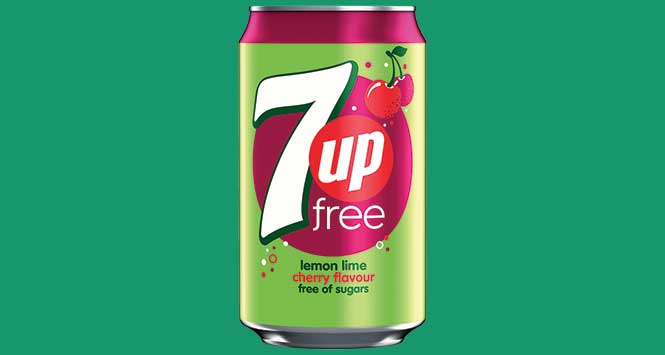 7UP, the UK's number one lemon and lime brand in impulse [Nielsen, Jan 2020], is boosting its sugar free range with the launch of a new cherry flavour, available now. 7UP Free is driving the growth of the lemon and lime soft drinks segment, growing at +26% [Nielsen, Jan 2020].
As cherry is one of the biggest flavours in carbonated soft drinks, worth £173m and growing at +4.4% [Nielsen, Jan 2020], the launch of the new flavour directly supports consumer needs, offering lemon & lime with a tasty twist of cherry.
The launch will be backed with significant investment across digital, out-of-home, media partnerships and a brand new 7UP Free TV ad from June 2020.