Energy drinks remains a huge sub-category in soft drinks and it's vital retailers work it as hard as possible this summer to maximise sales and profits.
---
As all local retailers know by now, energy is big. It's beyond big, accounting for over half of all total soft drink sales (depending on which data you trust), and it deserves both the space to breathe in the chiller and the attention from retailers that these sales merit.
But over and above ensuring energy has an adequate share of space in-store, what should retailers be looking to do this summer to leverage every penny of sales and profit out of this vital category?
Low sugar
"Ongoing trends, such as the demand for lower-sugar drinks, will likely continue throughout the category irrespective of the radical changes brought on by coronavirus," says Matt Gouldsmith, Channel Director, Wholesale, Suntory Beverage & Food GB&I.
"We have seen a long-term trend towards drinks with lower sugar as consumers are becoming more aware of their health and wellbeing. With 45.8% of soft drinks shoppers agreeing they "try to lead a healthy lifestyle" [IRI, Nov 2020], retailers should ensure their chillers are stocked up on lower-sugar soft drinks such as Ribena Light and Lucozade Zero – now worth a combined £43.7m [IRI, Mar 2021] to capitalise on the ongoing trend towards lower-sugar choices. In fact, this segment of the market is extremely important in contributing to the growth of take-home soft drinks, with Diet and Zero drinks growing 19.3% [Kantar, Sep 2020] and outperforming the total drink-later market."
Red Bull also highlights the continually important role played by low and no sugar lines in the energy category.
A spokesperson said: "As we head into summer 2021 and beyond, Red Bull will continue to offer choice to shoppers as the range continues to evolve, meeting new and emerging consumer demands. The Red Bull portfolio has been enhanced to include a sugar free variant of almost every pack in the range. This has clearly resounded with shoppers as in the latest six months, Red Bull sold 33.3% more sugar free volume through multipacks – with these variants also growing penetration by 31.9%."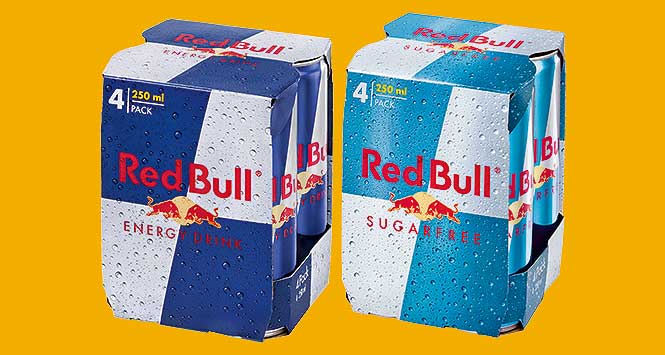 Multipacks
This growth in sales of Red Bull multipacks is reflected throughout the category with multipacks growing their share of the market under lockdown. Red Bull has helped retailers cash in on this growth, and the growth of sugar-free lines with the launch of a Red Bull Zero 250ml four-pack.
"Bringing a reformulated Red Bull Zero back to the market last year has driven brand growth and driven engagement with new shoppers," says the spokesperson. "Selling more than 1.4m cans since its 2020 re-launch, Red Bull Zero is one of the biggest NPD contributors of growth to the overall Sports & Energy category. Due to strong rate of sale, trade and shopper demand for this pack, we have launched a Red Bull Zero 250ml four-pack to meet these emerging needs for bigger packs for sharing, storing and enjoying."
Value
Value appears to be more important to shoppers than ever over the last year and that trend looks set to continue, as Suntory's Gouldsmith explains: "We understand how important it is to offer competitively priced drinks for retailers who want to demonstrate value to their shoppers. To help retailers cater for shoppers drinking more soft drinks at home, we have reduced the on-pack price of some of our most popular drink-later products, including Lucozade Energy 1L format drinks. Reduced to £1.50, these drinks will tap into the continued popularity of price-marked packs, and the growth in sales of drink-later formats."
The reduced PMPs across the Lucozade Energy drink-later range offer a lower everyday price to consumers at a time when many shoppers are looking for increased value from their regular purchases.
"Now is the perfect time for retailers to capitalise on the popularity of the drink later format with a new reduced price-marked pack," says Gouldsmith.
"To help retailers make the right choice on what to stock we offer the option of price-marked or non-price-marked packs across our range of soft drinks, including leading-brands Lucozade Energy, Lucozade Revive and Lucozade Sport."
Refresh
One major development to be aware of is the recent relaunch of the Rockstar brand, the first significant move since Britvic took over the distribution of the brand in the UK from AG Barr last year.
The relaunch featured a bold new pack design, reformulation of its original flavour and a multipack to capitalise on the increasing demand for take-home formats.
Acquired by PepsiCo last year, Rockstar's refresh aims to recruit new shoppers into the energy drinks market by making the brand more accessible to a wider audience through a bold and more premium design. The activity will be supported with digital, in-store and out-of-home activations.
Already a well-known and recognised brand in the UK and the third biggest energy drink in the world, Rockstar is also reformulating its Original flavour to further improve taste and will include the additional benefit of Vitamin C.
The brand's pack redesign includes a bolder logo and sports a more premium design with strong flavour messaging, positioning it as the 'go-to' energy drink.
Raw power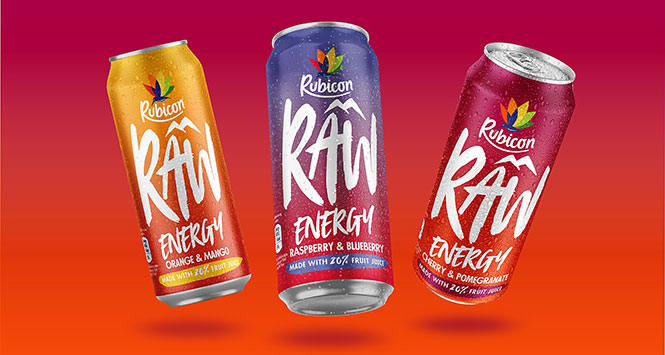 While it was launched earlier this year, the summer presents the perfect opportunity for retailers to cash in on Barr Soft Drink's newest energy drink, Rubicon Raw.
An innovation built on a foundation of consumer insight, the company says Rubicon Raw offers something truly new and different to today's energy drinks market, featuring 20% real fruit juice.
"We launched Rubicon Raw to meet the needs of today's developing energy consumers," says Adrian Troy, Marketing Director at Barr Soft Drinks.
"We have invested heavily throughout the development of Rubicon Raw to understand the energy consumer better, and what's relevant in their lives today. They adopted the category as young adults, but many have matured and evolved as consumers since then, and they're calling out for something new.
"The average age of an energy drinker is older than one might think at 31, and their needs are moving on. They are life maximisers, people who want to get the most out of life. Energy drinks fuel that lifestyle."
Troy adds that flavour remains really important to energy drinkers and that they are looking for "more than just functionality", He explains: "Eight of the fastest growing Energy SKUs are flavoured, four of which are juice based [IRI, Oct 2020]. The number one reason consumers like Rubicon Raw is that it's made with 20% real fruit juice, which together with caffeine from green coffee beans and B-vitamins provides a big energy hit that is full of flavour."
The Rubicon Raw range comprises three variants – Raspberry & Blueberry, Orange & Mango and Cherry & Pomegranate, with natural flavours and no artificial colours.
The launch is being supported by a £1.5 m consumer, social and shopper marketing campaign designed to raise awareness and encourage trial.
In line with Barr Soft Drink's commitment to environmental sustainability, the Rubicon Raw outer case will be wrapped in 100% recycled film, which has less than half the carbon footprint of its virgin plastic equivalent.
The levy-free 500ml Rubicon Raw range is available in plain pack (RSP £1.29) and a £1.29 PMP with a range of in-store and in-depot POS to signpost the category and engage shoppers at the fixture.
Ranging and merchandising
Suntory recently worked with independent retailer Umesh Patel of UP1 News in Silvertown in East London to find out how small changes can help to grow soft drinks sales this summer and all year round:
Block your soft drinks by category.
It's important to group the same types of drinks together. After putting all flavoured carbs together in one block in the chiller, sales in this category grew 7.1%. This will also help shoppers find what they want more easily.
Within each category, arrange by format.
Range formats within each category together so they flow smoothly. Putting colas together, for example, and then segmenting this section further into cans and formats, will improve the 'shopability' of the category by making it easier to find the right format.
Block energy by category and highlight your take-home offer.
Energy and sports drinks account for 30% [IRI, Nov 2020] of total soft drinks sales in convenience, so it's an important segment of any retailer's chiller, especially in the summer, with drinks satisfying different shopper needs. By blocking sports and energy by need state – starting with stimulants, flowing into sports, then energy and finally natural energy, customers will be able to easily find the right drink for the right occasion.
Flavour
As Tory highlights above, flavour remains a key driver in the category. Shoppers want stimulation and energy, but they also want products to taste great. Having a choice of flavours allows retailers to ensure they have something to cater for most of their shoppers' tastes.
"Flavours is a strong area of growth for the soft drink category," says Gouldsmith. "The Lucozade Energy range has already contributed a significant £60.7m [IRI, Nov 2020] worth of sales to the energy category, showing just how important it is for retailers to offer a diverse selection for shoppers to choose from this summer.
"Last year, Lucozade Energy introduced a cool new addition to its category-leading range – Lucozade Energy Citrus Chill. The lemon & lime flavour is perfectly refreshing for the summer months and is available in 380ml PMP and standard packs."
NPD
Some 72% of the energy sector's growth last year has come from new products [Nielsen, Sep 2020], and more than half of that's been down to the Monster brand.
Eager to maintain momentum, the brand came flying out of the blocks earlier this year with three new product launches. Monster Mule is an energy twist on the iconic Moscow Mule, and the first ginger-flavoured energy drink in Great Britain.
Monster Ultra Fiesta blends mango flavour with the Monster energy blend, delivering an energy boost with no calories or sugar and Monster Juiced Monarch brings together a mix of peach and nectarine using real fruit juice for enhanced taste.
Lucozade has added a twist to retailers' shelves with the launch of Lucozade Zero Tropical. Available in 500ml bottles and 4x380ml multipacks, Lucozade Zero Tropical is the Lucozade brand's first ever flavour exclusive to the Lucozade Zero range.
Single can
While much of the excitement in the energy category is around multipacks, Red Bull is encouraging retailers not to lose sight of the fact that single cans are still the bedrock of the category.
"Understanding the formats shoppers want most has always been central to Red Bull," says a spokesperson. "Red Bull Energy Drink 250ml is not only our most familiar and best-selling SKU but it's also the single most valuable soft drink in the UK."
Monster's top tips for supercharged sales

Stay cool
Shoppers are more likely to buy an energy drink for immediate consumption if it's chilled. Make sure they have easy access to cold cans.
Get your range right
It's important to stock products in all the main energy segments. Using sales data is a good way to identify which lines can be removed to make space for new launches.
Keep it clear
Help shoppers navigate the fixture by grouping brands within each sub-sector. If you can, signpost your Traditional, Zero Sugar, Flavoured and Performance Energy offerings.
Allocate secondary space
Energy drinks are big drivers of impulse sales and need to be visible throughout your store. Branded coolers and display units are a great way to maximise standout.
Get behind promotions
Bring the category to life by offering exciting promotions that tap into your shoppers' interests. Who doesn't want to win a money-can't-buy Monster prize?
Know your shoppers
Price Marked Packs can reassure shoppers that they can get the products they want, at an affordable price.