Barr Soft Drinks is launching a new range of Pwr-Bru energy drinks that it believes will drive growth in the big can energy category. SLR visited Commercial Director Jonathan Kemp in Cumbernauld to find out more.
By Antony Begley
---
When you are the custodian of Scotland's favourite brand, you have to tread very carefully when it comes to new product development – and that's something Barr Soft Drinks Commercial Director Jonathan Kemp understands better than most.
Irn-Bru is beyond iconic in Scotland, as every local retailer knows. It enjoys a following like no other food or drink product and its fans are loyal to an astonishing extent.
So, when you decide to launch a new Irn-Bru product there's a lot to take into consideration, which goes a long way to explaining why Irn-Bru has never strayed far from its core DNA. There's been Fiery, there's been Xtra, there's even been Energy – but every single one of those products was instantly identifiable as Irn-Bru, with that unique and unmistakable flavour profile.
At the tail end of last month however, Kemp and his team took the very bold step of introducing a new brand and a new range of products that, unprecedentedly, doesn't taste like Irn-Bru.
That new brand is Pwr-Bru and Kemp describes it plainly as "without a doubt, the biggest launch of the year for the energy market".
And while I said above that the most remarkable thing about this brand extension of-a-kind is that it doesn't actually taste like Irn-Bru, that's not strictly speaking true: one of the four new variants of Pwr-Bru is badged as 'Original' and the flavour will be very familiar indeed to fans of Irn-Bru Energy.
Taste test
The other three lines in the 500ml big can range do however have very different flavour profiles from Scotland's other national drink. From a very quick tasting session at Barr's HQ in Cumbernauld, I can confirm that the Cherry is tart and refreshing, the Berry is sweet and smooth, and the Tropical is fruity and, well, tropical.
Very interestingly, though, all four variants do actually include that famous Irn-Bru essence. It's not immediately obvious when you taste the fruity variants, but it comes through loud and clear at the end.
"The launch of Pwr-Bru represents the first time we have anything like this with the Irn-Bru brand, but all four products have Irn-Bru's DNA running through them," Kemp says.
So what exactly has Barr Soft Drinks done here? Unlike all of the previous products that carried the name of 'Irn-Bru,' this one can't be described simply as a new variant.
"Effectively, we've created a new brand called Pwr-Bru which isn't just a variant of Irn-Bru, it's a completely new brand in its own right," volunteers Kemp.
You won't, for instance, find the words 'Irn-Bru' written prominently on the can – although it's pretty difficult to miss the fact that this new product has Irn-Bru blood in it.
"It's a new brand," comments Kemp, "and it's a standalone brand but we want consumers to instantly understand that this is a product that shares its DNA with Irn-Bru. That's why we've used the famous girder on the front of the pack and we've used the instantly recognisable Irn-Bru lettering on-pack too."
Pwr-Bru is launching in Scotland only, although Kemp doesn't rule out a roll-out south of the border down the line, and is available in big 500ml cans in both plain pack and price-marked packs (PMP). The plain pack carries an RSP of £1.40 while the PMP is £1.19 putting the range at a considerably lower price point than those of its main competitors. The new lines are non-HFSS and levy-free.
Autumn launch
And if you're wondering why Kemp has chosen to launch now as autumn descends, the answer is, like Bru, just three letters long: "DRS."
"We've been working on Pwr-Bru for over a year, and we had planned to launch it in 2024 because 2023 was set to have enough challenges as we prepared for the launch of DRS," he explains. "When DRS was postponed, we decided to bring the launch of Pwr-Bru forward – which has turned out to be a very positive choice both for us and for retailers because the last couple of months haven't been great for the soft drinks category and we believe Pwr-Bru will help bring a much-needed boost for retailers across Scotland."
Barr Soft Drinks already has a fairly extensive portfolio of energy drinks with Irn-Bru Energy, Rubicon Raw and Boost – which it bought in 2022 – but Pwr-Bru offers something different, something aimed not at Irn-Bru fans but at the wider population of consumers who regularly buy energy drinks.
The Energy market in Scotland is a fast-growing sector and it delivers one-third of total soft drinks category growth [Circana, May 2023]. Interestingly, though, only 25% of shoppers currently buy energy brands – so there still appears to be huge growth potential for retailers [Kantar, May 2023].
"Irn-Bru has already delivered growth within the energy market with Irn-Bru Energy, for example, delivering £8.5m of category growth according to Circana data to May this year," says Kemp. "The is brand is seen by consumers as having a natural fit with the category, but research highlighted that there is the potential for something bigger and bolder. They wanted us to go one step further with flavour and appearance and deliver something new in energy that looks and acts differently to the usual brands available. Combining the distinctive personality of Irn-Bru with the secret flavour essence and a bold design, Pwr-Bru will bring something truly unique to the category. We believe Pwr-Bru is the brand to unlock incremental growth."
Top scorer
While there are a lot of valid reasons for being sceptical about 'intention to purchase' data, the consumer testing found that 98% of big can energy drinkers said they would buy Pwr-Bru – "the highest score we've ever had for any product," notes Kemp. Make of that what you will.
The launch is being backed by a £3m investment targeting 18-24s, the next generation of energy drinkers. Unsurprisingly, there is a huge focus on social media and brand influencers as well as sampling and outdoor posters.
"Social media is massive these days," says Kemp. "When we launched a TikTok campaign around the launch of Irn-Bru Tropical and Irn-Bru Ice Cream, I was doing a presentation to my Board. When I walked into the room it already had 60,000 views. A half hour later when I'd finished my presentation, it was up to 500,000 views. It ended up at about 5.2 million views. The power of social media can be quite scary sometimes."
Pwr-Bru marketing kicked off last month with a TikTok campaign encouraging consumers to find hidden QR codes dotted around public places in Scotland. Scan the code, win a pack of all four Pwr-Bru variants. A range of POS is also available to retailers.
"Because of the way we work, Scotland's independent retailers will get their hands on Pwr-Bru before the multiples, so it'll be a great chance to make some noise and drive sales growth," concludes Kemp.
What you need to know…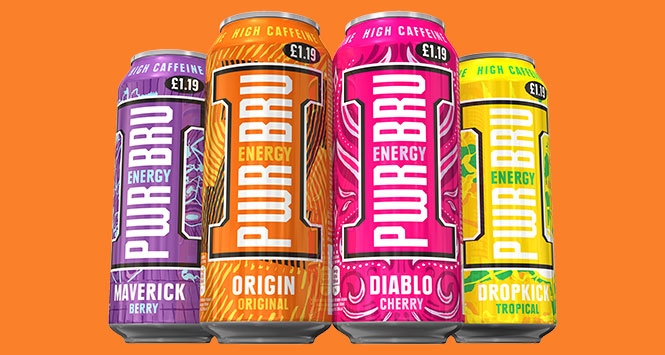 BRAND: Pwr-Bru
AVAILABLE: Now – and only in Scotland.
FORMAT:  500ml cans; plain and PMP
PRICING:   £1.40 RSP (plain pack) or £1.19 PMP
FLAVOURS: Original, Cherry, Berry and Tropical
CASE SIZE: 12 x 500ml