The 'tagging' functionality of PayPoint One EPoS, highlighted in last month's issue, is a potential game-changer for local retailers. Here we examine how it works in practice in a real store and how easy and quick it is to unlock valuable insight to grow sales, footfall and profits.
---
If you've been following this series of articles, you'll be familiar by now with the massive potential of the deceptively simple tagging functionality that's built into PayPoint One. The market-leading all-in-one retail services platform gives retailers access to all of the data, insight and functionality they need to manage their store from wherever they are in the world.
When combined with the free PayPoint One app, available on both Android and iOS, the solution effectively puts 'your store in your pocket'.
Let's get tagging!
Tagging, as regular readers will recall, simply allows retailers to quickly and easily add 'tags' to any product or group of products in their store. The power of that functionality is not, however, immediately obvious, as Costcutter Gateshead retailer Sajid Nazit admits: "I've known about the tagging functionality since I first starting using PayPoint One but I never really realised the whole world of opportunity it opens up for me."
It was only when Sajid was encouraged to start testing and trialling the tagging functionality that the real benefits became apparent – and quickly. "It took me a little while to understand the 'point' of tagging, to be honest," says Sajid. "But after trialling the idea at a basic level – by tagging all the products on a promotional end – that I quickly realised that I was unlocking a really deep, powerful understanding of my store in a way that I've never had before."
With that simple trial underway, Sajid quickly became hooked and is now extremely enthusiastic about discovering more ways that tagging can benefit his store. He comments: "I've already had a few ideas about how I could use it to answer some questions that I've long wanted to know the answer to but have never found a way of answering. It's an exciting prospect and I genuinely think it could help me transform my business."
Start small
Where to start? Well, one of the quickest ways to reveal the power of tagging is simply to tag all the products on a promotional aisle-end and that's exactly what Sajid did.
"We chose a simple promotional end and added a tag – 'PromoEnd' – to every product," he says. "The process took about five minutes max and I did it with my phone while standing in front of the fixture. It was that simple."
With that simple process complete, Sajid can now run a range of reports that give him insights he would have found very hard to unearth previously.
"With the tags in place," he explains, "I can now run a report in a few seconds that tells me what my total sales are from that fixture, for instance. Or I can run a report by cash profit or by rate of sale. I can also run reports that show me how each individual product on the fixture is performing, all in a matter of seconds. That insight is just mind-blowing when you start thinking about it. For the first time I can see the impact that my promotions have on the overall performance of the store, broken down by whichever metric I choose."
The implications are far reaching and the functionality could have a major impact on how Sajid manages his promotions moving forward, as he comments: "Previously we just ordered promotional lines we thought would work, we stuck them on the shelf and we occasionally ran some reports on individual categories or products – but the insight didn't lead to us changing our future actions.
"Now that we can clearly and quickly see how the fixture is performing and how individual products on the fixture are performing, we're starting to see where we need to make changes. That might mean being more careful about which products to choose in future or it might mean allocating space to certain products differently, for example. But with tagging we're learning every day and the insight we're gaining is helping us make better decisions every day."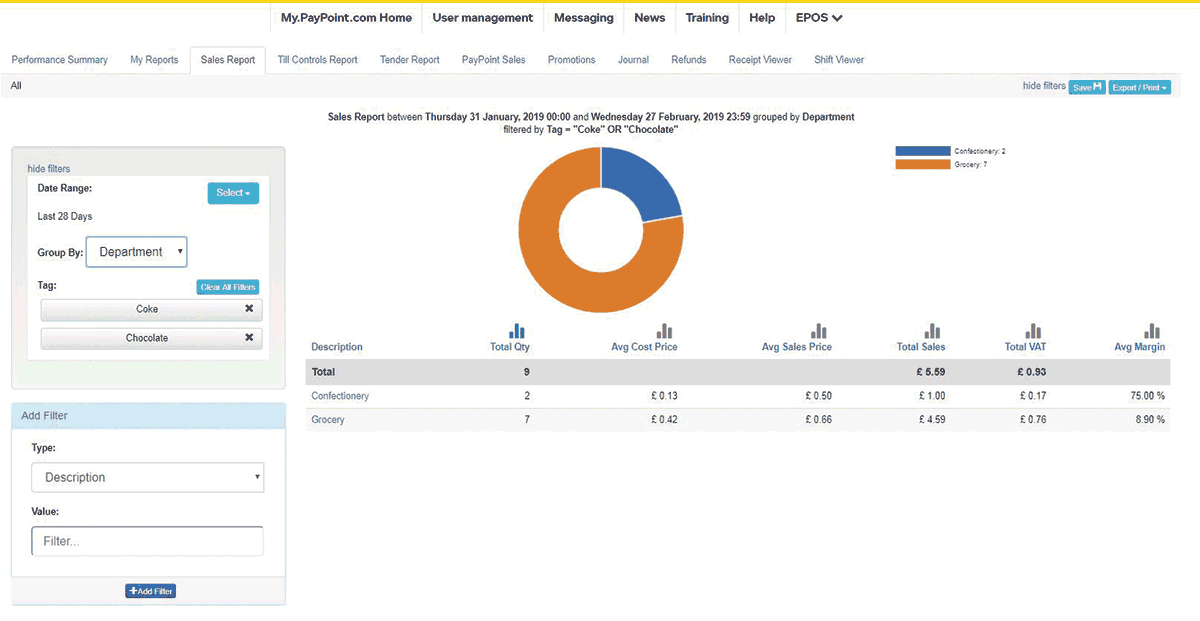 Move it up a gear
It didn't take long for Sajid to understand the potential value in tagging more of his store and, ultimately, the entire store.
"After doing the trial on the promotional end, I quickly realised that if we had to tag much more of the store we could get even more high quality insight," he says. "So we moved on and decided to tag a couple more fixtures, just to see what happened. We chose crisps and snacks and the spirits section behind the till. Again, it took maybe half an hour in total to tag every product but we were instantly able to start running reports that told us how each fixture was performing and how every product on those fixtures was performing.
"It's still very early days as we've only being doing it for a few weeks but we've already learned some surprising things about the store. It has encouraged us to take a fresh look at every category in-store and examine the range in a lot more detail, something that would have been very difficult before."
The future?
"The logical conclusion is that we tag every fixture in the store," accepts Sajid. "That might take a little time but I think if a few of us did it we could possibly do the whole store in a day or two and that would be it done. After that, we could run reports for the entire store fixture-by-fixture, product-by-product. The insight we get from that is exciting because it would let us gradually but continuously improve the entire store, removing slower selling lines, adding space for better selling lines and maybe even moving some fixtures around the store to see the impact on the performance of the fixture and of the store overall."
One of the fundamental beauties of tagging is that it makes it very simple to run reports that would take literally hours to run using a traditional EPoS system with no tagging facility. Over a period of time tagging allows you to gain the sort of insight into your store that has never before been possible.
"The more you use the tagging functionality the more ideas you come up with for how you can use it even more efficiently and effectively," concludes Sajid. "I've been thinking about new tags we could introduce – 'NPD', 'BBQ', Own Label' – and I've been thinking about how we could run reports with multiple tags – 'promotion' and 'NPD' or 'spirits' and 'soft drinks', for instance, that would start to tell us a lot more about how our shoppers spend across categories.
"The power of tagging really is limited only by your imagination, creativity and experience as a retailer."
If you are interested in finding out more about PayPoint One, call 01707 537 014.
---
This is the fifth in a series of six articles: