As our six-issue series of articles working with PayPoint reaches its conclusion, we recap the key features of the PayPoint One EPoS system and how it is helping to transform over 13,000 retail businesses across the UK.
---
Over the last six months we have been working closely with PayPoint to help retailers leverage the power of their EPoS system, something that has become mission critical in today's complex convenience retailing environment.
The series of articles that resulted from the collaboration between PayPoint and SLR delivered a huge amount of practical, hands-on advice for retailers on how to make more of their EPoS system.
PayPoint Group Marketing Director Steve O'Neill commented: "Our goal with this series of advice-led articles was to help our retail partners reduce costs, save time and increase profits. Implementing a cutting-edge EPoS solution like PayPoint One can deliver instant benefits for retailers that they will see in the till and on their bottom line immediately and all with no upfront outlay.
"We have tackled a whole range of topics where PayPoint One can help deliver invaluable business insights that will help retailers make better-informed decisions in key areas like ranging, pricing, stock management and promotions management.
"We have also worked with some of the 13,000 retailers who use PayPoint One to find out how they have used the system to reduce costs, save time and increase profits."
So it's time for a recap on all that we've learned…
PayPoint One – Overview
Launched in 2016, PayPoint One is the fastest-growing EPoS platform in the UK convenience sector with more than 13,000 retailers now using it to help them save time, get valuable business insights and grow profitability.
PayPoint One is an all-in-one retail services platform that delivers the full benefit of advanced cloud-based EPoS technology, contactless card payments and PayPoint services, such as bill payments and Collect+. The 13,000 milestone means well over half of PayPoint's independent retailers have now converted to the new platform. PayPoint's legacy yellow terminal will be retired later this year.
PayPoint One – the app
Using the dedicated PayPoint One app, available on both Apple and Android platforms, makes running your store easier and quicker than ever before from anywhere in the world with instant access to a whole range of great functionality at your fingertips.
The app enables retailers to have their 'store in their pocket', allowing them to save time, get valuable business insights and grow profitability. Using the app, retailers can change prices and promotions instantly, control stock from anywhere and see sales in real time.
PayPoint One – the benefits
Depending upon the package chosen by retailers [see below], PayPoint One delivers some massively powerful benefits that help retailers improve their store's performance and enhance their all-important bottom line.
Simple EPoS – scan products and take integrated card payments to provide a fast and efficient service at your counter.
Easy setup – access to an online product file of over 100,000 SKUs, simply price your products as you scan, set up promotions with a step by step wizard and print shelf-edge labels direct from your terminal in-store or using the dedicated PayPoint One app.
Real time reporting – see sales and profit as they happen with the PayPoint One mobile app and website dashboards.
Fully integrated services – bill payments and card services on board. One basket, one payment.
Manage your newspapers and magazines – PaperRound integration.
Flexible product pricing – maintain pricing, promotions and price-marking across a range or category.
Advanced reporting and analytics – your data your way, with a unique approach to reporting: simply tag, group and filter sales to provide you with the most relevant data.
Real time stock/inventory management – reduce admin to track sales, orders and deliveries allowing you to see and act on your stock holding in real time – and place orders and manage deliveries through the app.
Multiple supplier integrations – set up and connect to multiple suppliers to receive price files and promotions unique to each wholesaler, simplify your ordering with one click submission and goods in.
PayPoint One – tagging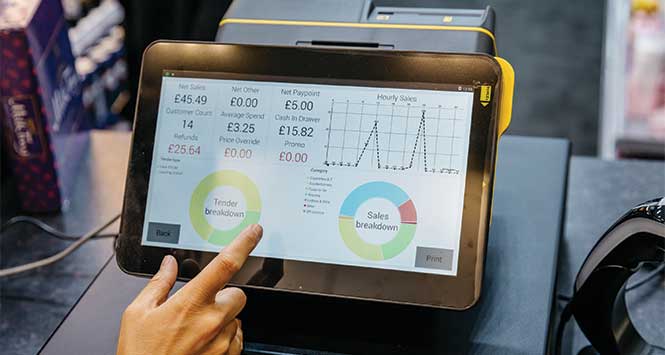 PayPoint One's 'tagging' functionality is exceptionally simple yet massively powerful, making it worth highlighting again here. Tagging allows retailers to quickly and easily add 'tags' to any product or group of products in their store. By tagging specific bays, aisles or even the entire store, retailers can quickly and efficiently generate hugely valuable insights that will help them run more profitable businesses.
For example, tagging all the products on a promotional aisle-end allows retailers to then instantly run reports on the performance of that bay in a way that they would find difficult and time-consuming otherwise. Similarly, they could tag any bay they are particularly interested in, with the logical conclusion being to tag every bay in-store which would enable them to run detailed reports at the click of a mouse or tap of a smartphone screen.
The reports generated can also be broken down whichever way you like: by cash profit, by sales volume, by sales value, by rate of sale. You choose.
PayPoint One – the options
PayPoint One is available in three different packages catering for all EPoS users from the novice trying EPoS for the first time to the experienced user looking for one of the most sophisticated solutions available on the market.
Pro Package
£30.75 per week
The Pro package allows users to take their business to the next level with PayPoint's most comprehensive package yet. A high quality, feature-rich EPoS including bill payments and integrated contactless card payments as well as symbol supplier links.
Real time business management, anywhere, with cloud back office access on any device to help you stay in control of your business.
Core Package
£15.38 per week for retailers upgrading an existing site, £20.50 per week for new customers
The Core package provides a cost-effective EPoS solution suitable for every convenience store. The package includes news management functionality, a free mobile app and more.
Base Package
£10.25 per week
Available exclusively to all existing retailers upgrading from the original PayPoint yellow terminal, this entry-level package is the easiest way to trial PayPoint One and gain many of the benefits of the fastest growing EPoS system in the UK.
If you are interested in finding out more about PayPoint One, call 01707 537 014.
---
This is the sixth in a series of six articles:
Paypoint One: the all-in-one retail platform