The energy drinks category is evolving in line with new shopper needs.
By Gaelle Walker
---
Fast becoming the superheroes of the soft drinks fixture, Sports and Energy drinks are not just helping to the fuel the minds and bodies of Scottish shoppers, but also store sales too.
In fact, according to hot-off-the-press findings from Britvic's latest Soft Drinks Review, energy drinks became "the fastest growing and biggest category in convenience" in 2021, with sales growing by 21% and increasing in value by £116m, as shopper demand for 'pick-me-ups' increased.
The Red Bull Brand in particular has racked-up significant gains in the past year, growing by £85.6m in the 12 months to February 2022 vs the same period a year before – driven by shoppers' need for a "more physical energy than ever," along with a number of key new requirements, namely: enjoyment, practicality and health.
As such, within Sports and Energy, functional products and stimulants were the biggest winners in 2021, as Chris Newman, Head of Category Management for Convenience and Impulse at Britvic, explains: "Stimulants energy was one of the real winners in 2021.
"This category also represents a strong trade-up opportunity for the convenience channel, with approximately two times higher average price per litre than the soft drinks average.
"Stimulant brands are taking advantage of this opportunity by providing more choice and flavours to consumers."
Rev-up your range
Merchandising advice from Suntory Beverage & Food GB&I
Make the chiller easy to navigate by ranging soft drinks together by category.
Group similar drinks together, for example by having Stimulation, Energy, and Sport sections so these can be shopped more clearly by the customer.
Give stimulation drinks more prominence.
Low-price point stimulation drinks are a big seller, so keep these near higher-price point stimulation drinks to range together and give the whole range more importance. The stimulation category is growing by 22%, so make sure to stock up on drinks such as Lucozade Alert to take advantage of this trend.
Incorporate more price-marked packs into the range.
Price-marked packs tend to be more popular in suburban areas than standard packs, so retailers in these areas should make sure to incorporate more PMPs in-store to cater for this and drive sales.
In this spirit of offering shoppers more choice, Barr Soft Drinks also extended its Rubicon Raw brand earlier this year with a new Apple & Guava flavour.
Offering consumers a combination of 20% real fruit juice, caffeine from green coffee beans and B-vitamins, the "exciting" new flavour proposition is available in plain packs, £1.29 PMPs and a new 4x500ml multipack.
And in a further bid to increase that all-important consumer choice, Britvic has also recently reduced the sugar content of its core Rockstar range.
"When it comes to energy drinks, 44% of non-buyers state the reason they don't buy into the category is that they contain too much sugar, Britvic's Out Of Home Commercial Director Phil Sanders says.
"Through this move, we are aiming to encourage continued growth within the category by energising those health-conscious consumers and meeting even more energy needs.
The booming popularity of Low-Calorie stimulation drinks also prompted an extension of the Lucozade Alert brand with new Lucozade Alert Original earlier this year.
Red Bull is also keen to stress the size of the Sugar Free opportunity for retailers.
"For a long time now, sugar has played a key role in the Sports & Energy category as consumers increasingly pick up Sugar Free and Zero formats that appeal to the more health-conscious shopper," Red Bull says.
"Sugar Free variants have been growing penetration by 48.8% and, in independent markets, Low or No Sugar variants have seen faster growth than Full Sugar, with 21.8% growth vs Full Sugar's 16.9%."
Red Bull says that 35-year-old affluent females are the most common Red Bull Sugar Free shopper profile – "signalling demand for low-sugar alternatives amongst feminine shoppers looking for a functional boost during their day."
Ready, Set, Go!
The "incredible number" of sporting events and occasions set to take place this summer should also provide the already rocketing sports and energy drinks market with a further charge, Suntory Beverage & Food Wholesale Channel Director Matt Goldsmith says.
"There are many opportunities for retailers to tap into large sporting occasions including the Women's European Championships and the Commonwealth Games in the summer, as well as the Men's Football World Cup later in the year.
Sports drinks as a segment will prove even more popular as we approach the summer months, and these sporting occasions and events increase."
"Retailers should stock up on on-the-go formats of energy and sports drinks like Lucozade Energy and Lucozade Sport to meet shopper needs, particularly as the weather gets warmer and shoppers spend more time outside," he adds.
Tapping into the trend, Coca-Cola Europacific Partners (CCEP) recently announced the launch of a new Relentless Zero Sugar range in new Peach and Raspberry flavours.
Relentless Zero Sugar Peach and Relentless Zero Sugar Raspberry are available now in "eye-catching" white and pink/peach can designs which also retain the Relentless 'R' motif.
The new range and refreshed can design gives Relentless a "perfect opportunity to drive its #WithoutLimits brand positioning and widen its appeal amongst young adult fans," CCEP says.
The launch is being supported by an integrated campaign including digital, PR, and influencer activities.
Retailers will also be able to get their mitts on new point-of-sale materials, including shelf strips, totems, wobblers and free-standing display units to drive excitement in-store from June.
The news follows CCEP's launch of the Zero Sugar pineapple-flavoured Monster Ultra Gold and Monster Khaotic in the spring.
Available now in both plain and price-marked 500ml packs, both brands are also supported with an array of POS to help retailers "drive excitement in-store."
Retailer View
Saleem Sadiq, Spar Renfrew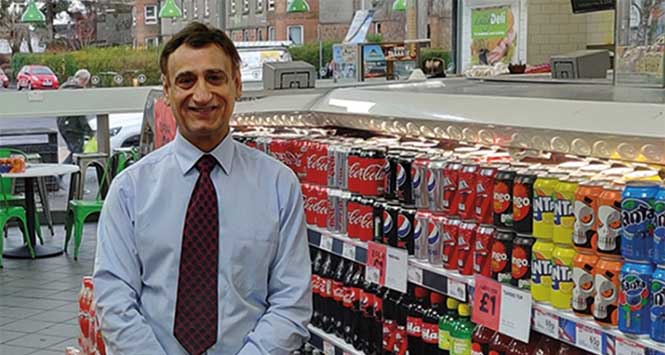 "Energy drinks are a hugely important category in our store and an exceptionally buoyant one. They currently account for 20% of all soft drink sales in terms of volume and almost a third of sales in terms of value.
"We now devote just over three metres of chiller space to energy drinks specifically, which makes me laugh as I remember how sceptical I was when I first entered the category in the early 90s. Back then I was totally unconvinced that the concept would ever take off! In addition to those three metres of chilled soft drinks space, we also sell a range of larger format 2-ltr bottles, plus large multipacks of 10 out on the shop floor.
"Energy Drinks have been subject to high levels of innovation of late which is great as it certainly drives footfall and sales but it can also create a challenge for us retailers. Finding space to fit all the new variants and limited editions in the chiller can be tricky! We always like to have three or four facings of key brands such as Red Bull and Irn Bru Energy. However these days that is becoming more of a challenge.
"There is also a large variety of smaller, cheaper-priced brands out there which are also gaining traction and earning their space on shelf. Spar's Blue Bear Energy Drink, which is on offer at '2 for £1' is becoming an increasingly strong seller."
Bigger is better
Summer is here and with the associated rise in in- and out-of-home sharing occasions, convenience retailers looking to rev up their energy drink sales would do well to stock up on lucrative multi-pack formats.
According to Red Bull, multipacks are currently in strong double-digit growth – with value up 18.9% in the year to February 2022, making "now the perfect time for retailers to stock up on multipacks ahead of a busy summer season."
And with shoppers once again "enjoying a functional boost on their office commute and on the move," Red Bull also says it's "vital" that retailers stock larger formats, "to meet the increasing consumer demand for longer lasting functional boosts."
In fact, according to Red Bull, larger Red Bull formats have ploughed more £209m in value into the total Sports & Energy market in the past year and are growing at 18.7% year on year, with over 35% of all larger-can drinkers enjoying Red Bull on the go.
Meeting demand for larger formats, Barr Soft Drinks also added a new 500ml variant to its Irn-Bru Energy range late last year.
The brand is also available in Sugar and No sugar formats.