In the latest SLR InAction+ project, we work with Britvic and Broadway Convenience Store in Edinburgh to create further energy drinks sales opportunities with the hugely important Rockstar brand.
---
The national and local lockdowns have had a major impact on shopping patterns in many product categories, but the spectacular recent growth of stimulant energy drinks has just kept on going.
Despite growth in both 'drink later' and 'drink now' formats (IRI), single serve sales continue to dominate the category, outpacing soft drinks as a whole with 11.6% growth (Nielsen).
There has been a growth in demand for energy, especially while on-the-go. The past year has seen longer working hours, an increase in outdoor exercise and manual labourers still working. As restrictions ease, the focus is expected to return to impulse soft drinks purchases as consumers continue to seek out 'pick me ups'. Stimulants are well-placed to benefit from this, as caffeinated energy drinks are now the number one single-serve drink in convenience (Nielsen).
Following the acquisition by PepsiCo of Rockstar Energy last year, Britvic is now responsible for the brand in Great Britain, and the company is working with retailers to drive stimulant drinks sales even further.
This offered us the perfect opportunity to partner with Britvic to help local retailers ensure that they continue to get every penny of sales and profit out of this enormously important category.
To demonstrate the opportunity for further growth within on-the-go soft drinks and the stimulant market in particular, SLR and Britvic have joined forces to work with Premier retailers Dennis and Linda Williams of Broadway Convenience Store in Oxgangs, Edinburgh for a three-month project. The project will aim to continue the momentum of stimulant drinks as lockdown restrictions ease, and to provide valuable new insights on the category for Britvic and the store team.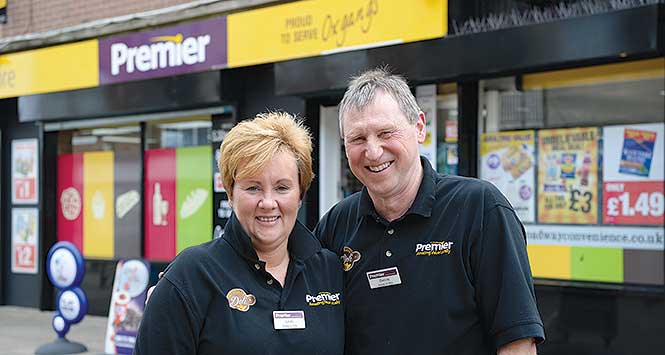 We will share our learnings as we go and hope to provide some useful insight and advice from the project which will be of interest and use to all local retailers across Scotland.
"We are really excited to work closely with Dennis and Linda on this project in order to understand key insights and continue to fully immerse in what is still essentially a new brand for us at Britvic," says Adrian Howe, Brand Manager at Rockstar. "We are looking forward to supporting retailers in Scotland by sharing this insight and key learnings so they too can increase their stimulant sales."
Dennis Williams comments: "Energy has long been a vitally important category for us and over the last year sales have grown significantly – but we are always looking for ways to continue developing and progressing. So we are delighted to be able to work with Britvic and the huge Rockstar brand on the project to see how we can unlock further growth and, of course, share what we learn with other retailers across Scotland through the pages of SLR.
"I'm particularly excited about the project because the recent major refit of the store means we have a lot more chilled drinks space available to us, as well as some additional space for ambient multipacks. We're also excited to see how we can leverage the continued growth of our Deli offer which has grown beyond belief over the last year or so. Being able to work closely with Britvic and gain access to their knowledge and experience of both the wider category and of how energy is performing in stores across the UK is an exciting prospect."
Look out for next month's issue of SLR for an update on the work carried out in-store with Dennis and Linda.
Plan your chiller
To make the most of the energy drinks category, it's crucial that retailers pay close attention to how they merchandise their range.
Rockstar should be merchandised with other stimulant brands within the energy drinks category, blocked by variant within the leading brands you have on offer. If you have room for four lines from Rockstar then you should lead with the core range of Original and flavours:
Rockstar Original
Punched Tropical Guava
Xdurance Blueberry, Pomegranate & Acai
Juiced Tropical, Orange & Passionfruit
These represent the must-stocks for retailers and are all available in both price-marked and plain packs in the popular big can (500ml) format, which has proven successful with energy drinkers, seeing +20.1% growth (IRI), as well as 4 x 500ml multipacks for take-home purchases.
Also, look out for new Rockstar Original No Sugar – available from August in £1.19 PMP format – and, if you have space, extend your range with a number of additional Rockstar flavours to encourage new shoppers into the stimulants segment.