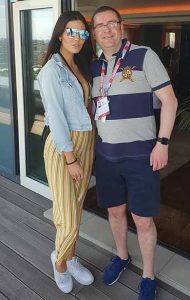 There will no doubt be many contenders for keeper of the tournament at the World Cup, but very few of them will be able to say they've pulled off as many vital last-minute saves as Peterhead KeyStore More retailer Garry Haigh.
Garry won a trip to see a World Cup game in Russia in a competition organised by AB InBev's Budweiser beer for the best in-store display and, being fond of Facebook, was keen to share his experiences while he was over there.
While it would be wrong of us to share too much, we did feel it was important to pay tribute to a couple of his very best saves of the Russia World Cup trip 2018.
There was the one where, caught up in the excitement of the trip, he posted a photograph of himself with an unidentified but aesthetically pleasing young lady, declaring that it was:

A few moments later, remembering that his wife is also on Facebook, he pulled off this fine save:


After responding in jovial fashion to a few comments about the nature of his relationship with aforementioned young lady, Garry clearly remembered his wife again and posted another quality save:

On a more serious note, it's worth noting that Garry took Filshill BDM Gordon Fotheringham as his plus one. That, sir, was a grand gesture. Fair play indeed.