Ferrero has unveiled an array of new products across its Thorntons, Kinder, Nutella and Raffaello brands for Christmas 2019, including novelties, figures and advent calendars.
Its confectionery and spreads will also benefit from a £6.8m marketing investment for the festive season.
Thorntons is launching a Continental Winter Markets box (273g, RSP £9.68). Every corner of Europe is covered in the selection, which includes flavours like Italian Panforte, Dutch Speculoos and Clementine Caramel.
After the launch of The Cheeky Elf figure last year – the second-biggest NPD in the novelties category – Thorntons is adding The Snowy Bear to its range of figures, while also updating its newly-named Cheeky Reindeer. All three 200g figures RSP at £5.38. The Cheeky Elf character will also be available as a 29g self-treat (RSP 75p) in four different shapes.
The brand is also tapping into the growth in advent calendars with yet another Cheeky Elf product, a 130g (RSP £5) offering that will come in a book format.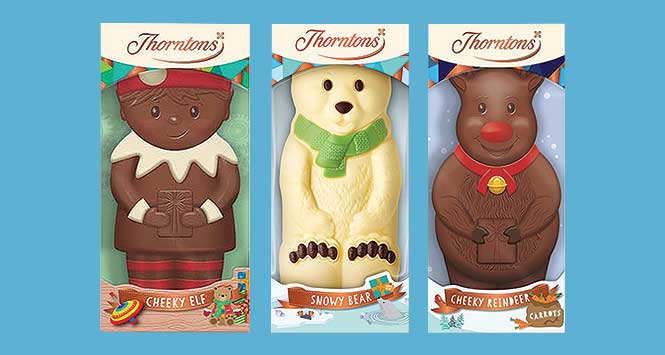 Meanwhile Raffaello will be launching a new 100g round box with a decorative bow to offer shoppers a smaller giftable format that RSPs at £4.25.
Those on the hunt for a cheaper present may also be tempted by Nutella's new Nutellino Christmas trio pack (RSP £3.20), which contains 3 x 30g jars with seasonal designs.
On the other hand, Kinder has pretty much covered every price point with its festive range, from the 220g Kinder Surprise Egg (RSP £12) to the 37g Kinder & Love (RSP £1.80).
New from the brand is Kinder Mix Reindeer Headband (RSP £7). The 167g novelty comes with a selection of Kinder Mini Bueno, Kinder Mini Chocolate and Kinder Mini Chocolate with Cereals, as well as a reindeer headband in case you forgot it was Christmas.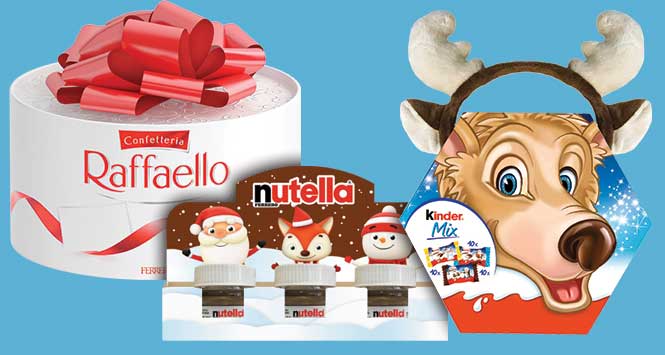 The 100g Kinder Surprise Egg has been given an overhaul in wake of 126% value growth and will now feature new polar bear toys that have water shooting and colour changing features. The redesigned Kinder Mix Hexagon (152g, RSP £5.50) now offers more engaging features.
Not to be forgotten, the Ferrero brand itself is also innovating with the launch of the Ferrero Collection Advent Calendar (271g, RSP £14). The premium product has what is described as a "unique opening" and offers a range of Ferrero Rocher, Raffaello and Rondnoir products within.
Levi Boorer, Customer Development Director at Ferrero, commented: "Ferrero's diverse portfolio contains a number of best-selling, quality brands that help to drive category growth, offering shoppers great tasting products to gift and share during the Christmas period.
"Many shoppers love Ferrero products throughout the entire year, and when stocked alongside our seasonal launches that add more interest to the category, it gives retailers the opportunity to excite their shoppers over the Christmas period."