Premiumisation, promotions and intriguing new products are the three P's that will deliver increase in sales for local retailers this Christmas – across licensed and soft drinks areas. Now is the time for planning.
---
It seems that no matter what the drink, when the festive period comes round demand for it will increase. With shopping trends changing and consumers less reliant on supermarkets than they once were, the Christmas period gives convenience stores the chance the showcase all that they are amazing at. This means keeping up that world class customer service while ensuring the range of alcoholic and soft drinks meets all consumer needs, with promotions, execution of merchandising and an increased presence of premium products.
As expected, suppliers have been launching Christmas marketing campaigns, refreshing packaging and introducing new and limited packaging to capture as much spend as possible.
Emma Heath, Marketing Controller at Sourz, says: "2013 was successful for Sourz and this year is shaping up to be the same. In many cases, the types of drinks consumed at home during this period are the same as in the on-trade. Therefore it is important to stock fun, exciting brands like Sourz' fruity range of Apple, Mango, Raspberry, Cherry, Tropical and the latest flavour addition, Toffee Apple."
Heath says that Christmas is often a time where people try new things, and the opportunity to experience novel serves can encourage consumers to spend slightly more.
Strong merchandising therefore has a big role to play, especially when attracting impulse shoppers en-route to Christmas parties. Price too is major factor. Heath says: "The fairer the price a store can offer them, the more likely they are to choose that product. Customers like to see price-marked packs and this really helps drive sales of branded lines, so it's important to have these visible and on display. These price-marked packs can also help drive customers away from the often presumed cheaper supermarkets and build customer loyalty. By using price-marked packs for big brands like Sourz, which has both 35cl and 70cl PMPs on Sourz Apple, you can reassure your customers they are getting value for money."
Come Christmas, Diageo always sees a huge increase in sales of Baileys, a brand that independent retailers should ensure they have in stock at all times in the run-up to the big day.
Last year Baileys launched the premium Baileys Chocolat Luxe, which over the course of the year has managed to increase its value to 4.2% of the total off-trade creams category.
Anna MacDonald, Marketing Director for Baileys Diageo Western Europe, comments: "Baileys was the first brand to fuse whiskey and cream together. We're pleased to say that with Baileys Chocolat Luxe we've achieved another breakthrough in the spirits category, by blending real Belgian chocolate with alcohol to deliver the complete chocolate sensory experience in a glass. The premium flavour and quality texture our customers receive all comes from using real Belgian chocolate."
Whisky comes into its own at Christmas and this year Whyte & Mackay's single malt brand Jura will be on TV in the UK for the very first time. In addition there will also be two gift packs this year: Jura Origin 70cl along with two branded glasses and a twin tasting pack that includes a 20cl bottle of Jura Origin and Superstition which is an ideal purchase for those who are new to the category and want to try out both a sweet and smoky flavour profile.
Whyte & Mackay whisky will also release a gift carton in time for Christmas 2014 that will increase its on-shelf prominence and present an excellent gifting opportunity.
On the liqueur front, this year Glayva has created a gift carton for the first time, which has been designed to reflect the flavour profile of the liqueur and help consumers make an informed decision when shopping the category.
"During the festive period consumers are searching for something new to try, be it a gift for themselves or for others, making it important for retailers to give prominence to brands that offer gifting solutions," says Stephen Watt UK Off Trade Sales Director, Whyte & Mackay. "Gift cartons are ideal solutions for Christmas shoppers and help to encourage sales over the festive period as they increase shelf stand out and add perceived value to the product."
Watt comments that retailers should be aware of the movement towards sweet flavour profiles as many BWS brands have released sweeter versions of their core products, which is illustrated by the emergence of mixed fruit ciders and honey flavoured spirits. "Therefore we would recommend having sweeter spirits such as Glayva Liqueur on-shelf over the Christmas period," he says. "Furthermore, we know that 49% of non-cream liqueur consumers will only purchase at Christmas so it is vital that retailers have a varied selection on shelf."
Single malt whisky is in much higher demand over Christmas, with the majority being bought for gifts. For retailers, knowing which extra products to buy in can be tricky. A popular lowland whisky, Auchentoshan is launched a new expression this Christmas. American Oak was created from only first fill ex bourbon American oak casks, and it will sit alongside Auchentoshan 12 Year Old and Auchentoshan Three Wood in the core range.
"Ahead of the Christmas period, it is important for retailers to stock a variety of expressions to cater to all consumer tastes," says Nick Barker, Auchentoshan Brand Manager at Cellar Trends. "Listing a small number of limited editions will draw whisky lovers to view your range more closely and can lead to profitable sales without having to overstretch."
A follow up to last year's successful Virgin Oak release will also be available this Christmas.
Pernod Ricard UK's Off-trade Channel Director, Chris Shead, says retailers need to improve their premium offer to make the most of Christmas. He says: "The channel needs to work on its range, especially in those 12 weeks leading up to Christmas. A lot of convenience retailers believe the default is to have a decent standard range at lower-end prices because they are driven to show that they can compete on price. They don't see premium as part of that solution, but the unintended consequence is that miss out on shoppers who intend to buy premium."
This year, Pernod Ricard will be pushing its Glenlivet and Chivas Regal whisky brands along with Absolut vodka. "This is a huge opportunity for c-stores, especially as we get closer to Christmas," says Shead. "Retailers need to engage with it – especially on Champagne and dark spirits, which tend to be more popular as gifts."
Backing beer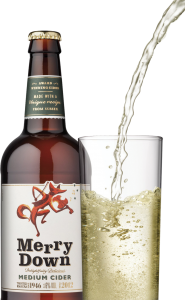 It's not just spirits that is seeing the benefits of premiumisation. In beer too, more premium products are becoming more prominent.
Craig Clarkson, Category & Trade Marketing Director – Off Trade, Heineken UK, comments: "Despite still feeling the aftermath of the recession, consumer confidence has risen to a three year high. In addition, the number of shoppers feeling positive about their finances has rose to nearly half (45%), with shoppers spending an average of 4% more in 2013 than the previous year, giving rise to the trend for premiumisation."
This year the company has targeted the moderation and spirit beers sectors to propel growth, through new launches within the Foster's and Bulmers portfolios. Desparados has also been extended while Old Mout has brought a new dimension to the company's cider portfolio.
Clarkson believes the future health of the category lies in a strong core range with a strong promotional plan, a range and offer which encourages premiumisation, and a passion to develop emerging segments such as moderation and therefore he says that these principles should help deliver a beer and cider planogram. "It's essential that retailers allocate sufficient space to the leading brands, ensuring they are given the right space and are accentuated via supporting promotions," he says. "We also want to encourage shoppers to trade up to more premium brands, packs and segments and to achieve this encourage retailers to highlight their range by harnessing the power of key events, which know are prime occasions for shoppers to trade up for, such as Christmas."
At SHS Drinks, its cider brand Merrydown will be making the most of the second biggest cider occasion of the year, after summer. To demonstrate how sharing pack sales take off at this time of year, Debs Carter, Marketing Director – Alcohol at SHS Drinks, cites the sales performance of the Merrydown Vintage 750ml bottles in the impulse sector in Scotland last Christmas. During the final quarter last year (October-December) sales of Merrydown Vintage 750ml bottles outperformed the glass bottled cider (GBC) category in both volume and value.
This Christmas SHS Drinks will be supporting Merrydown with a variety of seasonal tailormade promotions in participating cash & carries and wholesalers; a digital and social media campaign featuring competitions to win festive-themed prizes; and consumer PR activity focused on food matching initiatives.
Of course, Christmas wouldn't be Christmas with the wacky marketing espoused by WKD. This year Carter says the company will be focusing on keeping things simple for retailers and supporting WKD with a comprehensive selection of case deals to encourage outlets to stock up and maximise profits, along with a continuation of its PMP strategy.