The biscuits category has been in growth over the last year, with that growth at least partly fuelled by growing consumer demand for healthier and 'free-from' options.
---
It may seem incongruous in today's increasingly health obsessed world that the traditionally treat-focused biscuits category is actually in growth over the last 12 months – but that is indeed the case. The twist in the story, however, is that much of that growth has come through increasing demand for healthier biscuits.
Jeremy Peters, Head of Category & Insights at Burton's Biscuit Company, explains: "Biscuits in Impulse are ahead of last year in both YOY (+1.5%) and latest 12-week (+2.4%) timeframes. [Nielsen, Nov 2018]. This is being driven by Everyday and Treat biscuits but also by Healthier biscuits.
"The increased focus on quality, health and free-from options has had a major impact on the sweet biscuits category in the last 12 months. Whilst everyday and treats are driving growth in sweet biscuits, cereal bars and healthier options have made an impact, with the 'health' segment expected to grow by 14% to 2021 [Kantar Worldpanel, 2018] as consumers look for lower fat, salt and sugar options that don't compromise on quality, in addition to their usual favourites."
The message here is that shoppers still like to indulge every so often and 'treatier' biscuits are helping drive the market – Everyday treat biscuits are growing over twice the rate of the market [Nielsen, Nov 2018] – but stocking a range of healthier options is now a must for all retailers.
Peters says: "An increasing amount of space is now being given to healthier options and cereal products, with space for chocolate biscuit bars (CBBs) being reduced in some retailers. The trend towards health as well as provenance and traceability has also led to an influx of up and coming brands into the biscuit aisle, challenging traditional biscuit manufacturers, whilst demand for value has driven interest in Retailer Brand products."
Top merchandising tips from Burton's Biscuit Company
Range rationalisation remains a key focus to tap into consumer trends to drive sales.
With so many products vying for space, brands need to offer a point of difference as well as being effective off-shelf, and with the growth of the discounters EDLP has become a vital way of driving impulse purchases.
Making sure that promotions are easy to understand and help consumers shop the fixture and make purchasing decisions.
Block-merchandise by brand and occasion to make it easier for customers to shop the fixture and encourage them to return.
Unsurprisingly, manufacturers have been quick to respond to growing demand for 'free from' alternatives, with a rising number of brands tapping into the market for those with food intolerances, or those experimenting with gluten/lactose-free diets.
Burton's Biscuit Company has been quick to react, as Peters explains: "Earlier this year, we responded to demand for portion control and reduced calorie options by re-formatting and signposting our range of Kids Minis products to be 100 calories or less.  This includes Maryland Minis, Maryland Minis Double Choc and Jammie Dodgers Minis (growing ahead of the market at 3.6% MAT, but since reformulation latest 12 weeks at 13.5% [Nielsen, Nov 2018].
Peters also advises retailers to include a range of price-marked packs (PMPs) to reassure shoppers they are getting the best value as economic uncertainty is likely to continue. He says: "The market for PMPs remains hugely important for the impulse sector, with many shoppers looking to them as a source of value, and PMPs of bestselling brands also providing them with the quality assurance they are seeking."
Biscuit shoppers are impulsive, so utilising PMPs to drive impulse purchases us a great way to boost profits. Burton's offers an extensive range of PMPs, including right across its core range of products such as Maryland, the nation's favourite cookie, and Jammie Dodgers, as well as the iconic Wagon Wheels brand.
All are available in PMP and plain pack formats and are performing ahead of the impulse market [Nielsen, Nov 2018].
In-store bakery driving sales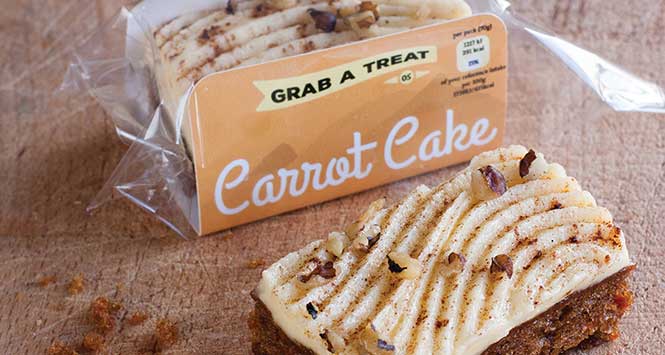 Offering customers a range of freshly-baked cakes and biscuits is a simple, cost effective way for retailers to attract new shoppers – and increase basket spend. "In convenience, in-store bakery shoppers spend more than average shoppers and shop more frequently," says Mary Byrne, Trade Marketing Manager – Retail at Aryzta Food Solutions.
Aryzta offers a range of thaw & serve and bake-off products, including individually wrapped cookies, biscuits and cake bars. In addition, The Grab a Treat range features a selection of individually wrapped everyday treat favourites including cookies, muffins and cake slices, perfect for shoppers eating on the move.
The company offers a range of solutions to cater to all shapes and sizes of stores as well as high quality POS.