The new Jisp app offers home delivery, click & collect and scan-and-go functionality all in a single app. SLR takes a closer look.
by Antony Begley
---
Coronavirus has turned the world of retail on its head but there have been several important upsides for local retailers in particular. The most obvious is the huge growth in sales that the sector has seen over the last six months, but a potentially even more important benefit has been the effect the pandemic has had on accelerating the uptake of new tech-based solutions that could prove to have a huge long-term benefit for the sector.
One of the solutions making huge strides is the Jisp app, launched into convenience in partnership with the NFRN. The app is touted as an 'all-in-one' solution as it offers home delivery, click & collect and scan-and-go functionality all in a single app. The key question is, does it work?
There have been many great tech solutions that have had a serious and sustained crack at the convenience sector but ultimately without much success. The principal reason for this is invariably not a weakness in the solution itself, but in a failure to understand how the convenience sector works and what convenience retailers are looking for from a tech solution. Anything that requires hours of work a day at a computer or tablet is a non-starter for most retailers, as is anything that requires massive retraining for staff.
To find out whether Jisp has overcome this serious challenge, we decided to have a closer look at how it works. Having operated a rewards scheme with some complex tech behind it at the Woodlands Local business we used to own, we have some experience of trying to integrate tech into a convenience retailing environment.
Let's get clicking
At first sight, the Jisp back office is extremely well designed, bright, simple and easy to navigate. It's a very intuitive user interface that will be familiar to anyone with a smartphone or tablet. Jisp claim that retailers can literally be up and running within an hour, as there's no hardware required and no complex integrations. Retailers simply stick in their email address and phone number, choose the package they want, add their bank details (to allow them to receive payments) and then personalise the customer-facing app by adding a store logo or photo. It really is that simple and it takes maybe three or four minutes max. After that, you're ready to start creating your own product file.
Product file
The quickest and easiest way to get started is by creating a product file for your store from the list of 1,000 or so top-selling convenience lines that are already held within Jisp's master database. Every product in that file comes complete with barcodes, pack details and product photography. All that retailers need to do is choose the lines they stock and want to include on their personalised app and then add the pricing.
Retailers can also add individual products or even an entire line list by emailing it to the team at Jisp who will then do the hard work for you.
Some retailers prefer to offer a limited range via the app for home delivery or click & collect while others are keen to include as many products as they can. The choice is yours and you can evolve it over time, adding new lines and delisting others.
Promotions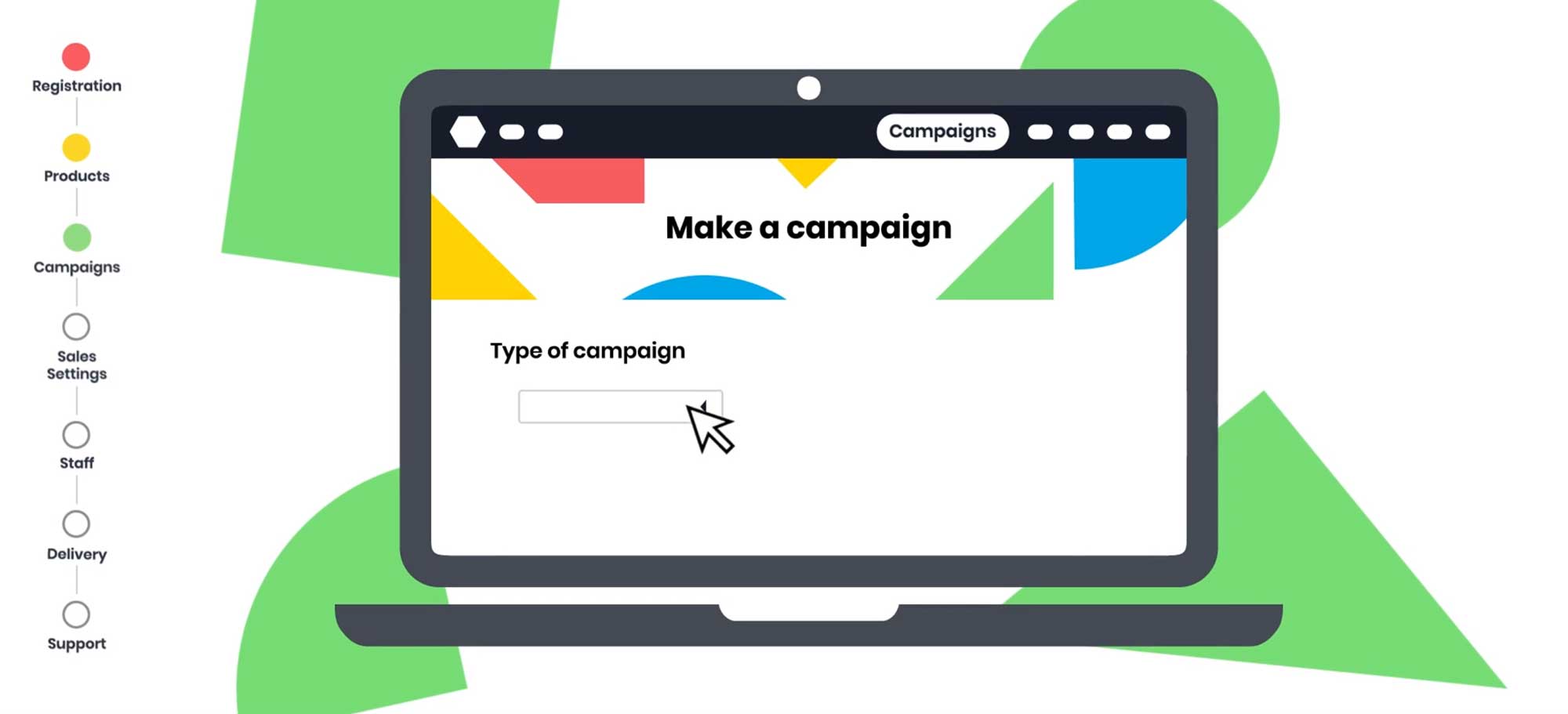 With the product file updated and now live on the app, retailers can then start adding promotions. These can be promotions you get via your wholesaler or they can be promotions that you create yourself using a number of pre-formatted templates. The promotions are automatically and instantly added to the 'promotions' tab on the customer-facing app. Promotions cost just £1 per week to run.
At this point, Jisp doesn't have full integrations with the various symbol groups around the UK which means that the regular three or four weekly promotional files cannot be pulled directly into the app, but it's something they say they are working on.
Settings
The next step is to choose your settings which basically means choosing which solutions you wish to run with. The three options are frictionless shopping (scan-and-go), home delivery and click & collect. Retailers can choose any combination and can switch services on and off as they see fit.
Home delivery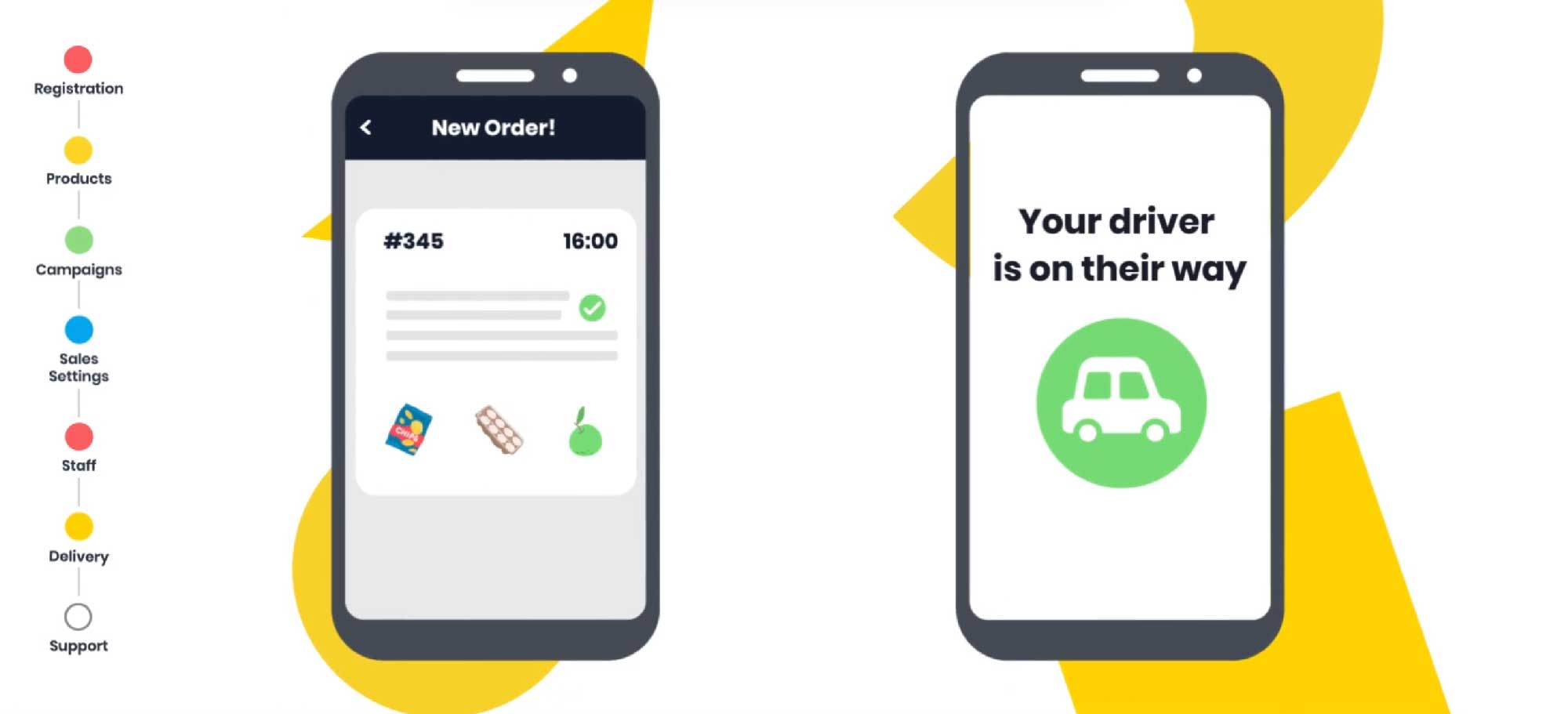 If you've switched home delivery on, the next step is to create your own set of rules for how you want your particular home delivery service to operate. The first step is choosing a delivery radius, then you can choose the hours that you want to do home deliveries, the maximum delivery number per hour and the delivery fee. You can set different delivery fees for different times of the day, should you wish to run premium pricing at peak times, for instance.
Adding drivers
Using Jisp, the retailer is responsible for the delivery of the orders. You can do this in several ways: using your own current staff, recruiting new full-time or part-time drivers, or outsourcing delivery to one of the many providers available.
To add drivers, all you need to do is add their name and contact details into the system then they have to download the Jisp-powered YouDeliver app which then gives them access to live delivery orders. The driver then uses the app to manage the deliveries and, because the app is fully integrated with the customer-facing Jisp app, it means that customers are also kept up to date on the status of their orders with real-time live updates in their app.
Click & collect
Click & collect works in pretty much the same way with customers simply making orders on the app then collecting them at the store at the allotted time.
Payments
Unlike some other apps, all home delivery payments are made via the app using a pre-registered credit card so the drivers are not required to transport cash or carry a float, which offers an element of security and safety.
Click & collect orders can be paid for either on the app or by card or cash in the store, although their transaction fee for retailers is considerably smaller if customers pay via the app.
Scan-and-go
The frictionless shopping functionality is slightly more complex in that, for it to work optimally, the app really needs to feature every single product you have for sale in your store. Customers scan a QR code when they enter the store, scan their shopping as they go, then scan the QR code on the way back out and their payment is automatically deducted from their credit card.
The QR code can be provided by siting a cheap tablet at the store entrance to maximise convenience and customer experience but with a minimum of outlay.
All age-restricted products are flagged up in the system and staff approval and an ID check are required before the transaction can be completed.
Theft is clearly a concern for many retailers but a staff tablet, for instance, allows staff to monitor basket additions in real-time as customers pass around the store. A little practice is all that's required to ensure that shrinkage is minimised or eliminated altogether.
Gamification
The app also provides a unique weekly store-specific quiz which seems like a gimmick but, according to several Jisp retailers I've spoken to, has actually been a surprising hit with customers.
Retailers can offer small prizes if they choose – something like a bottle of wine or a box of chocolates – and the service has been far more popular than you might think it would be. It certainly helps keep engagement levels up and keeps shoppers interested and using the app.
Pricing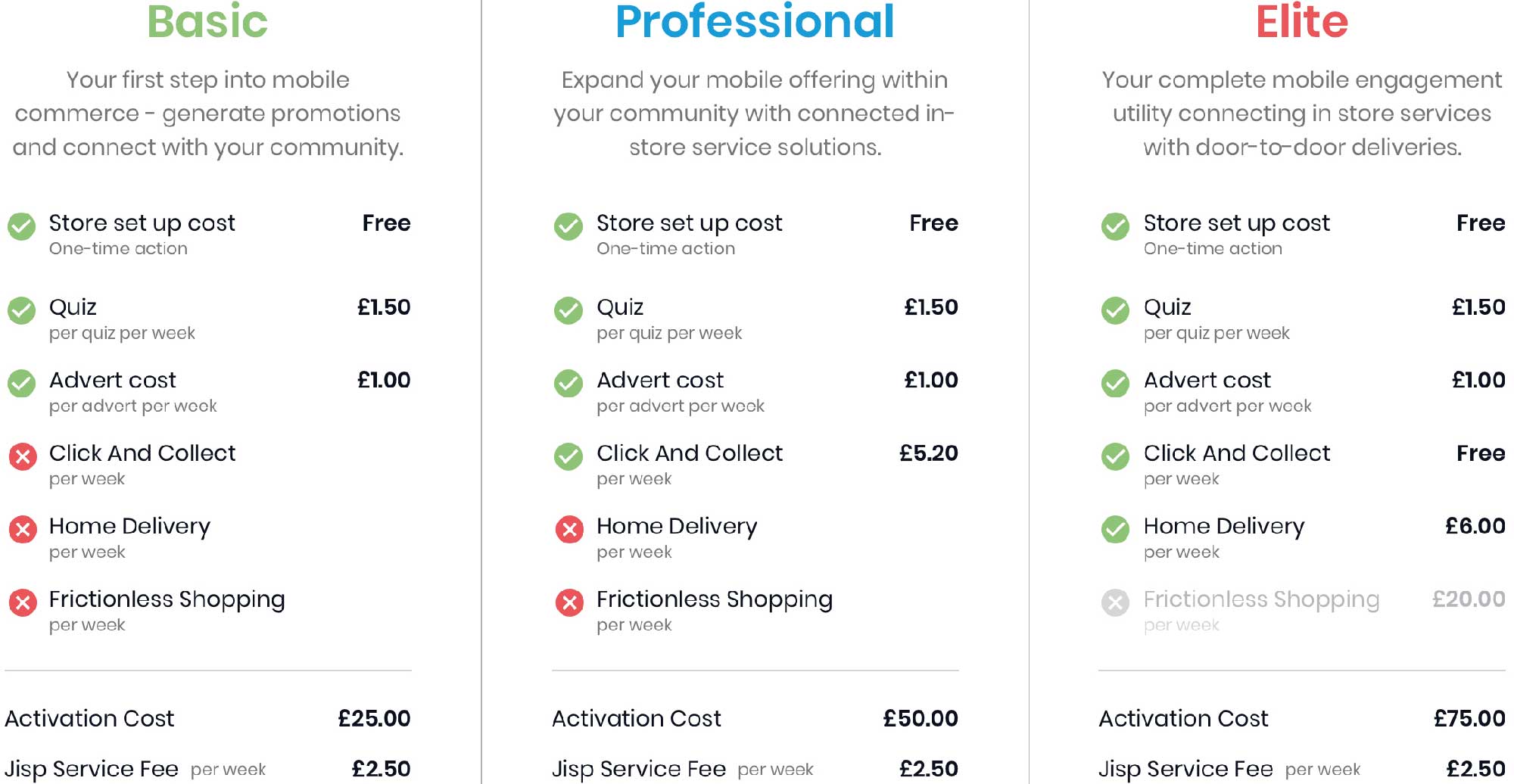 One of the most attractive elements of the Jisp app is its very competitive pricing model. The Elite package, which includes home delivery and click & collect has a relatively modest activation cost of £75, a weekly service fee of £2.50 and a weekly home delivery fee of £6. Frictionless shopping costs an extra £20 a week, with the weekly quiz available for £1.50. There's also a fee of £1 per week for each promotion, as noted above.
Conclusion
The Jisp app is mercifully free of many of the issues that have dogged many other tech solutions pitched at the convenience retail market. It almost literally couldn't be any easier to use, it requires no hardware, no staff training and a bare minimum of input from retailers to get it up and running.
Retailers retain full control of all aspects of the app and can tailor it as they go with a click of a mouse button or a tap of a screen, as they learn what's working for shoppers and what's not.
There are in excess of 24,000 customers who have already downloaded the Jisp app and that number is set to grow considerably as the company rolls the app out in partnership with NFRN – so there's a readymade audience of shoppers out there looking for a local retailer to use.
Jisp also provides a number of marketing solutions to help retailers let their community know that they're now using the app.
All in, it's a slick and professional looking solution that should be more than capable of holding its own as the home delivery mega trend continues to evolve in the future.
To find out more, visit www.jisp.com.