Home delivery is set to be a major trend in 2020 and one Scottish retail tech company is already helping retailers deliver as much as £10,000 of additional incremental weekly sales.
by Antony Begley
---
With the retail environment more competitive than ever before, all retailers are looking for solutions that can help them quickly grow sales and profits, but solutions like these tend to be thin on the ground. So what would you say to the prospect of adding £10,000 of extra, purely incremental sales every week to your store turnover?
Sounds too good to be true? Well, that's precisely what's on offer from innovative Scottish tech company Snappy Shopper, whose home delivery app is helping transform businesses across Scotland and – increasingly – across the UK. The average basket spend per order through the app is an eye-watering £21.38 and some stores have seen profits increase by an equally breath-taking 7%.
Attendees of SLR's annual #ThinkSmart technology festival may recall Snappy Shopper founder Scott Campbell first presenting the app-based solution back in 2018. A lawyer by trade and an entrepreneur by nature, Campbell saw the potential of home delivery before most and quickly set up trials in Dundee where the company is based.
While the solution clearly worked well, Campbell knew that to really roll Snappy Shopper out properly he would need both significant investment and a dedicated, experienced management team. These things take time but by the early part of last year he had succeeded in securing seven-figure funding from investors including Scottish Investment Bank, Edinburgh-based specialist asset manager Mercia Technologies and Glasgow-based venture capital business Kelvin Capital.
Team building
With the funding in place, Campbell then set about hiring the management team he needed, starting with a new Chief Executive, Mark Steven, who will be known to many in the trade from his various industry roles with the likes of Botterills Convenience Stores, Spar UK, P&H, and most recently, as Managing Director of the Glasgow-based convenience chain Scotfresh.
"When I first started talking to Snappy Shopper I just couldn't believe what I was seeing," says Steven. "The tech was great and the solution was easy to understand and use for retailers, but what really blew me away was the results that Snappy Shopper retailers were getting. Some stores are literally generating additional sales of £10,000 a week and our analysis shows that those are entirely incremental sales. The home delivery sales had no negative impact on store sales."
Steven was subsequently appointed Chief Executive in March last year and has since built a team of 12 to service the company's fast-growing list of clients. "We will have about 100 stores using the app by the end of this month," says Steven, "and we're picking up new stores every week."
Among the latest high-profile converts is Blantyre Family Shopper retailer Mo Razzaq.
Case study:
Adeil Hussain, One Stop Airbles, Motherwell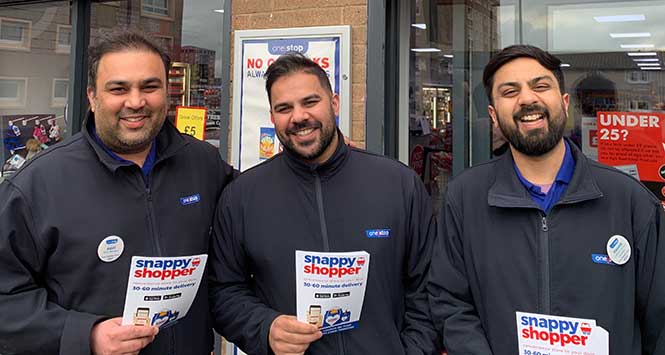 "Originally, we started a home delivery service in 2010. We would take takeaway food orders over the phone and deliver to customers in the locale. However, whilst we felt we were 'ahead of the curve' at the time, most of our customers were uncomfortable paying a delivery charge for groceries. We ran the programme for about 18 months with mixed results.
"We revisited the delivery concept last year, enthused by the demand for apps like Just Eat, Deliveroo & I Hate Ironing. We felt the market was now primed for home convenience store deliveries. We spoke to a couple of delivery companies and found that all of them were set up principally for hot food and the charges, fees and styles of app didn't really fit the convenience model, but in the end, we ran Deliveroo.
"It became apparent that Deliveroo was also geared with just hot food in mind, not for the convenience sector. The charges they have, on most occasions, are greater than the profit made by the retailer, which leads to the price of products being increased. After meeting Snappy Shopper, we recognised that the app was made for convenience stores. There are no fees, which means the consumer can purchase at in store prices and their app is more in line with the convenience market.
"So we switched to Snappy Shopper in January 2020. We sell groceries, chilled food, frozen, impulse, tobacco, alcohol & morning goods. We have trained our staff on the delivery process using our company vehicle. In just the first two weeks from our launch we fulfilled 138 orders at a value of £2,500. About 90% of the orders were from new customers who live outside of our store locale and had never used the store before."
How it works
How the app works is pretty simple, and that's among its key attractions for convenience retailers. Steven explains: "Snappy Shopper is an online home delivery app. Customers simply download the app onto their mobile device or use the online site and it will tell them where their nearest Snappy Shopper store is. The register their credit card details once, or they can choose to pay by cash, and they're ready to start ordering."
The app automatically takes customers to the nearest store's range list and they can start building an order immediately. "Typically, we advise retailers to start by listing maybe 1,500 to 2,000 of their most popular lines," says Steven. "We do all the work for them, uploading the barcode and product photograph, so it couldn't be easier to get up and running. Once they're used to the solution, they can add as many lines onto the app as they like."
Customer orders are received directly to a small terminal in-store which then prints off what is effectively a picking list. The order is made up and is then delivered to the customer in between 30 minutes and an hour.
"Payment is done via the app or in cash but the app reconciles all revenues for the retailer and the app also includes age-verification functionality for all age-restricted products," he explains. "The driver then checks the ID at the customer's door and the verification process is fully logged and is available should a Licensing Officer wish to see it, for example."
Typically, stores charge £3 per delivery and the delivery radius is normally around two miles. "We suggest two miles but we're often astonished by who uses the app," laughs Steven. "I was in a store last week when an order came through and the retailer took me to the front door of the shop and pointed to a house across the road and said 'That's where this order came from'. It was literally 50 yards away. Out of curiosity I went with the delivery person and politely asked the customer why they didn't just walk across the road. She stepped back so I could see her four young kids and told me it would take her half an hour to get out of the house with them."
Case study:
Faisal Naseem, Family Shopper Arbroath
"We began a home delivery service as we recognised the demand for online groceries increasing due to shopper's busier lifestyles, and we wanted to reach customers further afield who wouldn't shop in our store. We partnered with Snappy Shopper as they had a very easy to use platform and understood us as retailers and helped us with our projection plans and worked together to identify the areas, we needed to work on to grow our business.
"We sell groceries, alcohol, tobacco, vape products and frozen/hot desserts online via the app. We use a self-employed driver who manages all deliveries. He is paid per delivery and is motivated to fulfil our one-hour promise and promotes our business by referring the Snappy Shopper app in our area.
"We have partnered with Snappy for over 18 months and we have achieved a 25% increase in monthly sales and obtained a larger customer base now shopping from our store. This allows far better stock rotation and cuts down waste too."
The last mile
As for delivery, retailers have a couple of options available. The first, and the one Snappy Shopper recommends, is to simply deliver using existing store staff and vehicles. "This option gives you full control over the entire process and transaction," advises Steven. "Stores that charge a £3 delivery fee and get to a good level of sales through the app have seen profits increase by 7%, net of all the costs of delivery."
The second option is to use self-employed drivers, although this is not something Steven advocates, particularly given the sensitivities around delivery of age-restricted products like alcohol: "We always say to retailers using self-employed drivers that they need to remember it's their licence that's on the line if anything goes wrong."
According to Steven, it's not unusual for Snappy Shopper clients to add around £25,000 to their monthly turnover through using the service and the data suggests that this is entirely incremental revenue. "Clearly, not every retailer is adding £10,000 a week," he says, "but adding between £4,000 and £7,000 a week is standard for our retailers."
A key benefit to retailers is the ability to maintain on-shelf pricing in the app. Many retailers who make use of mainstream fast food delivery providers like Deliveroo and Uber have been forced to hike the prices of delivered products to cover the 35% of the transaction that these companies demand.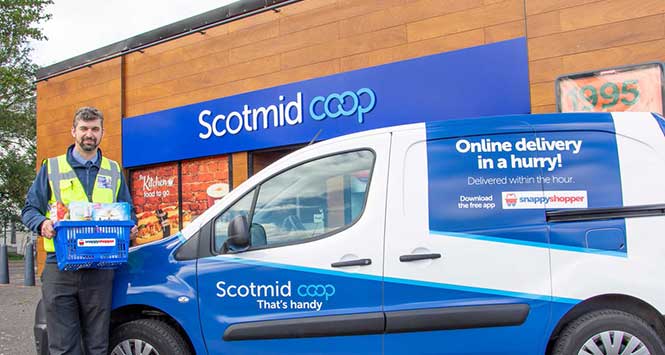 Snappy Shopper charges a flat initial fee of £500 to cover the comprehensive marketing and equipment pack that is provided to retailers on day one from leaflets, posters, vinyls, A-boards and external banners to staff fleeces, t-shirts and delivery crates.
After that, the company charges a small percentage fee per delivery. This fee is charged to the customer on top of the cost of the products ordered, so retailers don't lose a penny of customer spend.
"One of the plus points of Snappy Shopper is that, unlike when you use third party delivery companies, you get to see all of your customers' data through our dashboard," says Steven. "You can interrogate the system and find out who's ordering what and when. That can be incredibly powerful information for retailers."
Notification options
Additionally, the app allows retailers to send notifications direct to shoppers. The transactional data held by the retailer can be segmented to allow for more precise targeting. It is possible, for instance, to send messages or offers to only males between the age of 18 and 30 to let them know about a new, relevant product that has just been made available on the app, or to encourage them to buy a card and a bottle of wine for Mother's Day. The options are limited only by retailers' imagination and creativity.
Another neat development in the pipeline is Deposit Return Scheme (DRS) functionality, as Steven explains: "When DRS comes in, we are looking to be able to allow retailers to have their drivers collect drinks containers from their customers while they're doing the deliveries. They'll be able to collect the containers and issue credits to the customer there and then which can then be used against future orders, encouraging more business."
It looks like 2020 is set to be the year that home delivery's time has finally come and it certainly appears that this home-grown business has its ducks lined up to help Scotland's local retailers deliver that significant growth that they all seek.
Snappy Shopper: how it works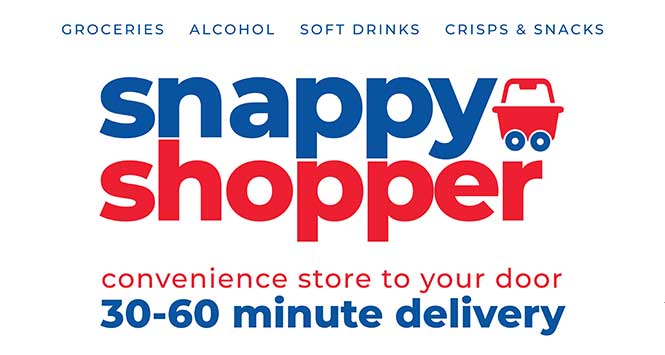 Customers download the Snappy Shopper app or use the website online.
The app automatically directs them to their nearest Snappy Shopper store.
They choose the products they want (Snappy Shopper recommends retailers list their best-selling 1,500 or 2,000 lines initially).
Retailers sell at in-store retail pricing.
The order is received by the in-store terminal and a picking list is printed.
The delivery is made and payment is taken.
Retailers typically levy a delivery fee of £3 per delivery.
Snappy Shopper charges a small service charge; this is added to the shopper's bill and charged to the shopper, meaning retailers retain 100% of the value of the sale.
Retailers gain access to all transactions via the Snappy Shopper dashboard and can send notifications to shoppers highlighting offers or deals.