The recent SGF seminar on retail crime saw different views on tackling the problem, with the Scottish Government moving towards community payback orders while retailers preferred more police and tougher sentences.
by Findlay Stein
---
The 2019 Scottish Crime Report was launched at the SGF's recent Retail Crime Seminar by the Federation's Chief Executive Pete Cheema. The event kicked off in dramatic style with horrific CCTV footage of a sustained assault by three assailants on a retailer that took place on Christmas Eve in the central belt. The unfortunate store owner endured over five minutes of kicks, punches and flying bottles as his store was trashed around him.
The video set the tone for the Report's contents, which make for predictable and depressing reading. If you're a retailer then you already know that you were a victim of shop theft last year. Just like you already know that you suffered abuse when refusing a sale.
You weren't alone. The report revealed that 63% of retailers who took part in SGF's Crime Survey experienced shop theft daily in 2018, while the remaining 37% recorded incidents on a weekly basis. Every respondent (100%) experienced incidents of physical or verbal abuse when refusing a sale, with 61% enduring them every week. The same number were abused on a weekly basis when asking for proof of age. Only one per cent of retailers in the survey said an age check had never triggered abuse.
With these figures in mind, Cheema urged the audience to make sure their MSPs were firmly behind Daniel Johnson's Proposed Protection of Workers Bill as it moves towards the Committee stage in April 2019. Acknowledging that the Bill won't solve all the industry's problems, Cheema said it would send out a "clear signal".
He then announced the SGF was supporting a major police Scotland campaign to combat hate crime. "It's time we stamped it out once and for all," said Cheema.
The retailer in the video has made a full physical recovery, but it is unclear what the long-term mental impact of such a vicious and cowardly attack will be. Cheema reminded SGF members that they can access services to help deal with the trauma and stress of retail violence through the Federation's partnership with the Retail Trust. He said retail crime was a "persistent problem that shows no real sign of disappearing", and urged retailers to engage with SGF to make stores safer for everyone.
Government approach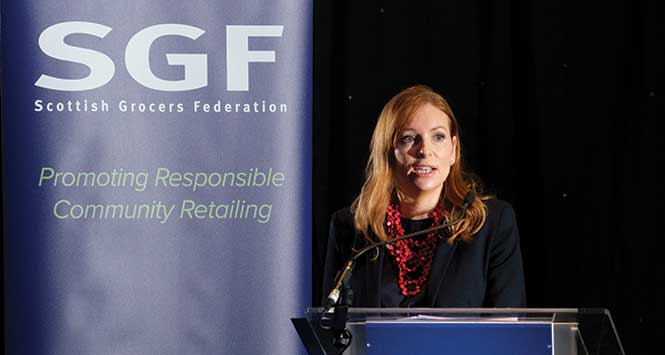 Keynote speaker Ash Denham MSP, Scottish Government Minister for Community Safety, said the government was committed to working with the police and businesses to make stores safe and secure for staff and customers, and that she appreciated the challenges c-stores can face from crime. Trumpeting a 42% drop in recorded crime since 2006/7, Denham announced a rise in Police Scotland's budget to over £1.2bn in the next financial year. An overhaul of IT systems will facilitate mobile working for officers, allowing them to spend more time in communities.
Despite the fall in recorded crime, the Minister acknowledged that shop theft was still a cause for concern and encouraged businesses to get involved in Neighbourhood Watch schemes. She welcomed the development of a toolkit by the Scottish Business Resilience Centre and Police Scotland that helps businesses deal with shoplifting more effectively and efficiently. Denham said the government was happy to consider legal reforms that would add new protections for shopworkers to existing law, before announcing an extension of the current presumption against short sentences of three months or less to sentences of 12 months or less.
This means that the chances of a convicted shoplifter being taken off the streets will move from slim to practically zero. Denham stressed this was a presumption and not a ban, and that sentencing discretion remained with the courts.
She justified the government's move away from custodial to community-based sentences by saying it was based on "compelling" evidence that short sentences do little to rehabilitate or reduce the likelihood of reoffending.
Retailer's view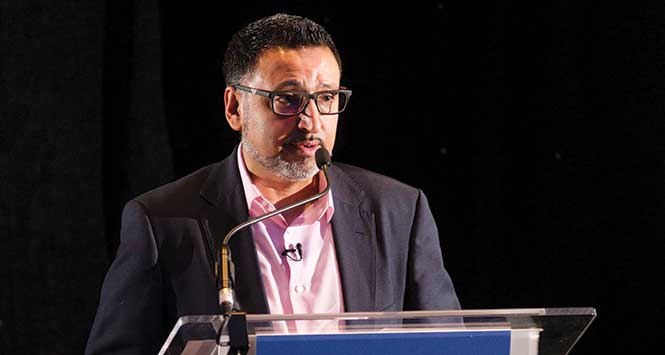 It's safe to say another speaker, retailer Amjid Bashir who operates four stores in Glasgow city centre, doesn't share the Minister's views on more lenient sentencing. He has been charged at with a scaffolding pole and has suffered more verbal abuse than he cares to remember. "And all", he said, "because I work in a shop." Retailers were subject to levels of violence and abuse that would be unacceptable in any other part of society, he said.
Recorded crime may well be in decline but, as Amjid pointed out, a great deal of retail crime goes unreported. He relayed the concerns of many retailers, who feel that the problem is not taken seriously enough by the authorities. Amjid mentioned complaints over police response times and sentences that can see perpetrators back on the streets before retailers get home from attending court.
Amjid made a strong case for the introduction of specific legislation to protect shopworkers when he highlighted the psychological and emotional impact it can have.
"It's not enough to say insurance companies will deal with the damage," he said, pointing out that retailers don't have the luxury of going off sick. "Can you imagine going back to work in a place you've been threatened and attacked because you have no choice?"
He said he'd spoken to many retailers who all said retail crime wasn't taken seriously enough. Shoplifting is viewed as a low-level crime, he said, but it was hard for local retailers to absorb the cost like supermarkets could when working to tight margins.
Amjid urged the government to clamp down on anti-social behaviour, citing the problems caused by drug and alcohol misuse, and called for tougher laws and more police officers.
On a practical note he advised retailers to be more vigilant, have CCTV as a deterrent, and to train staff to "drop everything" if they see suspicious characters come through the door.
In closing he called on the authorities to adopt a zero-tolerance approach. "Retail crime is not a low-level crime," he said.
Cybercrime
Moving to the less obvious – but no less real – threat posed by cybercrime, Graham Bye from the Scottish Business Resilience Centre discussed cyber security for businesses.
He warned the audience not to think that cybercrime – such as ransomware attacks – only happened to big companies. With almost half (43%) of UK businesses targeted in 2018, he said it was important to understand what the threat is and make informed decisions on how to mitigate it.
He advised retailers to sign-up to the government's Cyber Essentials scheme to protect their business. Scottish Enterprise has made £500,000 funding available for this purpose. Retailers can receive up to £1,000 each, which should be more than enough to get basic certification. This, he said, would show customers you take safeguarding their data seriously. It's certainly something to consider if you run any sort of EPoS-based loyalty scheme.
Bye suggested a few basic measures that retailers could take to stop around 80% of cyber-attacks. These included using firewalls, malware protection and strong passwords as well as performing regular software updates.
"Be prepared and don't sleepwalk into a cyber crisis," he warned.
Scams
The seminar's final speaker was RBS Community Banker David Russell Douglas. He put the cost of marketing scams to the economy at somewhere between £5bn and £10bn annually. It appears that the vast majority of this, like so much other crime businesses endure, slips under the authorities' radar: only 5% gets reported to the police, Bye said.
He advised retailers to register at the Friends Against Scams website (friendsagainstscams.org.uk) to discover the latest ways scammers are targeting businesses. These include spoof payment requests and diverted payments, where criminals intercept legitimate invoices and change the bank account details. Bye also cited cases of hacked text messages and warned of the dangers posed by fake websites.
The speakers were followed by three breakout sessions.
Take cover
Retail Mutual's Head of Claims Nic Warmink ran the rule over some insurance-based crime statistics before dispensing some common-sense advice.
Reiterating wthat retail crime is on the rise, he said the proportion of claims as a result of crime had risen from 23% in 2010 to 65% last year. Theft after a break-in and ATM raids were most prevalent, followed by arson and theft by deception. The average break-in incurs a cost of around £4,000 to £5,000 and last under five minutes.
This point was backed up by CCTV footage of two raiders smashing their way into a store in the dead of night and stealing cigarettes worth around £1,500 before fleeing. All in just over a minute. With police response times of at least 10 minutes, burglar alarms do little to deter serious criminals.
Speaking from the audience, Scotmid's Jim Harper said the SmokeCloak system, which releases an impenetrable layer of fog, had made an "enormous difference" in cutting down on cigarette loss in the company's stores.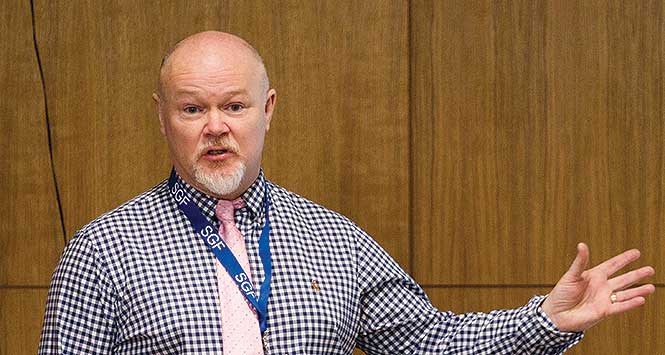 Warmink said cash and tobacco were the main targets of break-ins and reminded retailers to adjust their cover to reflect the rising cost of cigarettes. He also warned of a rise in theft by deception, where criminals will distract a retailer while an accomplice sneaks into the back office.
As well as installing CCTV and an alarm system, he suggested retailers leave the till empty and open overnight. It was also a good idea to vary banking days and times, he said, and not to hold large amounts of cash on the premises. He also advised the audience not to overload sockets, as this was the main cause of fire-related claims.
Stuart Ramsay, Track & Trace Programme Manager for JTI told retailers all that they needed to know about the new legislation designed to clamp down on illicit tobacco that comes into effect on 20 May.
Retailers will need to register before that date to be able to receive tobacco from suppliers or collect it from a cash and carry. However, HMRC has yet to reveal details of the registration process and any associated costs. Ramsay did confirm that the new system doesn't replace the Scottish Tobacco register but runs in tandem with it.
He also said funding was available to help wholesalers and cash & carrys upgrade their scanning systems to cope with the changes.
Camelot congratulated retailers on preventing underage play of the Lottery. The company's Retail Business Manager Wendy Craig said Scotland leads the UK in this respect, with a 95% pass rate of Camelot's mystery shopper programme, the rather unimaginatively-titled Operation Child.
She also announced the roll-out of a retailer training programme to help prevent excess play and publicised the new Set For Life annuity game that launches on 18 March.
The seminar, which was held at the Corn Exchange in Edinburgh on 7 February, also featured a well-attended trade exhibition. It was chaired by Kenny MacAskill, former Cabinet Secretary for Justice.