The hot drinks category is one that sells well all year round, and it doesn't have to be restricted to tea and coffee. Recent new products in the hot chocolate sector have changed the look of the hot drinks section in stores.
by Émer O'Toole
---
The tea category in the UK as a whole is currently worth over £59m. As the UK's leading choice of beverage, second only to water and with 20.4 billion drinking occasions, tea is in a very strong position to drive sales for retailers and continues.
Tea is a staple product in convenience stores but retailers need to work hard to keep consumers interested. Simple changes could make a big difference to sales. In convenience the top selling tea brands account for 85% of sales so stocking the best sellers and blocking brands so customers can find what they want easily will benefit sales. "The big brands help shoppers find what they want in everyday black tea, so it is important to make sure you know who the leaders in tea are", says Andrew Pearl, Director of Customer and Shopper Marketing for Tetley.
Premium tea
Consumer tastes in tea are changing and although everyday black teas still dominate tea sales shoppers are trading up to higher value teas, which offer higher margin sales for retailers. The Tetley Blend Collection brings added value to black tea and gives shoppers an opportunity to trade up to a new taste experience for little more spend per cup. Each tea in the collection offers something extra, whether extra strength, a blend of green and black or a refreshing special blend of tea. The Blend Collection is a strong offering with sales of around £3.3m, but this is a high-end niche sector when you consider it against the dominance of everyday black tea.
Everyday black tea continues to dominate sales across the board and Tetley remains the preferred tea brand in Scotland with 44% volume share. Space on shelf should reflect the preference for everyday black teas, but stores should explore the potential to increase sales in the growth areas of tea particularly in greens, fruit and herbal and decaf teas. Shoppers spend less time at the tea fixture than most packaged grocery goods, 47% spend less than 30 seconds. Teas need to be presented in a logical order so that shoppers can see what is available and find what they want to buy quickly and easily.
Smaller packs like 40s are the big sellers in smaller grocery stores, 80s, 160s and 240s offer a great opportunity to up the sale, but think carefully about the layout of your fixture to assess where your emphasis should be. Additionally, volume sales of everyday black decaf are up 6.0% in Scotland. These drinkers are loyal and committed and won't replace their choice with an everyday tea, so if a decaf variant is not available a sale won't be made.
Tetley research shows that many are unaware of the varieties of tea available beyond everyday black tea. Simple signposting on shelf can encourage shoppers to linger and look beyond black teas to different varieties, which can add value to the sale. The fruit & herbal Tea market is worth over £75m in value sales while the green tea market closely follows at £37m, so it is worth tapping into these categories. Green teas are becoming an increasingly popular choice. In convenience stores, overall volume sales have increased 14.0% with value sales exceeding this at 28.4%. Stores in Scotland have been slower to take advantage of the trend in greens teas so there remains unexplored potential here.
Tetley Super Green Teas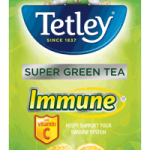 Tetley Super Green Teas are the first functional green teas in the UK with proven health benefits. The four SKUs in the range are supported by European Food Standards Agency (EFSA) approved health claims relating to supporting your immune system and helping reduce tiredness and fatigue. Tetley Super Green Tea Immune contains Vitamin C and comes in two flavours, Tropical or Lemon & Honey and Tetley Super Green Tea Boost has added vitamin B6 and comes in Berry Burst and Lime flavours. Available in multiples since last autumn, sales have been strong achieving £1m in a year. They have been rated the leading NPD in green tea and research shows that the range has one of the highest repeat purchase rates of any NPD; nearly 28% of buyers are completely new to tea which is great news for tea for not only are they new customers they are making a higher spend per cup so adding value.
Fuelling coffee sales
If the tea market's £591m is impressive, consider that the coffee market is worth over £1bn in the UK. Within this sector, premiumisation has taken a firm foothold.
Martin Andreasen, Marketing Director for Retail at Jacobs Douwe Egberts, comments: "Fuelled by the explosion in coffee-shop culture over recent years, consumers now expect products at home that are both easy-to-make and of similar quality to that of their favourite coffee chain. This premiumisation trend is something that convenience retailers should look to take advantage of by stocking innovative wholebean instant formats such as Kenco Millicano."
Kenco Millicano was launched in 2010 and has since achieved incredible success, currently worth £30m and holding a 39% share of the Microground Instant sub-sector. Millicano also holds the highest repeat rate and penetration of any product within the category, at 46% and 12% respectively. The product combines premium freeze-dried coffee with finely-milled roast and ground coffee beans, delivering a taste that is closer to roast and ground with the convenience of instant.
The main driver however remains everyday coffee – the likes of Kenco and Douwe Egberts are must-stocks. "The premiumisation trend doesn't necessarily mean that consumers are turning away from their firm favourites; many still continue to choose brands they know and trust for that little bit of everyday indulgence," adds Andreasen.
At the value end granule products such as Kenco Rappor and Douwe Egberts Classic Roast are ideal for shoppers who are simply looking for an instant caffeine boost, without the need of a luxurious or premium experience.
Merchandising the coffee fixture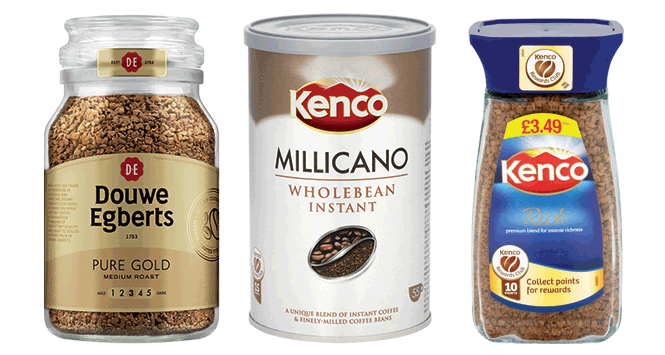 Ensure the growing sectors are well represented within your store. Cover a range of qualities within instant coffee from granules to wholebean Instant.
Focus on top sellers, with brands consumers know and trust.
Make the most of Pricemarked Packs. Shoppers perceive them as good value.
Use POS to promote associated categories such as sugar and milk.
Consider holding staff tasting sessions when you introduce new lines, so they can talk with confidence about the different types of coffee available.
Don't let lack of space be an excuse. A wide range of tastes can be catered for in two or three shelves.
Range hot beverages near to your breakfast offering.
Make the most of media investment and be aware of who is on TV at any given period.
Hot Chocolate and beyond
Coffee and tea aren't the only products that dominate the hot drinks category. The chocolate drink market is worth over £100m in the UK. Susan Nash, Trade Communications Manager at Mondeléz International, says: "Challenging perceptions of hot chocolate as simply a functional 'warm me up' or 'help me to sleep' product will be key in helping to grow the category." Cadbury leads the sub-categories of Drinking Chocolate, Instant Chocolate and Hot Chocolate Cocoa and has a number two position in Diet Chocolate beverages with its Highlights range. Currently only one in two households buy hot chocolate, yet it is a highly popular drink in the out of home market thanks to rise of the café culture, proving that the category has significant area for growth.
PG tips capsules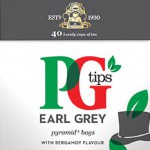 At the end of last year, PG Tips launched a range of tea of capsules compatible with Nespresso machines, to offer consumers their favourite tea at the push of a button. The product is available in Green Tea, Peppermint, Raspberry & Apple and a new variant from the brand, Caramel and Vanilla. The new flavours tap into the growing consumer trend for new tastes and flavours within the category. PG Tips capsules are set to tap into the increasing popularity of capsuled beverages. Worth £105m, capsules are the fastest growing segment in hot beverages, growing 36% in the past year.