Imperial Tobacco has removed its gantries from two retailers south of the border following illegal tobacco-related convictions.
Imperial has also withdrawn sales support from Amrik Singh Arora, of 'Good Morning Superstore' (pictured), Harrow and Manmeet Singh Grover, with premises in Staines-Upon-Thames. The retailers' involvement in Imperial's ingite trade partner programme has also been terminated.
The tobacco manufacturer failed to recover its gantry from a third retailer, Surja Sethi of 'Micklefield Superstore', High Wycombe. Sethi had acquired the gantry from another retailer after JTI had removed its gantry from Micklefield Superstore. However, when a contractor arrived to remove the Imperial gantry, it was no longer at the premises. Needless to say, Imperial is no longer conducting business with Sethi.
A further three retailers, all English-based, were cut loose by Imperial following convictions.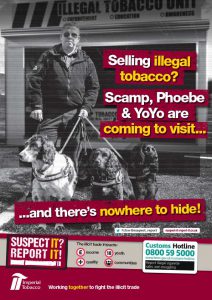 Peter Nelson, Imperial Tobacco Anti-Illicit Trade Manager, commented: "These latest actions are another impactful demonstration of Imperial's 'zero tolerance' policy regarding retailers convicted of transgressions relating to illegal tobacco. Fraudulent retailers who fall foul of the law will lose their Imperial gantries, their related sales support and any ignite points they may have amassed.
"It is important to remember that, far from a victimless crime, the illicit trade affects honest retailers, damages communities and – in many cases – actually funds organised criminal activity. If you are suspicious of illegal tobacco where you live, please act by contacting HMRC's Hotline on 0800 59 5000, or your local Trading Standards or Police."
News of the removals comes as the latest instalment in Imperial's Suspect it? Report it! poster campaign highlights the role of sniffer dogs in unearthing illicit tobacco.