With the sun breaking through the rain just long enough for a BBQ and a bevvy in classic Scottish summer fashion, SLR breaks down the drinks market with tips to make the most of the warmer weather before it disappears.
---
A few days in the sun last month warmed up consumer appetite for summer, causing the annual urge for donning shorts, sunglasses, and pouring a drink to relax into the warmer weather. Both alcoholic and soft drinks play their role in summer drinks occasions, and SLR rounds up industry expert advice to give the lowdown on how to drink in the profits.
"In a typical year, drink now soft drinks benefit from an average 17% retail sales value uplift from June to August," explains Mark Sterratt, Head of Marketing, Strategy and Planning at Lucozade Ribena Suntory. "For every one-degree temperature change, soft drink sales increase by +1.6%, so there's a massive incentive for retailers to get their impulse soft drinks range right, right now."
The soft drinks category has stood its ground in convenience in recent months; increasing sales by +0.1% to be worth £2.1bn. The number one footfall driver to convenience, 'drink now' soft drinks, are worth over £1.5bn RSV to the convenience channel, according to HIM research. The majority of soft drinks growth in convenience was driven by water, energy, iced tea and coffee. Meanwhile, the low-calorie segment benefitted from the trend for healthier soft drinks, achieving +3.3% growth (to £362m), versus full sugar soft drinks which declined by -0.5% (to £1.7bn) in convenience. As a result, the soft drinks category responded with reformulations of many of their existing products.
Almost two thirds (57%) of low calorie soft drinks growth was seen in energy and cola. This was reinforced by brand marketing campaigns which focused on no or low added sugar ranges and Pepsi was the number one brand contributor to convenience channel growth, up +9.8%, adding £10.6m to the channel.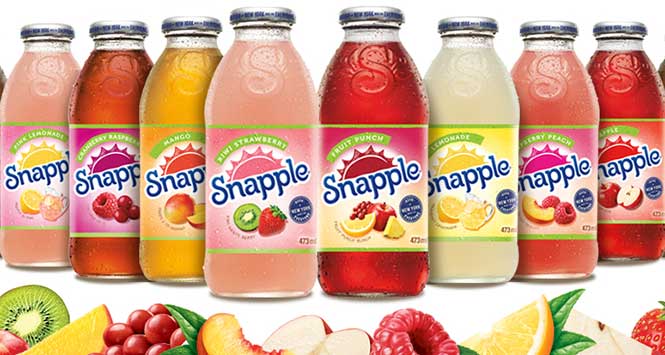 The summer occasion
From BBQs to the Big Night In, summer is a time of get-togethers and basking in the warmer weather. Drinks play a fundamental part at any gathering, so retailers should never underestimate the power of a sunny afternoon to create a spontaneous last-minute drinks mission-shop. To take full advantage of the occasion, Trystan Farnworth, Commercial Director, Convenience & Impulse at Britvic, advises on merchandising.
"Specially created big night in displays consisting of the most relevant products across several categories should be sited in visible and high-footfall areas where consumers' attention is likely to be captured even if not necessarily on a big night in shopping mission," Farnworth says. "Shoppers may be in a hurry as they pick up last minute items for social occasions, so group sub-categories together to make it easier for shoppers to find what they are looking for."
It may be worth focusing more on adult soft drinks, including 750ml bottles of Appletiser or Schweppes Sparkling Juice Drinks, which Amy Burgess, Trade Communications Manager at Coca-Cola European Partners (CCEP) says are ideal as consumers look for a premium drink to make their gathering feel more sophisticated.
Britvic's top summer tips
Stock the right range – For immediate refreshment it is important to stock a broad range of branded soft drinks from established segments such as carbonates, juices and juice drinks, energy and vitality drinks and water. Retailers should also take advantage of growing segments such as ice tea which are more interesting for discerning customers, as well as leading kids brands such as Fruit Shoot.
Great merchandising – Shoppers are often in a hurry as they pop in to pick up bits and pieces throughout the day, so group sub-categories together to make it easier for shoppers to find what they are looking for. We recommend segmenting the chiller into 4 areas – carbonates, stills, energy & vitality and water. Always make sure single serve drinks are kept chilled and ready to drink straight away to drive impulse purchase from thirsty shoppers.
Highlight NPD – Shoppers want to discover new things, so make sure new carbonated soft drinks – such as our recently relaunched and extended R White's range – stand out in the chiller and with additional point of sale around the store to point customers in the right direction.
Be visible – Make sure soft drinks are in a prominent location in store, such as near the till area, to encourage impulse buying. Leading brands should always have sufficient space on shelf to help shoppers who are looking for their specific favourites find what they are looking for. Restock shelves frequently to keep up with demand – any gaps in the chiller represent potential missed sales.
Make the most of food occasions – Soft drinks are the most frequently purchased food-to-go item with 39% of shoppers buying a soft drink versus just 24% purchasing confectionery, for example. To increase the number of items bought for on-the-go consumption, offer meal or snack deals across food and drink categories.
Offer value – As well as offering promotions and cross category deals, PMPs are a great way of reassuring shoppers that they are getting great value.
"Summer 2016 accounted for more than a quarter of annual soft drinks sales, underlining the strength of the category at this time," Burgess elaborates. "Periods of warmer weather can be the catalyst behind growth, whether people are looking to cool down whilst on the go, or stocking up for a family outdoor occasion like a barbecue or picnic."
Rain or shine, a summers evening is the perfect excuse for a more romantic big night in. With recent research from Pernod Ricard UK revealing that two thirds of wine drinkers consider the 'time for me and us' occasion as a key moment to purchase a bottle of wine, keeping the wine shelves stocked with popular brands should be a priority. Promoting the occasion, Pernod Ricard UK recently launched a 'Win Dinner on Us' promotion. The neck tag offer runs across Campo Viejo, Brancott Estate and Jacob's Creek, and gives consumers the chance to win dinner delivered straight to their door.
The research also points to wine as being an impulsive purchase, according to Lucy Bearman, Head of Customer Development at Pernod Ricard UK. "It was fascinating to discover that when shoppers actually prepare for their 'time for me and us' nights, they are rarely thinking about wine when they are in-store as part of this occasion," she tells. "By identifying this missed opportunity, the launch of our on-pack promotion aims to inspire shoppers to consider purchasing wine as part of the occasion. Triggering this wine drinking occasion in-store at the point of purchase is a huge opportunity for retailers to tap into."
Heroing healthier
The soft drinks market has evolved, with shoppers increasingly looking for greater choice at the fixture. The growth in popularity of low-calorie soft drinks means that this summer it is more important than ever for retailers to constantly evauluate their offering and offer the key players in the category.
"We've taken bold steps to help consumers make healthy choices through reformulating our drinks without compromising taste or quality," says Farnworth, championing Britvic's commitment to providing low sugar alternatives. "We removed added sugar Fruit Shoot and Robinsons Squash ranges in GB and we have reformulated other brands, such as Drench, to reduce sugar content. We've also been innovating in this area with the launch of our new Sparkling range of Drench which includes naturally sourced stevia and no artificial sweeteners, colours or flavourings."
Positioning also plays a key role. For example, shoppers that are looking for a healthy option tend to look at the water fixture in the chiller, so retailers might consider stocking juice drinks in the chiller cabinet, positioned between carbonates and water. New sugar free lines, such as Irn-Bru Xtra, might be well positioned between regular and sugar free brand variants.
AG Barr is currently investing £5 million in Rubicon Spring, one of the fast selling ranges of products which combine sparkling spring water with fruit juice to deliver a big taste with 15 calories or less per bottle. "Branded flavoured sparkling water is currently one of the strongest performing areas within the soft drinks market, growing at +144%," says Adrian Troy, AG Barr's Marketing Director.
Water in growth
Bottled water is the fastest growing segment within the £7.5bn soft drinks category, according to HIM research. The research indicates that the majority (65%) of this growth comes from shoppers switching from other soft drinks, notably colas, flavoured carbonates and juices which has been driven to a large extent by consumers concern about sugar.
Bottled water holds potential for further growth, especially during the summer time, as almost two thirds of people in the UK (59%) still only drink just one serving of water or less a day, and 80% drink no more than two servings of water.
Silika Shellie, Head of Category and Shopper Development at Nestlé Waters advises retailers to encourage sales of bottled water with signposting in store, positions in locations such as the till-point or the soft drinks fixture with secondary sitings, including water in meal-deal offers and bundle deals, and stocking well-known brands in both still and sparkling varieties.
"Consumers are becoming more aware of the need to reduce the amount of sugar they consume, and are switching from sugary carbonates and juice drinks to bottled water," Shellie tells. "However, more can and should be done to encourage the healthy hydration habit, as many people are still not achieving The Department of Health's recommended daily target to help the body maintain its fluid balance."
Essential summer energy
Even energy drinks such as Monster, Red Bull and Rockstar have been making their attempts to capture the health-conscious consumer market. But with summer a key period for energy drinks, there may be a risk of too much innovation standing in the way of incremental sales.
Within Energy, sizes are driving category growth, with core continuing to contribute significantly to share. But, the market has become extremely crowded with more brands, variants and formats than ever before. The key to delivering sales through merchandising is rationalisation, according to Richard Fisher, Category Development Manager at Red Bull UK, ensuring the right range is available at all times is imperative.
"With an increasing number of skus entering the Sports & Energy category, many stores have placed an increased importance on standard and value tier brands, providing them more space on shelf, resulting in a negative impact on the value of the category," Fisher says. "Within functional energy drinks, although standard and value brands have a higher frequency of purchase, premium brands, such as Red Bull actually drive a higher spend per shopper."
A price marked promise
Price and value are key drivers for shoppers and most convenience retailers agree that they are a clear indicator to reinforce both a positive price perception and trust in their store and prices.
The latest research from HIM found that one in three UK adults say that knowing a convenience store sold PMP positively influences their decision to visit that store, with 79% of shoppers viewing PMP as a promotion. The local retail market can struggle when it comes to offering everyday low prices, so when reviewing their product range, retailers should consider stocking price marked packs (PMP) to offer shoppers obvious value for money.
Today's shoppers seek a balance between price and convenience when making purchase decisions," says Brtivic's Trystan Farnworth. "PMPs provide visible value-for-money and grab the attention of savvy consumers. They present a significant sales opportunity for independent retailers in simplifying the shopping experience for their customers and driving consumers' positive value perception. Research also shows that 50% of consumers trust price-marked-packs more than plain packs."
A boozy night in
Summer habitually creates a desire for indulgence, and the summer alcohol drinks market is among the most important in driving incremental sales. Offerings from all segments in the alcohol category fit the summer bill, from a nice cool beer or cider, to a bottle of wine or a cocktail. Whatever the drink, stocking products which catch the summer vibes can drive incremental sales in store.
"Two thirds of convenience retailers experience a 10% increase in their wine and spirits sales during the summer months and a further 27% of retailers see an increase of 20% or more," says James Middleton, Impulse Channel Director at Pernod Ricard UK.
Pernod Ricard UK has identified through a bespoke shopper study that most wine drinkers enjoy a glass, often with food, on summer nights in with friends and family. With sales of premium wines and spirits for this occasion accounting for £977m over the past five years and over two thirds involving people consuming alcohol at the weekend, it should be a consideration for retailers to provide their shoppers with an extensive premium offering.
"[Summer is an] important time for retailers to get their wine and spirits ranging right and provide shoppers with a comprehensive offering of 'good, better, best'," says Middleton. "Rather than stocking five similar wines and spirits at the lower end of the value spectrum, it is far more effective to offer three that offer different propositions.
"The summer occasion sparks the incentive for consumers to begin throwing parties (11%) and having social gatherings (22%), creating a huge opportunity for retailers as consumers look to trade up," Middleton continues. "To help promote wine and spirits, it's important for retailers to inspire shoppers with choices to compliment these occasions. The trend for premium is continuing to deliver growth as consumers are opting to drink less but better, we therefore recommend that retailers allocate the right space to trusted brands."
The RTD segment sells steadily all year round, but like most alcoholic drinks, sales tend to increase when the sun shines and the temperature rises due largely to people seeking refreshment and socialising more at events like BBQs.
SHS Drinks says RTD cocktails are quick and easy to make, add a sense of occasion when consumers are socialising and are a fun talking point. The cocktail trend, it says, is also great news for convenience retailers as it provides the opportunity to generate incremental sales from the spirits and mixers used to make the drinks.
"RTDs are still very much part of young adults' summer drinks repertoire, and that's because fruity alcoholic drinks are as popular as ever amongst 18 to 24-year-olds, who are the key consumers of alcohol RTDs," explains Amanda Grabham, Head of Brand Marketing, Alcohol at SHS Drinks. "We just need to ensure that these brands engage and connect with young consumers' lifestyles and that's what we will be focusing WKD activity on this summer."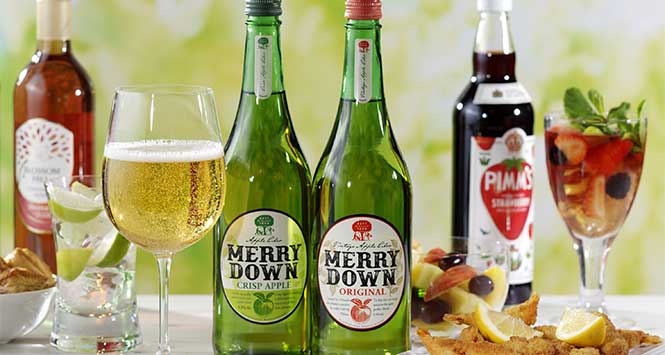 Also grabbing the sweet toothed drinker's attention this summer is likely to be cider, as last summer saw a significant surge in glass bottled cider sales in the impulse sector, with the average weekly sales volume between June and August being 50% higher than average weekly sales during the other nine months of the year.
To maximise the summer sales-opportunity it is worth considering allocating more space to glass bottled cider during the summer months. It is also advisable to stock a good selection of ciders in the chiller as more than half (55%) of shoppers consume their purchases within two hours of purchase. SHS Drinks recommends focusing on the sectors of the cider category which are performing well, and offering a selection of packs, including 750ml bottles for sharing, to meet different summer consumption occasions.
"As summer approaches, it's a good opportunity to review your cider range and check that you aren't over-facing on fruit and pear ciders now that sales of these are starting to wane," advises Grabham, who points to the fact that volume sales of fruit ciders in Scotland's impulse stores fell by 14% last year, while pear sales down by 15%.
"Taking out the slower sellers will free up space which can be re-allocated to give faster selling brands more facings; to create a heritage section within the fixture; and to introduce new lines to meet new consumer trends."
Beer is worth more than £2.7bn in the grocery channel, and with purchases being driven by a consumer need to satisfy certain occasions, the summer months are increasing these occasions with BBQs and the like.
"Keeping an eye on weather forecasts to predict the peaks and troughs in demand will enable retailers to stock chillers accordingly and keep up with the often-impromptu nature of BBQ purchases," advises Toby Lancaster, Category and Shopper Marketing Director at Heineken. "BBQ shoppers will be open to suggestions for food pairings so consider ranging beers and ciders with relevant food pairings in the chiller to drive extra sales and create an engaging in-store experience for shoppers this summer."
And finally, the segment big brands such as Heineken are tipping to be the next trend: alcohol free beer. Recent research from IPSOS has shown that whilst 50% of people now say they moderate their alcohol consumption only 47% of shoppers are satisfied with the existing alcohol-free beer offering in the UK market, and are looking for trusted global premium brands to have an offering in the segment. Heineken 0.0 was launched into the market earlier this year and David Lette, Premium Brands Director at Heineken says it is performing well. "Our master brewer is so confident in Heineken 0.0 that he has given it his seal of approval," Lette enthuses. "Drinkers love it too – initial feedback from both consumers and customers has been overwhelmingly positive."
Summer merchandising advice from SHS Drinks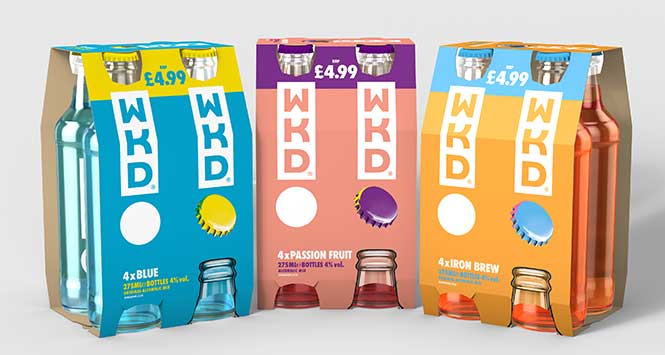 Range review – undertaking a seasonal range review using EPoS data to identify slow sellers and replacing them with a wider range of flavours of the popular best-selling brands, new launches and seasonal lines.
Clear display – making the display clear and easy for shoppers to navigate by arranging together by brand and then flavour; keeping traditional RTDs, RTS cans and pouches together.
Mixed offering – stocking a mix of pack formats to cater for different occasions – 700 ml bottles are preferred for sharing occasions when consumers are getting together and having a drink before they go out for the evening and they are also ideal for making RTD cocktails; while 4-packs tend to be purchased for sharing at parties or events such as barbecues.
Keep drinks chilled – having plenty of chilled stock available – our research shows almost half of WKD consumers meet up at least once a week with friends for a night in, and Fridays and Saturdays are the most popular evenings for meeting at a friend's house before going out.
Seasonal spotlight – giving additional feature space to traditional bottled RTDs during key calendar events when there is an increase in young adults socialising such as summer, the end of the exam term and the barbecue season.
Group flavours – Positioning RTDs adjacent to fruit ciders as they have a similar fruity taste profile and appeal to similar consumers and consumption occasions.
What goes where
Lucozade Ribena Suntory's Mark Sterratt says it is vital that retailers provide true 'convenience' by stocking the best-selling brands shoppers expect to see in all retail outlets. He also advises that retailers should also ensure that their soft drink range is kept cold at all times. "Customers may be less inclined to buy a drink if it's not chilled, 70% of shoppers pick up their soft drinks from a chiller, so it's essential to keep soft drinks cool to make the most of every food-to-go sales opportunity," he explains.
"Point of sale material has a proven record of driving those it reaches to purchase a product," he continues. "For independent retailers – with time-pressed consumers who don't walk down every aisle in the store and tend not to buy on impulse – disruptive point of sale materials are absolutely vital. Retailers should make use of manufacturers' POS materials, given research also highlights that branded point of sale assets are more effective than their unbranded equivalents."
The bottom line
This summer, chillers should be well stocked with a comprehensive range of single-serve formats for thirsty shoppers who will be looking for immediate, cold refreshment in all drinks segments. Sharing formats are key for popular summer occasions such BBQs and picnics, whilst bank holidays and particularly hot weather will encourage spikes in demand for larger bottles and multipacks too.
Key summer brands and new launches should be highlighted with seasonal POS at the chiller, till and, importantly, outside the store to disrupt shopper behaviour and encourage trade-up within the range. Multi-buy promotions can also help to drive a higher basket spend and inspire extra purchase. As the temperature rises, retailers should expect increased footfall in store, meaning the summer season is a key sales opportunity for the convenience sector.