Rural stores in some of the most far-flung reaches of Scotland would have been forgiven for thinking they were immune from supermarkets stealing custom, but expanded home delivery networks have changed all that, as we investigate.
by Kevin Scott
---
We were very nervous when we heard Tesco's plans," says retailer Julie Wilkinson. These plans didn't involve building a new superstore, or even opening a Tesco Express across the road from the Spar store in Lochcarron that Julie and her family have run for the last 16 years. In fact the plan was to begin offering home delivery to Lochcarron, a village 70 miles away – or an hour and half's drive – from the nearest Tesco superstore.
The irony is that Julie's sales have actually increased slightly since Tesco began offering deliveries last October. This shouldn't be mistaken for a positive business development however. "What's their motive?" asks Julie. "They're expanding the convenience side of their business so are they looking to put local stores out of business so they can move in?"
A worrying theory. Even if Tesco (or any of the big four) is simply looking to offer more services to more customers then it threatens not only the livelihoods of rural retailers, but the essential services they supply. Post Office services, parcel collection, fuel, prescription services, tourist information. And that's before anyone runs out of bread or milk.
Speaking to SLR, a Tesco spokesperson said that the expansion of the service was nothing more than part of its ongoing commitment to customers. He says: "We've received a lot of positive feedback about our deliveries and collection points in the more remote areas of Scotland. Many people welcome the convenience of having access to groceries and a wide range of other products close to home, no matter where they live."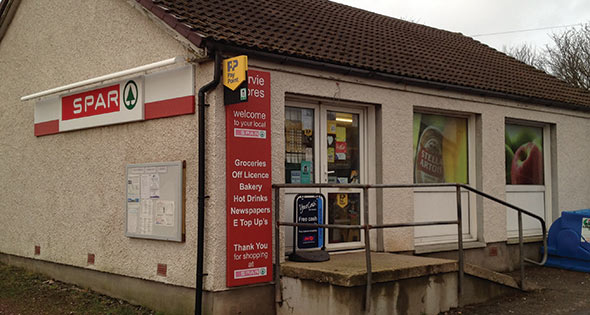 Yet Bill Mair, Sales Director at CJ Lang, argues that when supermarkets are offering unlimited deliveries, covering distances exceeding 150 miles it could be viewed that they are using their financial clout to muscle their way in to small villages, seriously risking the eco balance of village life and rural communities. "Whilst we welcome legitimate competition, such cutthroat activities puts many businesses at risk," he says. "Users of online shopping may enjoy cheaper groceries in the short term, however, in the longer term the shops affected will absolutely become non-viable and communities will be left with no local amenities."
John Drummond, SGF Chief Executive, says the group is highlighting its concerns to MSPs: "We are beginning to realise that rural stores are suffering even without a big supermarket anywhere in the vicinity," he says. "Every locally owned independent store is important to its community but in rural areas the store can be even more important."
It is the potential loss of community meeting points that may be the most distressing aspect of Tesco's advancement. "Not everyone is online. We've got an older population who use our shop as a meeting place," says Julie. "We also deliver locally to those who can't make it to the store, so it's very frustrating to think that could be under threat."
Further north John Mackenzie operates a Spar store in Durness, on the very north coast. It's a two hour drive to the nearest superstore – with Thurso and Inverness seemingly a safe distance away. Of course, the reality is that John's business is now facing the threat of home deliveries. Previously, shoppers would drive to one of the big stores for a monthly shop, picking up day to day essentials as and when they were required, but with seven day deliveries, there is less reliance on local stores like John's.
John says he needs more time to truly measure the impact the delivery route has had, but at a rough estimate he reckons sales are down between three and five percent, purely as a result of the deliveries. That's quite a hit when it's something you simply can't hit back against.
John Murray, a veteran retailer who has owned and managed a number of stores throughout the Highlands says that he is beginning to notice the impact of the mults like never before. "They are definitely making in roads with the deliveries," he says. "Over Christmas there was no buzz at all – when people can get large packs of beer delivered to their door it's certainly a concern. I used to have a philosophy that people would always forget something in an online delivery, but they seem more in tune now. On top of this the supermarkets have raised their game with the accuracy of what they deliver."
In Kinlochbervie, Christine Mackenzie and Norman Elrick have noticed that their turnover is down but not as bad as it could have been. Christine says: "It really is difficult to tell at the moment, but there's no question it's had an impact. There's only so much we can do, but we'll continue to do it as best we can."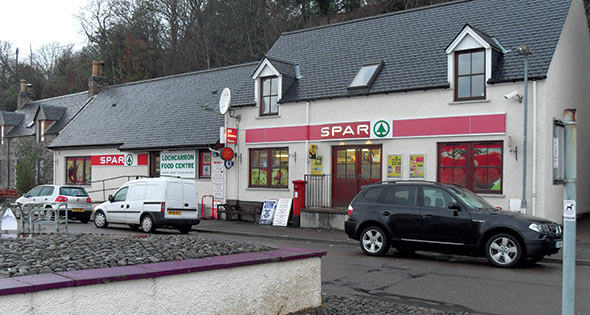 There is one glimmer of hope for Christine. "Some people who used to drive to the supermarket are now not, so we may find them coming to rely on our store more for top ups."
It's a fine theory, one that John Mackenzie agrees with. "Supermarkets have been around for a long while and people drive to them for their big shop and come to us in between. That's what we're here for," he says.
Logistics
"I don't understand the logistics of deliveries," adds John. "You'd need a full van to make it pay, and I doubt it's full very often. It's definitely worrying me."
Julie is another retailer who can't find logic in the decision to delivery to household two hours' drive from the nearest store.
The sales uplift that Julie has noticed can be put down – at least in part – to Lochcarron's admirable opposition to Tesco stomping its Monty Python foot all over the local area. "A lot of regulars are angry at the fact Tesco has started their deliveries," she says. "They're using us more, and that's why our sales have gone up."
In villages like Durness and Kinlochbervie, Tesco cuts its costs by scheduling a drop off for its deliveries at a collection point. In Lochcarron, things haven't been as easy. Any locals approached about facilitating a central drop off point refused to entertain the supermarket, and so unlike other rural areas, Lochcarron residents receive the deliveries to their door.
"We may not be able to stop supermarkets delivering into the rural villages however we do need to find a way to sustain the rural shops that provide such essential services to local residents," says Bill Mair. "Spar fully supports the concept of local shopping, employing locally, use of local suppliers and supporting local communities but this alone won't resolve the growth of this new threat. The supermarkets strategy delivers short term gains for them but at an unacceptable cost to rural shopping amenities and local communities."
In Durness, John has served his local community for 40 years and the store itself has existed for over 100 years. The reality however is that with Tesco taking its massive range to the local community, there's a chance that these stores may no longer remain viable. Such an outcome would be a real tragedy.