The bumper 2022 festive season is a good omen for retailers looking to end this year on a high note.
By Elena Dimama
---
Last year saw a record-breaking year for grocery Christmas sales and this year can be an equally fruitful one for local retailers, despite shoppers working with tighter budgets.
Last December saw sales pass the £12bn mark for the first time, rising 9% year-on-year, after a unique year of retraction in 2021, according to Kantar Worldpanel.
Gifting and sharing aplenty
There is no doubt that the purse strings will be tight this Christmas, but consumers are still expected to try and look for indulgences and sharing treats.
Confectionery is well placed to offer shoppers the opportunity to trade up in the festive season, after last year's impressive performance. In 2022, confectionery was worth over £2bn, according to IRI, with 97% of UK households buying into the category in the run-up to Christmas, spending on average £55 per person over the season, Kantar found.
"Retailers should ensure that in addition to their usual confectionery items, they stock up on seasonal varieties and sharing/selection boxes," Andy Mutton, Managing Director, Storck UK, says. "We're predicting more in-home celebrations this year as people look to save money which is where chocolate and sweet sharing boxes can really help to elevate these experiences."
According to Kantar, chocolate dominated confectionery sales in the run-up to the big day last year, worth more than £1.65bn. Sugar confectionery in general will still have a major part to play – worth more than £400m over Christmas 2022 and growing faster than chocolate at +6.8% year-on-year, according to IRI.
"The Christmas essentials in the confectionery sector are gifting products, stocking fillers, advent calendars, share bags and novelty festive sweets," Kathryn Hague, Head of Marketing at Hancocks, explains. "Stocking fillers make for great impulse purchases and this year we have some brand-new festive launches from Candy Realms which are perfect for the occasion."
Cybi Capaldi, Mars Wrigley Senior Brand Manager, Christmas, adds: "Echoing 2022, we expect to see shoppers prioritising value for money this Christmas, comparing products and stockists, including discounters, to ensure they are saving money where possible.
"This shift in focus leads shoppers to consider a wider range of formats when seeking confectionery that fits their budget and has caused a move from boxed chocolate shoppers into both sharing and tins/tubs. The gain from this switch has been £2.7m and £1.6m respectively."
Festive drinks
A nice festive drink is among the treats shoppers choose to spend money on at Christmas, either as a gift or self-indulgence.
"Whisky is the number one category for gifting between October and December, having enjoyed 30% share of 'spirits bought as a gift' last year," Lauren Priestley – Head of Category Development Off Trade, at Diageo, says.
"Not only does whisky lend itself to the winter months, but it also makes a great gift. There is a burgeoning diversity within the whisky category, making it even easier to appeal to a broader range of adult consumers, from connoisseur to novice, so we suggest stocking a good variety of whiskies."
What's more, one in four households bought Baileys last Christmas, while vodka accounted for 51% of super-premium spirits sales in impulse between October and December last year.
"With nearly half of UK adults (47%) switching between alcohol and low and alcohol-free drinks on the same occasion, and two-fifths (40%) of adults saying they are looking to moderate their drinking, it's more important than ever for retailers to consider alcohol-free options, particularly during the festive season," Priestley adds.
Mixers, sodas and soft drinks are also in high demand. "For those looking to enjoy a cocktail at home during these celebratory occasions, ready-to-drink cocktails offer ultimate convenience and a consistently perfect festive serve," Amy Burgess, Senior Trade Communications Manager at Coca-Cola Europacific Partners (CCEP), explains. "In Great Britain's convenience market, the alcoholic ready-to-drink (ARTD) section is already a powerhouse, worth nearly £168m, and it's gearing up for a significant surge by 2030."
Mondelez unveils 2023 festive range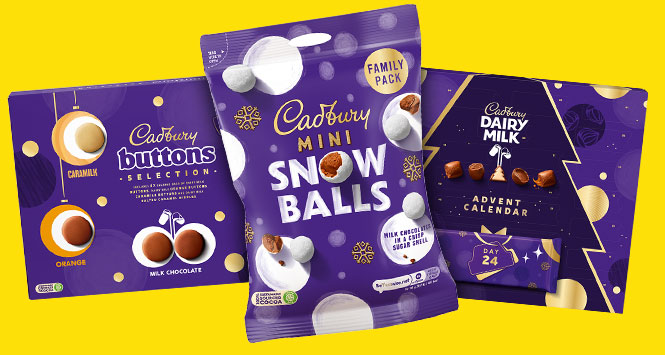 Mondelez has unwrapped a sleighful of new products to help retailers get set for a bumper festive season.
The brand has added a 296g sharing bag to the Cadbury Mini Snowballs range in cases of seven along with the 360g Cadbury Dairy Milk Winter Orange Crisp, available in cases of 13 and at £3.50 RSP.
Shoppers looking to trade up and treat themselves to an indulgent advent calendar could be tempted by the new 340g Cadbury Dairy Milk Advent Calendar, which contains 10 Cadbury Dairy Milk Chunks, five Cadbury Dairy Milk Robins, four Hazelnut Jingly Bells, four Caramel Chunks and, finally, a 100g Winter Wonderland Bar for Christmas Eve. It has a £10 RSP and is available in cases of six.
Mondelez is also rolling out a new Cadbury Buttons Selection Box this year. The 375g packs RSP at £6.50 and include four different flavoured 95g treat bags: Cadbury Dairy Milk Buttons, Cadbury Dairy Milk Orange Buttons, Cadbury Dairy Milk Salted Caramel Nibbles and Caramilk Buttons. It comes in cases of seven.
It is joined by the Cadbury Dairy Milk Money Box Tin (RSP £6), described as "the perfect top-up gift in the final run up to Christmas". The tins, available in outers of 8 x 230g, feature a playful design and offer a secondary packaging use.