SLR offers a glimpse inside Scottish Local Retailer of the Year Billy Gatt's stunning Premier store on the north Aberdeenshire coast.
By Antony Begley
---
Winning the coveted Scottish Local Retailer of the Year award is no mean feat at the best of times and this year there was a long list of retailers with strong cases for claiming the title. In the end, however, the judges agreed that none could compete with what is essentially a retail fantasy that has been built in the small and remote town of Whitehills on the north Aberdeenshire coast.
The 3,000sq ft Premier Whitehills store was built from the ground up by long-standing Premier retailer Billy Gatt and his family – and at no small cost. Spending £1.6m of your own money on a mammoth project that involved buying a pub, buying some land next door, adding a new-build store on that land then joining the two together is a major commitment by anybody's standards. To round it out, Bill built a new 12-bay car park immediately outside which lets shoppers easily wheel their trolleys from till to boot – and they do get a lot of trolley shoppers.
In Billy's words, he wants Premier Whitehills to be "a legacy for his family". He wants to leave something of value behind for his nearest and dearest and that was more important to him than simply creating an exceptional store. That partly explains why all corners remained resolutely uncut in the creation of Premier Whitehills.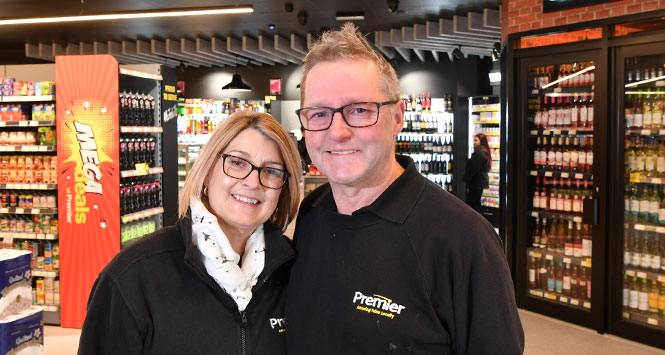 A former trawlerman, Billy's career in retail began 22 years ago when he came ashore and made the bold decision to establish a new career.
"I've had two stores over the years, a convenience store in the nearby town of Banff and a small 1,000sq ft Premier store in Whitehills which I've run for the past 17 years," explains Billy. "Whitehills is a small fishing village with only around 1,200 residents and our store has always been the only one in the village. As such, it's always been a real lifeline for local people and that became even more apparent during the lockdown months.
"The idea of building a new larger store with even more range and facilities for local shoppers had been in my head for a number of years, but the pandemic was what spurred me on to actually do it."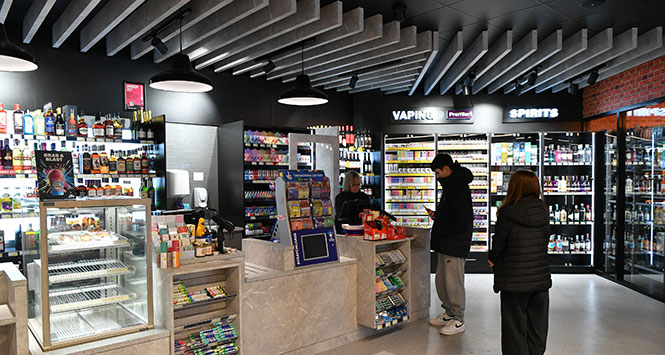 And while he spent a considerable chunk of change bringing his idea to life – it opened in November 2022 – it's not the amount of money that was spent that sets the store apart. That's categorically not why Billy claimed the Scottish Local Retailer of the Year title. It was the quality of thought and the exceptional planning and attention to detail and the way Billy spent the money that put him ahead of an outstanding set of contenders for the title.
This year's shortlist for the awards was blissfully awash with big-spend refits and new-builds and upgrades of all sorts. During 21 years of doing the awards, we've never seen as much money reinvested in the sector as we did during this year's judging. Hats off to one and all. It was an uplifting couple of months visiting so many pristine and beautiful stores.
But Whitehills rose above all the rest, and certainly not because they spent more than the rest.
Retailer's dream
So what makes the store so special? The simplest answer is that it has been built by a retailer who understands retail and has been doing it for years and knows exactly what he wants from a store he's going to the bother of building himself. Premier Whitehills is certainly impressive to its customers, but it's even more impressive to other retailers. In my opinion, it's how you would build a store yourself if you were doing it today.
"The fact that we designed and built everything from scratch allowed me to create a store that would work really well at the back end," Billy says. "I looked long and hard at the logistics, thinking about exactly where I wanted the deliveries to come in, how much space I wanted to devote to spare stock and where to put any waste. As a result, the whole store has a really good flow."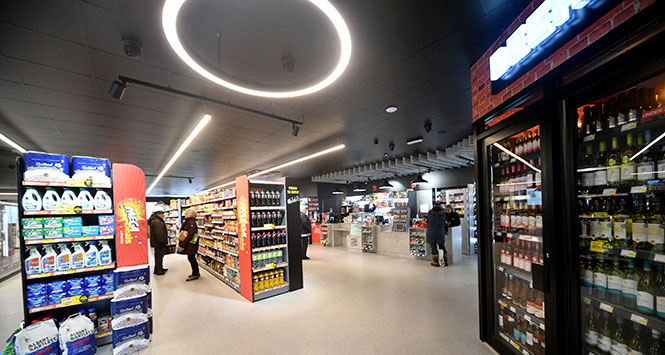 The short version of the story is that Billy had operated a smaller, fairly typical Premier store a few hundred yards along the road for many years. It was a little tired, a little oddly shaped and a little small. Several of his staff suggested he should buy the pub along the road, which had closed, and turn it into a shop which would allow them to expand the sales space. Billy mulled over that idea then did indeed buy the pub, but he also set in motion a plan to build a brand-new store right next door.
The pub would become the production kitchen for the store, preparing a huge array of hot and cold food, prepared fresh every day for sale in the store. The kitchen produces everything from sandwiches, salads and soups to a range of more than 16 chilled ready meals including favourites such as Steak & Ale Pies, Spaghetti Bolognese, Chicken Curry and Stovies.
Not content with that, Billy then built a third section that linked the old pub and the new store, which effectively acts as part state-of-the-art storage and handling facility and part goods-in depot. There's even a roller door at the front to make deliveries and back-hauling a piece of cake, with zero disruption to customers or store staff. Internal passageways allow the stock to then be moved into one of the holding areas or taken straight out onto the shopfloor. No manhandling cases of stock through the front door or via the back store room here.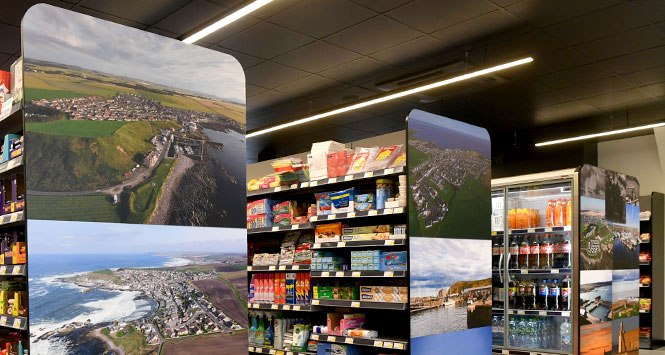 And even in the store room it's clear to see where the £1.6m went. The back store and goods area is fitted out to a standard that a lot of stores can't match out on the shopfloor. Industrial lifts help move stock while enormous walk-in freezers and chillers allow for bulk storage and efficient shifting of stock between the store and the kitchens.
Then there's the kitchen itself. It's huge. Really huge. In a past life I've been lucky enough to see inside some Michelin-starred restaurant kitchens and some of them weren't nearly as spacious as Billy's. Not only that, the kitchen is fitted out with some of the best spec kit you'll see in any kitchen anywhere. There's no doubt the kitchen could have been fitted out cheaper, but when you're building a legacy and not a store, why not go all in?
As for the store itself, it's a pristine and immaculately executed version of Premier's latest store blueprint. Being a perfect rectangle (because it was built from scratch), there are no awkward shapes, inconvenient pillars or supporting walls.
It has all the Premier bells and whistles: a beer cave, a big vaping wall, a Refresh@Premier zone with a selection of hot and cold drinks to go, a big American candy section, a huge fresh and chilled fixture plus all the other accoutrements of modern convenience retailing. It also has a Post Office, which is less common these days, but given the store's very remote location, it's a community service as much as a part of the business.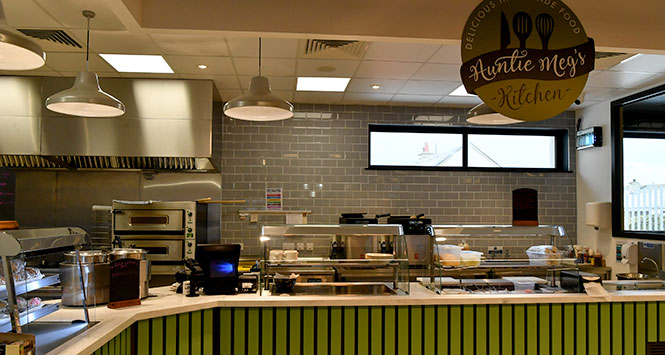 And there's Auntie Meg's Kitchen, the foodservice side of the store, serviced by the kitchen next door and offering a huge array of hot and cold foods to take away or to eat in the adjoining 18-seater cafe area that sits at the back of the store.
Named in honour of Billy's wife's aunt, the kitchen serves a full menu of home-cooked foods including pizzas, burgers, loaded fries and traditional hearty meals. It also serves a selection of freshly baked cakes, pastries and scones, all of which can also be enjoyed with hot and cold drinks from Auntie Meg's Kitchen counter or from one of the 10 different drink options from the Refresh@Premier zone.
"The Auntie Meg's Kitchen brand is a perfect complement to our wider range of chilled foods," Billy explains.
"Auntie Meg's Kitchen offers a premium choice with ready meal RSPs typically in the region of £5 to £5.50, alongside a range of Jack's ready meals we offer, which means we have something to suit every shopper's budget," he adds.
Catchment area
As a former commercial fisherman, Billy knew all about luring fish into a net and he knew that he would have to work hard to lure people to his new store. With a local population of just 1,200 he knew that the new store would have to include footfall-driving features to attract trade from further afield to make such a large space commercially successful.
"We had to make it a destination," he says. "I was well aware of how other Premier retailers were developing their stores, so I decided to do a road trip to visit as many as possible." The 1,000-mile road trip took Billy to a number of cutting-edge Premier stores, including Singh's in Sheffield, from whom he netted inspiration.
"I didn't want to re-invent the wheel at Whitehills, but I was keen to take some of the great concepts from other stores and tailor them to own unique demographic," he says.
One quick walk around the store suggests that Billy has more than achieved his aims.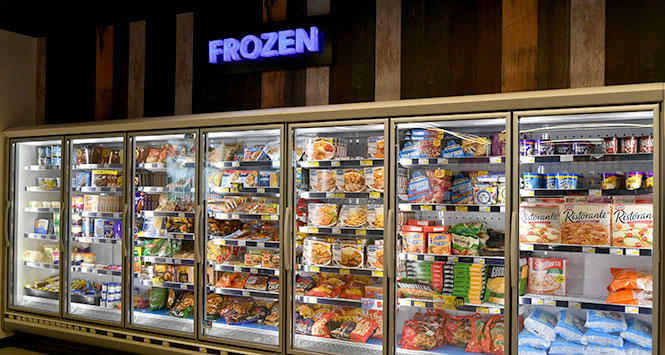 Commercially the store is flying, and you strongly suspect it will continue to grow long into the future.
"The feedback has been phenomenal," concludes Billy. "I'm so proud of what we have achieved here. It's been a huge team effort from everyone involved, including myself, Premier and the many members of my family who also work in the business.
"I have eight grandchildren and I hope that they will all work here in some capacity or another in the future. This store is my gift to them, as well as to the people of Whitehills."
As gifts go, it's pretty decent – and if you get the chance to visit, it would be time well spent, and don't forget to ask Billy to show around the kitchens when you're there.