---
With store standards getting higher and a number of amazing Rewards up for grabs, a new three-stage judging process is being introduced to the SLR Rewards this year, with a number of leading industry figures taking part.
---
Last year the relaunched SLR Rewards captured the imagination of local retailers throughout Scotland, leading to record entries across each and every category.
With Shaun Marwaha winning a trip to Las Vegas as our Scottish Local Retailer of the Year, and a number of other incredible Rewards – including trips to Lille, Amsterdam, Manchester and Plymouth – we're expecting even more entries this year. Once more, our Scottish Local Retailer of the Year will be off to Las Vegas, and we'll be announcing more exciting Rewards shortly.
All this has led us to make changes to the judging process, with an additional stage being added.
This year an initial stage will be conducted by the team at SLR which will create a long list in each category. From there we have invited a number of leading industry figures to participate in the main paper judging session, which will create the shortlists in each category. At this point we'll be back on the road to visit every single shortlisted store, before the winners are unveiled at the Grand Central Hotel in Glasgow on 4th June.
Here is a closer look at the judges who will be joining Antony Begley and Kevin Scott.
Gillian Barker
Director General, GroceryAid
Gillian joined the National Grocers Benevolent Fund (now known as GroceryAid) in 2002 from Safeway Stores where she held the position of Commercial Director. Gillian's career, which has been entirely in retailing, includes a long spell with J. Sainsbury where latterly she was Vice-President of the Shaw's brand in their American operation, Shaws Supermarkets.
Karen Peattie
Freelance journalist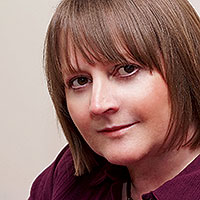 Karen Peattie is a highly respected freelance journalist, editor and PR consultant with over 30 years' experience spanning weekly and national newspapers, trade publications, consumer magazines and online media.
She is currently editor of High Flyer, the passenger magazine for Glasgow Airport, and a regular contributor on STV Glasgow's The Riverside Show. A contributor to SLR, Karen specialises in the retail, wholesale, and food and drink sectors.