Henderson Technology is working with Spar Mullusk to help the store get ahead of the game in key areas of opportunity like fresh food, food to go, drive thru coffee and cutting-edge Epos.
---
Bringing locally sourced fresh food and food-to-go to forecourts
Spar Mallusk in Newtownabbey, a large town just north of Belfast, is a a forecourt site which plays a hugely important part role in the community the store serves. The forecourt and convenience store outlet was specifically designed following extensive local customer research and built – a 'For Now' zone, and a 'For Later' zone which includes Mayfield Village Butchers and an amazing array of fresh foods, 75% of which are supplied by local fresh suppliers.
The multi-million-pound investment by Henderson Retail consists of an all-new forecourt and convenience store outlet which also brings the first ever Barista Bar Coffee Drive-Thru exclusively to the local area.
Future forecourt concept
Damien Nevin, Henderson Group Retail Development Manager says the outlet is the future of forecourt retailing: "This modern outlet is multi-purpose, packed with new services and products under one roof. When designing this site, we wanted to ensure we were delivering on freshly prepared food to go options, alongside an abundance of value driven local products and essentials for tonight's tea and beyond, as well as attractive consumer services that make us stand out in a busy marketplace."
First-ever Barista Bar Coffee Drive-Thru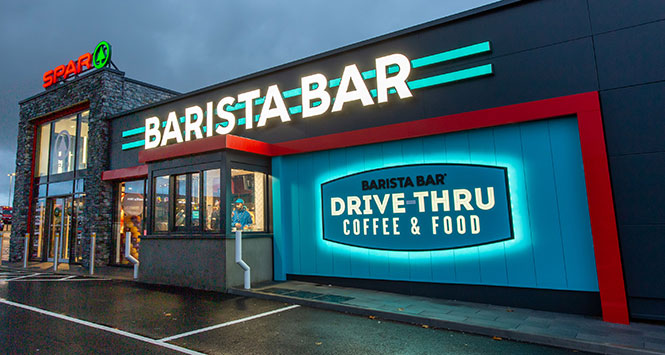 This future-proof site strategy has resulted in a unique and exclusive food-to-go offering, from Spar's newest food to go brand, Delish, complemented by Northern Ireland's first Barista Bar Drive-Thru and a Subway counter, a combination of products and services that will be a huge draw to the high footfall, low dwell time shopper the team expect for the area.
Breakfast, lunch, and dinner from Delish and Barista Bar in-store can also be ordered online via the Spar Savvy Shopper App and collected at store, a real plus for time pressed consumers.
Nevin says: "Every part of the store has been considered and built for differing shopper demands. Barista Bar, created by Henderson Foodservice, has seen exceptional growth in the past couple of years.
"Shoppers can expect the full Barista Bar experience at the drive-thru with signature cappuccino, americano and lattes, alongside specialities from flat whites to mochas and chai teas. There is even more choice available as customers will be able to personalise their drinks with a plant-based milk alternative (oat) and the decaf options available. We will also have seasonal specialities, and shoppers can take advantage of a full hot breakfast, lunch and treats menu from Delish."
In-store, Spar Mallusk houses three Barista Bar machines, one of which is new concept, Barista Bar Planted, providing the same great taste and quality of a signature Barista brew with non-dairy options at the touch of a button. It is only the second machine to be introduced to stores in Northern Ireland.
Nevin continues: "Delish at Spar Mallusk offers the full new experience including a Burrito Bar, Southern Fried Chicken, Chicken Pick 'n' Mix, Rotisserie Chicken, and indulgent Ice Cream & Shakes. We have carefully selected the range to provide our shoppers with fantastic quality and choice, in an easy to order format, at great everyday value."
The addition of modern EDGEPoS technology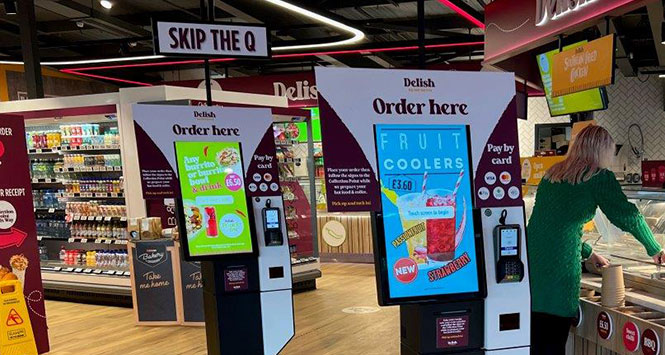 Retail technology has played a huge role in the development of Spar Mallusk. "There is a whole layer of systems that the customer does not see, and then our future concept additions that the customer can see and use," adds Nevin.
On the forecourt, there are ten lanes of EDGEPoS scanning, three of those are cash and card self-checkout lanes, which has a massive positive impact of getting customers in and out of the store quickly. The Glory Cash Management has been integrated into the cashier and self-checkout tills, as well as the back of house Glory system.
"We brought in new technology which was an integrated project between Henderson Technology and Bludot Technologies, which sits in the form on two self-serve kiosks for our food-to-go counters. Customers can come into the store, order, and pay for their food on the self-serve kiosks, and go to the collection point in-store to grab and go.
"The team at Henderson Technology have always been key to us delivering our latest ideas in retail technology, and meeting all customer demands in the expected ways of serving, ordering, and paying in these recent times. This is the key benefit to having a technology partner within our Group. The retail stores lead the ideas of what the future of retail looks like, and Henderson Technology innovate and deliver these solutions for the Group and beyond."
What's next for EDGEPoS?
Henderson Technology has two exciting app integration launches upcoming this summer. The introduction of Fuel, Pay, Go! and Fuel, Pay, Assist! will be a market first. The single app platform is a white label Pay@The Pump app integrated with EDGEPoS system and pumps. Additionally, it allows forecourts to offer Pay@The Pump assistance. There are 2.6 million blue badge drivers across the UK and using the system they will be able to arrive on the forecourt, identify their pump on the app and request assistance from the team in the store. The assistant fuels up for the customer, and the transaction is processed and completed through the app.
Later in the summer, Henderson Technology will be launching a Deliverect link, which allows EDGEPoS to link to multiple platforms, including Deliveroo, Uber Eats, Just Eats and many more.
Some popular fuel features on EDGEPoS:
Fuel payment cards integrations such as Esso, BP, Texaco, Gulf
Fuel VAT receipts can be printed separately for the customer
No Means to Pay and Drive Off reporting at tills
Fuel Pump price changes at till
Instore Coupons, i.e. 2 pence off per litre of fuel – printed from till receipt printer
Employees have the ability to authorise fuel straight from the tills
Fuel information is clearly displayed along the bottom of the till system, allowing employees to be  aware of which particular fuel has been selected at each pump
Fuel is documented on the back office including drive offs and sales
Fuel prepay option
Fuel bunkering facilities
Integration with fuel loyalty programmes such as BPMe, Oomph, Nectar, Star Rewards
Wholesaler Links integration
OPT integration
White label Pay at the Pump integration
Refund fuel back onto pump it was released from
Live tank gauge and wet stock report
Full Credit Accounts in system
Other highlights:
Reliable, fast and flexible software
24/7/365 customer support
Global customer base
Award winning innovation and technology software and service
Easy to use and implement