With costs rising across the board for local retailers, the old rule-of-thumb of needing to make 20% gross profit to run a profitable business no longer seems realistic – so is 30% the new minimum target level?
by Antony Begley
---
The biggest challenge facing all local retailers in Scotland these days, bar none, is rising costs. The national minimum wage rose once again this month and pretty much every other cost that retailers face is only going in one direction. Add to that all the new costs that come with complying with new legislation and the industry is facing a perfect storm.
For many years the generally accepted if informal rule of thumb among retailers was that a minimum of around 20% gross profit was needed to run a profitable business. That rule more or less held true for a long time but with the massive upswing in the cost of doing business in the last few years, 20% no longer seems enough. Indeed, with costs only likely to rise in future, it looks like the minimum GP that retailers will need to aim for will have to be quite a lot higher.
Given that the vast majority of total sales in a typical c-store will be in categories generating considerably less than 20% – tobacco, a lot of alcohol lines, Lottery and PayPoint, for example – a target figure of somewhere close to 30% looks about right if retailers are to find the balance.
Harris Aslam, MD of Eros Retail which has eight stores in central Scotland, certainly thinks so: "I couldn't agree more," he says. "The problem is massive for all retailers but with a managed estate of stores the problem gets magnified. Every time the minimum wage increases we add thousands and thousands of pounds onto our wage bill, which in turn means that the stores need more turnover and, more importantly, more profit."
To put that another way, for every thousand pounds that your wage bill rises, your turnover must rise by £5,000 at 20% GP just to stand still.
Not sustainable
"It's simply not sustainable for most local retailers," says Harris. "Which is why as an industry we are all focusing on higher margin categories like food-to-go. Making 20% GP just doesn't cut it any longer and yes, we probably are looking at a minimum of 25% or maybe even 30% GP if we are to secure sustainable businesses in the longer term."
Edinburgh Premier retailer Dennis Williams believes the local retailing sector had been guilty in the past of chasing growth in turnover without focusing sufficiently on profitable turnover. "I think for a lot of years the sector chased sales growth alone, hoping that profits would take care of themselves," he comments. "And for a long time that strategy more or less worked but in recent years with ferocious increases in the cost of doing business and a massive intensifying of competition, we've all had to get a bit smarter and focus on what really matters: profit."
Dennis and his wife Linda felt those challenges more keenly than most when Aldi moved in almost literally next door a couple of years ago, but he now accepts that it was "a blessing in disguise". He explains: "We obviously panicked a bit when we heard Aldi was coming but after we'd calmed down we decided that we had to put some plans in place that would give us a chance against the discounter.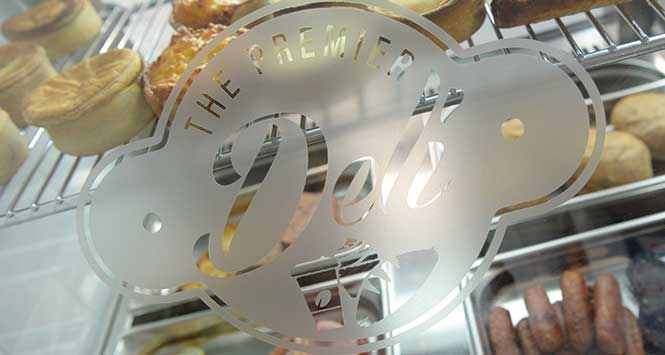 "We worked with Booker and devised a simple strategy that was based around focusing on products and services that Aldi couldn't or wouldn't offer and really homing in on higher margin categories. We believed at the time that our turnover would take a hit but we thought we could survive that as long as we increased the GP we were making."
As it turns out, the store's turnover didn't take a hit – which was a huge relief – and the focus on higher GP categories helped deliver a significantly improved performance, the best of both worlds.
"It taught us a real lesson about planning and about focusing on what matters most to both you as a retailer and to your customers," says Dennis. "Our sales stayed steady after Aldi arrived but our GP increased significantly, due in a large part to the addition of a new hot food-to-go counter which has turned out to be the best thing we've done in the store for many years. It now accounts for a massive amount of sales every week and, best of all, they are high margin sales."
Scott Graham who owns and runs the McLeish's Inverurie business is another retailer who says the days of 20% GP are gone. He puts is bluntly: "Retailers can't live on 20% these days."
Learning from Ireland
A recent study tour to Dublin organised by KeyStore reinforced that thinking for Scott: "The trip really put it into perspective for me because over there their product and services mix is so much more geared towards high margin categories. They're less focused on just shifting stock and instead are far more focused on high margin categories, particularly food-to-go. I'd say 95% of the stores we visited stocked no grocery for instance. Literally none. I was also told by a retailer that they simply wouldn't look at a line that's below 48% margin."
It's not the first time that Ireland has been cited as beacon of the profitable local retailing model. Yes, the market is very different over there with less in the way of supermarket and discounter competition, but Ireland has always delivered c-stores that seem to be on a different level to their counterparts this side of the water.
To a certain extent, Irish retailers have been more successful in driving the sales mix, rather than simply following consumer demand. This has allowed them to prioritise higher margin lines and categories rather than simply joining the rush to become the cheapest store in the area with the biggest and best promotions.
Another challenge that Scott sees is price-marked packs which necessarily cap the margins that retailers can make. "I think the days of trying to compete with the supermarkets on the price of a can of Coke are dead. It's all about offering points of difference and making your store a destination nowadays. You can't make a living out being the cheapest in the area."
Musselburgh retailer Dan Brown who runs Pinkie Farm Convenience Store says his prime focus these days is on lines and categories that deliver 30% at the very least, so much so that he's recently undergone a massive refit to allow to more ruthlessly focus on bigger profits. He explains: "Part of the point of the refit is to give more room over to higher margin lines and create new space for new higher margin services. Low margin categories like grocery are getting stripped way back to make room for things like bakery and food to go. We seem to forget that we're convenience stores, not supermarkets, and we know shoppers are happy to pay a bit more for the convenience. We've also rethought out pricing strategy to build more margin in all the way through the store."
Food-to-go factor
The Scottish business that arguably foresaw the critical importance of food-to-go before any other was David's Kitchen, owned by David Sands. Keith Fernie, manager of the Glenrothes store, explains: "When we opened the first store five years ago we had two aims: to build a store with a point of difference and to focus on margins. Food-to-go was in its infancy then but we believed it would grow and we knew it would deliver much higher margins than selling traditional convenience store grocery or impulse lines."
David and Keith were subsequently proven correct on both counts and David's Kitchen went on to open another store in Falkirk with a third due to open in Kirkcaldy shortly. All three stores operate on the same model, with food-to-go very much at the heart of the offering. "If anything, the food-to-go range is more important than ever for us now," says Keith. "And we're now starting to do some outside catering as we feel this might be a new avenue to grow sales and margins for the stores."
Getting away from solely competing on price is something that Harris Aslam also sees as key: "One of the challenges we all have is getting away from the price-driven model," he says. "So many stores compete exclusively on price and that's a dangerous game to play because it means you are routinely and regularly sacrificing margin. What we prefer to do is focus on where we can add value, offer interesting and new ranges that shoppers can't easily get elsewhere, and basically become destination stores."
A serial and restless entrepreneur, this has even led Harris to launch his own products such as the Skwishee frozen fizzy drink solution. He explains: "We spent a lot of time studying 7-Eleven and learned from them how important having USPs and strong margins is, which is how we came up with Skwishee. We have machines in seven of our eight stores and they provide another unique reason for shoppers to visit. The product also offers a 64% margin so it works exceptionally well for retailers too."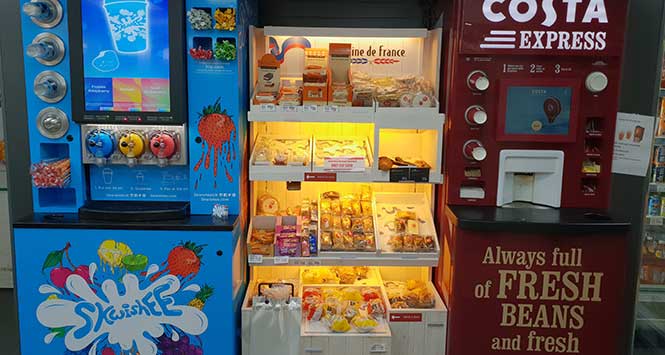 A total of 32 Skwishee machines are now on site across the country with Harris aiming to reach 150 by the summer. "We're on track to hit that target," he says, "and I believe it's because we developed the product from a retailer's point of view. We wanted a product that delivers big margin, looks great, tastes great, drives footfall and offers retailers a fantastic USP."
When it comes to growing profits, however, "there is no magic wand" says Moniaive Premier retailer Graham Watson. "It's absolutely true that 20% GP is no longer enough to survive on – but it's very difficult in a rural community to grow profits. We're lucky in that we're about 18 miles from the nearest town, Dumfries, so we get most of the local custom. We focus on growing GP with food-to-go and coffee and so on, but with a limited audience it can be challenging."
There may be no magic wand, but it still seems clear that the focus for retailers these days must be profits. It is a daunting task for many but there are more and more higher margin options out there to exploit.
The days of stores offering virtually identical ranges may be drawing to a close – and that has to be good news for both shoppers and retailers.
Higher GP – a few options
There are plenty of options available for retailers looking to add products that give their stores a USP and deliver much larger margins. Here are a few ideas…
Food-to-go
The most important high margin category in local retailing today, it's now easier to set up a food-to-go solution than ever before and it is rapidly becoming a 'must have' offering in virtually all stores.
Vaping
While local retailing isn't yet getting its fair share of the vaping market, the potential is there, and vaping lines offer far better percentage margins than the tobacco products they aim to replace.
F'real Milkshakes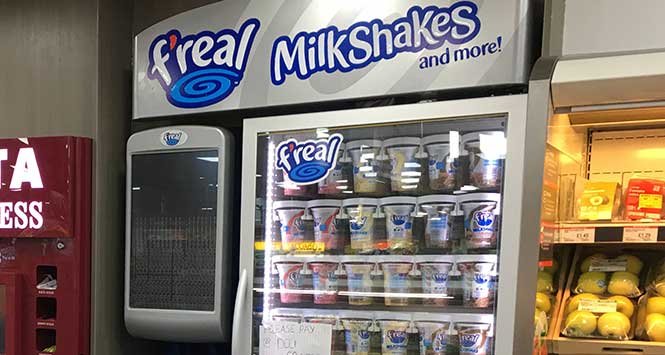 A US import, these premium milkshakes command high prices and high margins while also adding a little glamour to a store.
Skwishee
Retailer Harris Aslam's modern take on the slush, this 64% margin frozen fizzy drink solution is now in over 30 stores in Scotland with many more in the pipeline.
Tango Ice Blast
The sensation that is Tango Ice Blast is becoming more and more common in Scottish c-stores. It offers big margins and big spend, with the largest size available on sale at an RSP of £5. There are plenty of shoppers willing to pay for it.
Home delivery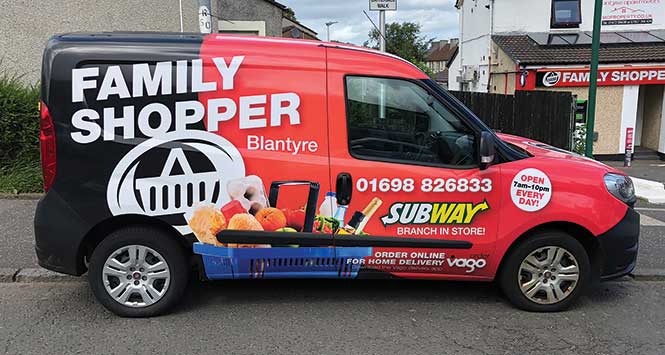 A few Scottish retailers are trying home delivery – and with signifcant success. Easier than ever to set up, it can drive big orders and repeat business. The delivery fee helps boost margins too.
Pizzas
Once an expensive and complicated offering, there are now many compact and low-cost options on the market. These allow retailers to grow their food-to-go offering and extend the traditional food-to-go sales period every day, while also delivering solid margins.
Slush
Don't forget the original super-high margin slush machines that can deliver steady sales all year-round as well as margins of 70% or more from a very small footprint unit.
Dessert bars
The dessert bar seems to be the latest fashion in c-stores offering the opportunity to tap into a new, high margin market that is very much in line with the Scottish palate.