1 NEWSPAPERS ARE BIG NEWS

The sales of national newspapers amount
to £2.4 billion* every year. This makes the
category bigger than confectionery (£2.2bn),
bread (£1.7 bn) and milk (£1.2bn).**
Source: *ABC circulation
2 SHOPPERS LOVE THE NEWS
Newspapers are the number one reason

people visit convenience stores. 31%* of
customers visit stores for newspapers,
magazines and cigarettes and buying
newspapers is the major part of this activity.
Source: *HiM! CTP 2013
3 NEWS EQUALS FULLER BASKETS
69% of shoppers buy other items in addition

to buying a newspaper. With an average of
an extra 2 items per basket, a news shopper
will spend an average of £3.68 extra*.
Source: *HiM! CTP 2013
4 NEWS KEEPS CUSTOMERS CALLING

Newspaper shoppers are very loyal. 35% of them visit stores every day
in comparison to 22% of non-newspaper shoppers.*
Source: *HiM! CTP 2013
5 HEADLINES SELL NEWSPAPERS

33% of newspaper sales are spontaneous.* The front page of the newspapers should always be
shown in full view. 14% of customers are more likely to make a purchase if papers are displayed
at the front of the store.**
Source: *News Front Page Analysis (July 2010)
** HiM! CTP 2013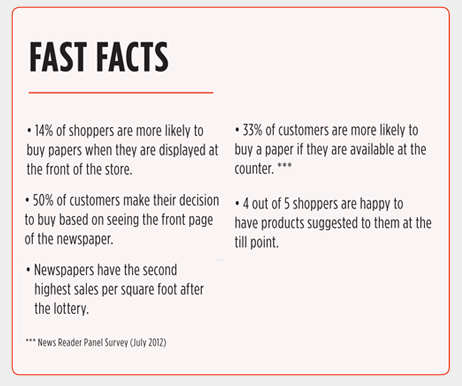 1 EXTERNAL SIGNAGE

Display headlines to capture customers' attention.
2 FRONT OF STORE

Display newspapers at the most visible entry point. A vertical news display makes it easier for customers to pick up newspapers.
3 IN-STORE DISPLAY

Keep displays tidy and fully stocked throughout the day.
4 VISUAL PRESENTATION

Double face bestsellers and display at eye level to boost sales.
5 POINT OF SALE

Ensure any category promotional messages are current and relevant for customers.
6 SECONDARY SITES
Introduce at till point or in busy footfall areas of the store.
7 ADVERTISE DELIVERY
Inform customers about HND (Home News Delivery) services.