Pernod Ricard reckons that there is a £15.5m opportunity this Christmas for local retailers – and the key to unlocking it is premium spirits.
by Antony Begley
---
Devising the right strategy for the vital Christmas sales period is never easy, particularly in high value categories like spirits. But while many retailers may be tempted to simply join the promotional bun fight by focusing on delivering the cheapest prices possible under Minimum Unit Pricing, spirits giant Pernod Ricard believes that they would be far better served focusing on the premium end of the market instead.
Chris Shead, Off-Trade Channel Director for Pernod Ricard UK, says: "We all know that premium Spirits increase in share over Christmas, however, convenience retailers continue to miss out in the crucial trading weeks. We would urge convenience retailers to give stronger visibility to premium wine and spirit brands this Christmas in order to win back share from grocery and capitalise on what we calculate to be a £15.5m opportunity available to them."
In today's local retailing climate there's an undeniable logic to that strategy. With costs rising across the board retailers are – or at least should be – more focused on cash margins than ever before. Premium spirits typically offer far better margins and can help drive footfall too, as shoppers look to trade up to make Christmas and New Year that little bit more special.
"Spend on spirits within the convenience channel has increased 33% more than any other category in the last year and with more people visiting smaller stores than ever before [HIM CTP, 2019], there's no reason retailers can't win big this year," says Shead. Putting its money where its mouth is, Pernod Ricard UK is investing more than £5m to encourage "more festive moments of conviviality" and drive higher spend.
The focus on premium could be key to unlocking those new sales. The convenience channel increased its value share of premium spirits by just 3% in the last quarter of 2018 [Nielsen, Jun 2019]. That figure compares with grocery which saw an 8% increase over the same period. Worse, the figure for convenience in 2017 was a drop of 1%. Let that sink in. Over the last three months of 2017, convenience retail's share of the premium spirits category actually fell.
There are five key categories Pernod Ricard UK recommends retailers focus on getting right: Gin, Irish Whiskey, Blended Scotch, Vodka and Wine. These categories lend themselves to two key consumer drinking occasions at Christmas: giving the perfect gift and being the best hosts at home.
To drive awareness of these categories and propel consumers into store, Pernod Ricard UK is also increasing its above the line advertising spend by 38%, with campaigns going live from this month for Jameson, Plymouth, Chivas and Campo Viejo. This contributes to the overall investment in the Christmas occasion of more than £5m, nearly 70% more than last year.
Shead says that consumer behaviour at Christmas is changing, with more households buying more products from convenience stores [Nielsen Homescan, Dec 2018]. During these shopping trips, people are tending to buy less products but are spending more money, and the leading premiumising product is spirits [HIM].
It's worth noting too that consumer confidence declined in 2018, reaching a low at Christmas, meaning more people spent time entertaining friends and family at home. Home meal occasions, for example, were up 752m and dinner parties were up 38m versus the previous five years [Kantar Worldpanel]. This has contributed to the rise of consumers wanting to re-create their favourite cocktails and mixed drinks at home, with Google searches for the Espresso Martini up 156% over the last three years.
So why is convenience still missing out? As excitement builds over the festive period, so does the average spend on premium wine and spirits but – critically – growth happens later in the month of December for convenience than it does in grocery and the on-trade. Consequently, the key to growing sales time is encourage sales of premium spirits earlier in the month.
Shead comments: "It was a good Christmas for the convenience channel last year, however, it continued to fall behind grocery as retailers failed to maximise the premium spirits opportunity. The data all points towards a third gin-dominated Christmas this year, however, we also anticipate this year to be driven by gifting outside of traditional categories, such as gin and our new Plymouth Gift Box, as well as lead-ingredients for popular cocktails and mixed drinks. That's why we are investing significantly this year to encourage more moments of conviviality, to get consumers spending more time with family and friends, as well as more money in the convenience channel on premium wines and spirits."
Grow your gifting sales
Pernod Ricard UK encourages retailers to grow their gifting sales this Christmas and highlights its own gifting range as a great place to start:
Plymouth Gift Box: 44% of UK consumers gave gin as a gift last year and to capitalise on this growing trend, Plymouth – which is growing +6.1% [Nielsen, Mar 2019] – has launched a premium gift box suitable for gin lovers looking for a British-made, craft gift. Available from November with an RSP of £26.69.
Chivas 12 YO Gift Box: Scotch is a traditionally gifted category and Chivas, the number one premium blended whisky in the UK, has the perfect range to encourage trade-up as its taste falls somewhere between a single malt and a blend. Pernod Ricard UK recommends merchandising the full Chivas range (Chivas 12, Chivas Extra, Chivas XV) on the top shelf, with Single Malts and Jameson Irish Whiskey on either side.
Campo Viejo and Brancott Estate: Premium wine volume peaks at Christmas, as consumers buy slightly more and look to trade-up [Nielsen, Jun 2019]. Campo Viejo, the UK's number one red wine, and Brancott Estate, the UK's number two white wine, are recognisable brands hosts will welcome receiving. Campo Viejo is also the only brand in convenience with a clearly colour-coded price ladder. Range Campo Viejo Tempranillo, Campo Viejo Reserva and Campo Viejo Gran Reserve next to each other to encourage trade-up into a higher price point.
Beefeater Blood Orange and Beefeater Pink: Flavoured gin is driving 58% of the sales value within total gin [Nielsen, Sep 2019], and is likely to be the big money maker this year, so make sure it is visible on the middle shelf from the end of November through to New Year's Eve. Stocking tonic in close proximity and offering garnishes, such as strawberries and oranges, will encourage increased basket spend.
Jameson: Irish Whiskey is the second fastest growing category behind gin and is gaining momentum due to the decline of American whiskey, with Irish whiskey growing 10 times faster than American over the last two years [Nielsen, Jun 2019]. Over 49% value growth is forecast between now and 2023, and so should be given prominence on the top shelf next to single malts and premium imported whiskies.
Absolut and Kahlua: from mid-December to New Year's Eve, more and more consumers will be looking for at-home cocktails and the Espresso Martini is a Top 10 cocktail consumers want to re-create at home, with one in three households now owning an espresso machine. Standard Vodka is having a tough time; however, Absolut continues to drive growth of Premium+ Vodka (+14% vs. +6.5% total category). Stocking Kahlua next to Absolut will drive incremental sales, with 15% of Kahlua shoppers already purchasing Absolut.
Best sellers best bet this Christmas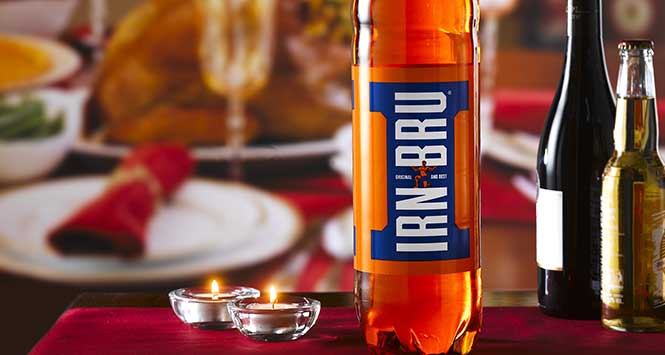 Retailers should stock up on bestselling soft drinks brands and make the most of impactful seasonal POS in order to maximise sales during the Christmas period, according to soft drinks specialist Barr Soft Drinks.
"Soft drinks are increasingly important to retailers in the run up to and during Christmas, showing continuous year on year growth for the last three years and adding a huge £150m to the category [IRI/Kantar, Christmas 2018]" says Barr's Marketing Director Adrian Troy.
Soft drinks generate double the value of spirits and seven times that of Christmas cakes over the festive period, according to the same data, further highlighting the importance of the category.
Shoppers are willing to spend more over the festive period, with over a third preferring to shop brands and premium adult drinks, so there is a chance to increase sales by widening the choice available to shoppers.
"It's crucial to get your range right and stock up on those bestselling brands that shoppers will be looking for, in both multipack and larger pack formats, to cater to those preparing for parties," adds Troy.
Barr Soft Drinks offers a wide-ranging portfolio of different flavours and pack formats, meaning there's something to meet the needs of a range of consumers, including the Irn-Bru range, the Barr Family range and the Australian-owned Bundaberg range.
The company advises retailers to stock up on a good range of mainstream and premium soft drinks in both still and sparkling varieties, to cater to a whole range of tastes and occasions this festive season. Visibility is key and retailers are also advised to use POS, and to create festive displays of bestselliers in-store to drive shoppers to the fixture and encourage impulse purchases.
Festive first for Jammie Dodgers
In a festive first since the £21m brand was launched over 50 years ago, Burton's Biscuit Company is unveiling new, limited edition designs of its iconic Jammie Dodgers, one of the nation's most popular children's biscuit brands.
The biscuits' embossed 'splat' is making way for three seasonal designs – a stocking, a star and a Christmas tree – plus a festive-themed pack for maximum impact on-shelf.
The Jammie Dodgers seasonal special will be joined by limited edition festive packs of some of Burton's much-loved biscuit brands, available now, helping retailers to drive sales and shoppers to treat themselves over the festive period.
The Maryland Cookies brand is also having a festive makeover, becoming 'Merryland' on packs of Maryland Cookies 230g. They will join the 'Merryland' Mini Cookies Sharebox – a seasonal transformation of the UK's No.1 kids mini biscuit brand Maryland Mini Cookies, perfect for adding some chocolate chip fun to sharing at home, gifting or as a stocking filler.
Burton's is also bringing back its festive limited-edition design on the Cathedral City Baked Bites Share Box. Cathedral City Baked Bites are made from the nation's favourite cheese, baked into a great-tasting savoury snack (under licence from Saputo) – the perfect accompaniment to a seasonal glass of wine.
"Seasonal biscuits are a major opportunity for retailers, worth £169m last year [Neilsen/Kantar, Dec 2019]," says Isabel Lydall, Category & Insights Controller at Burton's Biscuit Company.
"We're enabling them to make the most of this opportunity by stocking a Christmas product range that caters for the three seasonal biscuit occasions: in-home treating, novelty and gifting. Merchandising by these key occasions will make life easier for shoppers, enabling retailers to capitalise on increased demand.
"We're confident that our colourful, festive-themed packs will attract shoppers to the biscuit fixture at a time when they're looking for seasonal variations of some of their best-loved brands."
2019 Range:
NEW Jammie Dodgers – Limited edition festive biscuits – RSP 89p, 140g, case size 18 SRP
Merryland Cookies – RSP £1, 230g, case size 12 SRP
Merryland Mini Cookies Sharebox – RSP £1, 175g, case size 10 SRP
Cathedral City Baked Bites Share Box – RSP £1.49, 140g, case size 10 SRP
Millions gets new multipack look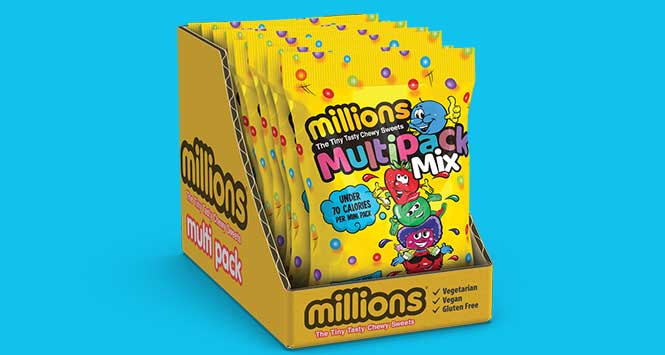 Greenock-based confectionery manufacturer Golden Casket has announced that it is unveiling a new pack design for multipacks of its iconic Millions Multipack Mix product this month.
Launched in good time for Christmas, the Multipack is gluten-free, vegan and under 70 calories a pack, perfect for a bit of responsible indulgence over the festive period.
The Multipack continues to grow for the Millions Brand and is now the number 11 biggest-selling brand out of 342 brands.
According to IRI data from March this year, within the sugar confectionery category, kids singles and multipacks is now the second largest segment worth £160m. It is one of only four segments in growth and is expanding at 2.1% while multipacks are dominant and growing at 5.7%.
Brands dominate 83% of the market while own label is growing at 16.7% but accounts for less than 18% of the overall category.