The first One Stop franchise in Scotland opened today in Glasgow, under the ownership of first-time retailer Sam Ali. And SLR had an exclusive look at the store before the doors were opened.
by Kevin Scott
---
There's been no shortage of eyes watching One Stop's expansion into Scotland this year, as retailers look to see what this new player can offer. The company is an anomaly in the convenience space, owned by Tesco it operates around 800 managed stores across the UK and has just passed the 100 mark for franchised stores. As a business model it appears to be unstoppable, and in Glasgow the first franchised store has just opened its doors.
Situated on George St, in the heart of Strathclyde University's huge footprint, and among scores of office buildings, the site has a customer base that would be the envy of any retailer. Having been home to a Co-op for at least the last 20 years it was acquired by young retail entrepreneur Sam Ali last year, opening as a Best-one.
That didn't last long however and just six weeks ago, Sam signed a deal with One Stop. Twelve days ago the Best-one closed, One Stop moved in and got to work.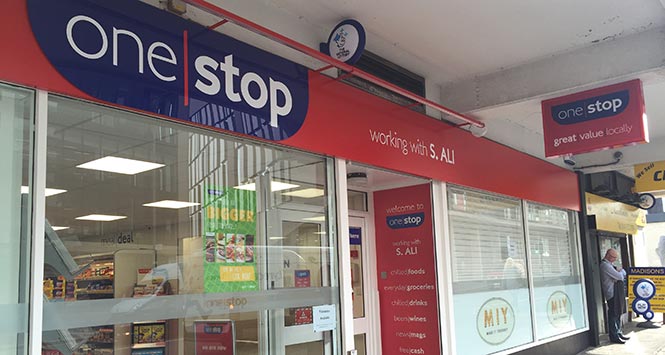 It's astonishing that such a transformation has taken place in such a short time. Having ripped out the interior of the store entirely, it looks brands new. It is. New chillers, new flooring, slick LED lighting and an attractive till point, the shop is ready for business.
The sales area of 1,700 sq ft features chilled, frozen and ambient ranges, a strong off-trade section, a raft of regularly changing offers and One Stop's meal deals: lunchtime three for £3 and evening meals three for £6. Along with this is a £10 frozen deal that includes a main, side, dessert and drink.
In addition, a brand new food to go concept has been developed by Sam to appeal to a strong lunchtime trade.  MIY – which stands for 'Make it Yourself' – allows customers to choose components separately and create their own product in exactly the way that they wish, adding a deli concept that Sam has high hopes for given the store's potential audience.
"We're absolutely delighted to be opening the first franchise store in Scotland," says John Miller, Franchise Head of Operations. "A lot of retailers are described as entrepreneurs, but Sam truly is and it's great to have her opening as a One-Stop."
For a number of years Sam has worked with Mr Mirza, a Glasgow retailer with a number of Nisa stores. Having already opened Kids Complex, a soft play concept for children, this is her first store.
"I thought it was time to go out on my own," she says. "The site was very attractive, but it just didn't work with Best-One. I'd started reading about what One Stop was doing in Scotland and decided to speak to them."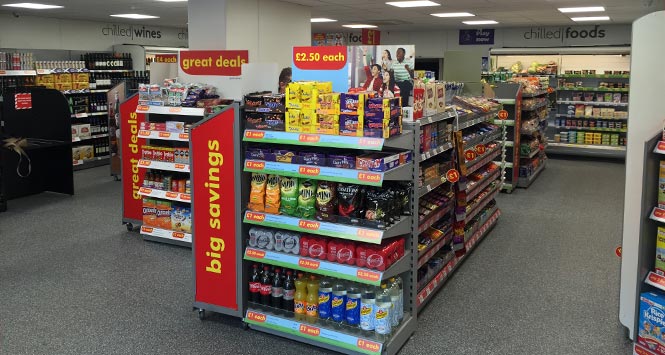 It didn't take long for Sam to come to an agreement. "We really wanted to reopen for fresher's week, which put a lot of pressure on One-Stop, but the team has been fantastic and we're even getting to open before doing a big launch on the 18th September."
The nature of the model means the One Stop merchandising team created a shop layout and initial planogram, meaning everything came together with relative ease. "The support is one of the main reasons I chose One-Stop," she says. "I'm not going to be based in the store, so I can put a manager in place and know that between them and the group, the shop will run smoothly."
She admits that she had some trepidation after hearing the company was strict with its franchisees, but says in reality that has not been the case. "They've actually been really flexible," she says. "For example they don't normally install remote refrigeration, but I really wanted that and it wasn't an issue."
Miller adds: "It's their business and we work with them. We want to be challenged by our franchisees as that's what makes the whole company better. We want pushed. There's been a lot of talk about franchisees being glorified managers, but that's not the case, we're not dictatorial."
Miller says the company's drive in Scotland is showing no sign of slowing down, and they are actively talking to a number of retailers as well as opening more managed sites.
"What we offer is something new entirely," says Miller. "We're not a symbol group, we're not driven by wholesale. It's all about retail sales."
Sam says she's not stopping with one store either and is already looking for more sites. "I've learned so much working with Mr Mirza and I'm looking forward to getting the new store opened and seeing where we can go from here."