Woodlands Local is working with AG Barr to implement a radical new planogram in the store built around key drivers identified by the soft drinks giant. Last month saw the new layout implemented in the store.
by Antony Begley
---
Last month we explained how we are now working with AG Barr to implement their radical new soft drinks planogram in Woodlands Local and we've now had the chance to do just that.
A team from AG Barr visited the store in July to rip the existing fixture up and start again from scratch. Barr's had taken the Epos data from Woodlands and merged it with their own data sets to produce what we believe is a striking new planogram, laid out according to what Barr's is calling 'consumer need states' [see panel below].
These need states were in turn derived from three key drivers that Barr's believes sit at the heart of modern soft drinks purchasing and consumption.
While soft drinks sales have been fantastic over the last few months thanks to the weather, we are very hopeful that the new planogram will help us drive even further growth and maintain enhanced volumes once the hot sun inevitably disappears behind some Falkirk clouds, as it has already started to do.
Barr's Category and Shopping Marketing Controller Nick Bentley says the company undertook the project to help retailers get to grips with a vitally important category. He said: "We've taken a long, hard look at the category, together with lifestyle changes that are sweeping across the UK and how they impact on soft drinks consumption.
"It's difficult for retailers to be an expert on every category within their store and that is where we can help by really understanding your shopper at local level, to ensure your store stands out from the crowd by offering the choice they really want."
The new planogram has already been trialled in three other stores, very different from Woodlands Local, and Bentley says it has been a huge hit with average sales increases of 18%.
He said: "The trials have shown that our new approach can really drive incremental sales by engaging shoppers and driving loyalty. We're really looking forward to seeing how Woodlands Local gets on now that the new planogram is in place."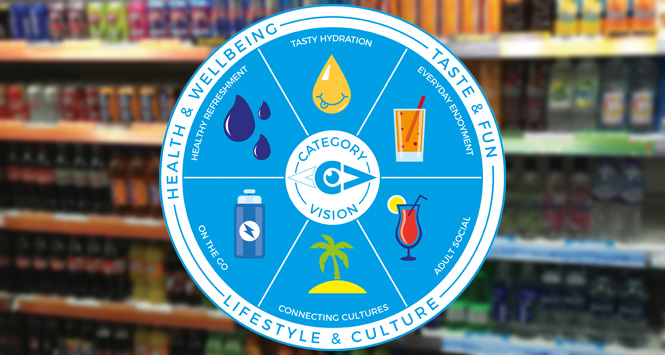 Consumer need states
The new planogram is built around six 'consumer need states' identified by AG Barr as being the most important sales drivers in soft drinks today. They are as follows:
Healthy Refreshment – Water and water-plus products perform an important, functional role
Tasty Hydration – Low calorie products with the health benefits of water and the great taste of a carbonate
Everyday Enjoyment – The backbone of the fixture needs a good range of great-tasting choices
Adult Social – Indulgent treats and options for those that avoid alcohol
Connecting Cultures – Vibrant section to tap into growing demand for exotic flavours
On-the-go – Nearly a third of purchases is an energy drink, so this section must offer the right range of products and flavour choices
Key drivers
The six consumer need states have been derived from three key drivers that AG Barr believes reflect changing consumer lifestyles, influences and needs in relation to buying and consuming soft drinks. They are:
Health & Wellbeing
Taste & Fun
Lifestyle & Culture