Spar Scotland wholesaler and retailer CJ Lang's latest store focuses on food to go and fresh, and offers an impressive insight into just how much local retailing has evolved in recent years.
by Antony Begley
---
Spar Scotland wholesaler CJ Lang holds a unique position in the Scottish local retailing sector, operating as it does as both a wholesaler to every Spar store in Scotland but also as a retailer through its rapidly-expanding chain of company-owned stores. The latest addition to that company-owned portfolio is Spar Leven, the 118th link in the chain.
CJ Lang Company Owned Stores Director Jamie Buchanan has always insisted that he has no set growth targets every year in terms of store numbers, preferring quality to quantity, but the group is growing at a steady rate with "a few more irons in the fire" likely to add to the number of stores under his control by the end of the year.
The company's reputation precedes it however, which is how Buchanan came to take a call from a developer last year asking if he was interested in this brownfield site after it looked like the deal with another retailer was falling through. Demographic surveys, competitor analyses and number-crunching done, the decision was made to go for it and a full fit-out kicked off towards the end of last year.
Spar Leven is, frankly, a striking example of both how CJ Lang envisages the future of convenience retailing and a fine case study for how much local retailing has evolved in the last few years. The economics of running a store as part of large chain (with an accompanying large overhead) mean that it's principally stores at the larger end of the scale that attract Buchanan's attention these days.
With rapidly rising staff costs, thanks to the living wage, as well as escalating costs on pretty much every front – rates, waste management, utilities, pensions and so on – it's only in a larger store, both in terms of square footage and weekly turnover, that the company-owned model can be "future-proofed", as Buchanan puts it.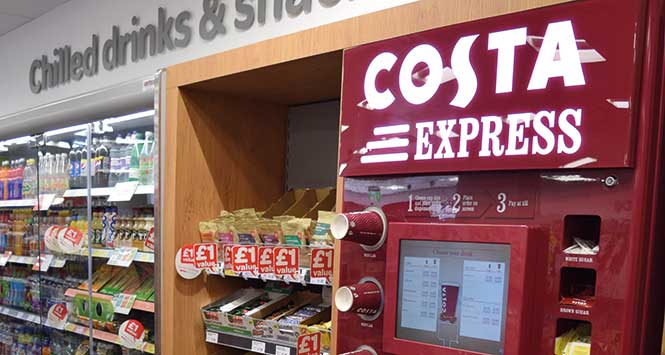 Spar Leven, therefore, offers a great insight into how CJ Lang is thinking these days. It's a big store at around 2,000sq ft and it uses every inch to give customers as many reasons as possible to visit, without feeling cluttered. The key focuses are clearly food to go and fresh, and that's reflected throughout the store. There's the more or less obligatory Subway, a Costa Coffee machine, a massive chilled range, lots of frozen space, some exquisitely presented locally sourced fresh and bakery offerings as well as a lot of locally sourced meat and produce. A gluten-free bay and a Polish foods bay also add a little specialist and locally-targeted flavour.
The shopfitting by Vertex is to the usual high standards and the design incorporates some very nice touches without getting too experimental. The extensive alcohol range includes a standout rustic-style merchandising unit for premium wine and spirits that will undoubtedly encourage trading up, while the area around the entrance of the store has been thoughtfully livened up with a series of attractive artisan bread and fresh produce standalone fixtures.
It's fresh that dominates as shoppers cross the door, as is so often the way these days, with a huge run of fresh fruit and veg opposite a long run of chilled produce, merging a lot of branded and locally sourced lines with a range of Spar own label products.
Sited on one of the two main roads on the way down to the sea in Leven, the store will undoubtedly benefit from significant passing trade with around nine or 10 parking places outside. The store is not short of competition with Lidl, U-Save, Nisa and Premier all nearby but the offering available in this new store makes it unique in the area, particularly for anyone looking for food to go.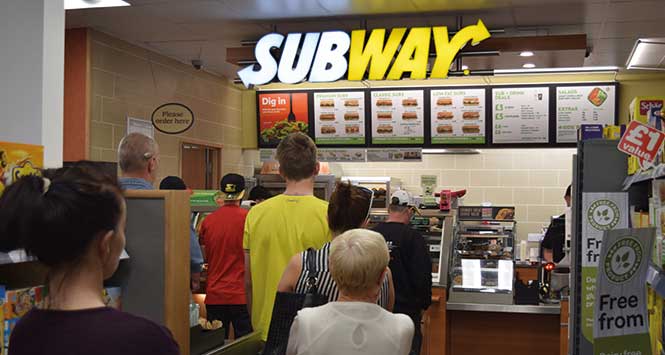 Naturally, the Subway that sits against the back wall of the store is already proving a big hit. On the day we visited, the lunchtime queue for the Subway was 12 or 14 deep. One of the many benefits of operating a chain of stores is the fact that store manager Carol Gray, brought over from nearby Spar St Clair Street in Kirkcaldy, is already fully Subway-trained so she didn't need to go through the highly intensive and time-consuming training course again.
CJ Lang now has a Subway in 21 stores and Buchanan is effusive about how important the food brand is in instantly turning the store into a destination for many customers.
With long experience with Spar under her belt, Carol was able to hit the shopfloor running and, to be fair to her, on SLR's visit the store still looked immaculate, like it had just opened the day before, even though it was by then a couple of months old.
To help the launch go with a swing, CJ Lang choose to run with a few exceptional deals on staple items like a half-dozen eggs for 50p and a loaf for 59p – and these deals were still live on SLR's visit, justified by the fact that they have been effective in driving up footfall and bringing new customers through the door. After their first visit, they tend to return. Upselling at the till is also an ingrained practice at CJ Lang and was in full swing in Leven, helping to drive up impulse sales.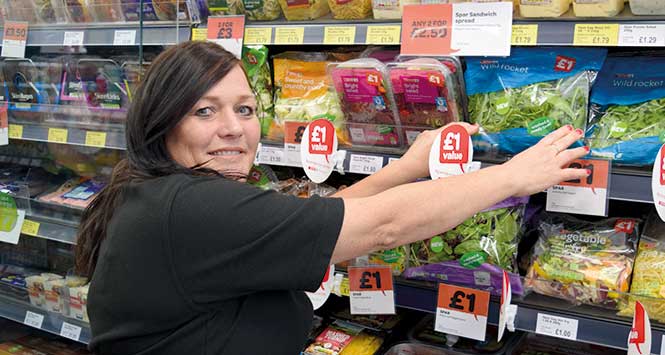 Buchanan comments: "We worked hard at getting this store just how we wanted it and we worked very hard for the launch to bring as many customers across the door as we could. We knew that once they visited they would come back because we believe the store has a fantastic offering that's unrivalled in this area."
That work paid off to a surprising extent with the first week's sales alone ending up well ahead of the company's five-year projection figures. Fresh participation is already running at over 50%, a phenomenal achievement and a testament to CJ Lang's strategy.
As for Carol, she's enjoying the challenge of coming to terms with a brand-new store in a new area. "I'm just enjoying every day of it," she says. "Keeping on top of the store and tweaking the range for local demand is challenging but rewarding and we've already started working on building links with the local community, schools, charities and so on.
But it's not just on the shopfloor that some neat ideas are unfolding. Behind the scenes has witnessed some innovative concepts, including a biometric scanner for staff to clock on and off, saving money and time as well as minimising head office administration and payroll.
It's still early days for Spar Leven but the excitement surrounding the store suggests both the in-store team and the Dundee head office team are pleased with the results so far – and it's not difficult to see why.