Britvic's Soft Drinks Review has identified an £812 opportunity for every convenience store through the functional wellness drinks segment, as almost half of people eat foods to support their immune system.
---
It will come as no surprise to learn that more shoppers than ever are interested in their health and wellbeing in general, and in the proper functioning of their immune system in particular. In fact, almost half of all consumers (47%) surveyed by ShopperVista for IGD in recent research said they intended to eat more foods that will help support their immune systems going forward.
According to the same research, around one in five people have also begun taking vitamins since the start of the first lockdown, with 66% stating 'added ingredients to make it healthier' as important vs 60% pre-Covid. More than a quarter (27%) want to reduce sugar.
Phil Sanders, Out of Home Commercial Director at Britvic says this represents a major opportunity for local retailers: "The functional wellness market is currently worth an impressive £240.1m [Nielsen, Jan 2021], and what's more, shoppers are willing to pay more than double the average price for premium soft drinks with added benefits than a soft drink or 34% more than the average single serve, which is already priced at a premium.
"It's vital that retailers are adapting their ranges accordingly to take advantage of this shift in consumer demand."
Sanders recommends Britvic's Purdey's as being perfectly placed to lead the wellness soft drinks category. It's already the UK's leading sparkling vitality brand and is made with naturally sourced ingredients – real fruit juice, boosted by botanicals and energising B vitamins – and offers a no added sugar energy lift, something that Britvic says shoppers are on the lookout for.
In its recent Soft Drinks Report, Britvic says local retailers are in a great place to leverage the strengthened bond between local retailers and communities across Scotland. Sanders comments: "Convenience retailers and their stores have been a lifeline for many through the pandemic – proven by the sector's growth as shopper habits shifted and evolved. Local retailers are perfectly placed to capitalise on the growth of the functional wellness drinks segment. We calculate that there is a £27m opportunity this year, equating to an additional £812 per store [Nielsen IQ, Britvic]. At a time when the pandemic has shone a light on health and wellness for many, 37% of people are now positively interested in premium soft drinks with added benefits [Mintel]."
One brand making no sugar waves this summer is Rockstar, thanks to the launch of Rockstar Original No Sugar for the convenience channel. Providing the same great flavour, functional benefits and Vitamin C content of Rockstar Original, the no sugar alternative offers customers greater choice when it comes to energy drinks.
Rockstar Original No Sugar will help entice new shoppers into the segment and is available in a £1.19 price-marked 500ml format. It also supports independent retailers in driving impulse sales, as more people return to on-the-go activities.
The brand will also be front of mind this summer, through the brand's new international platform 'Life is your stage' – which includes a digital campaign, in-store, out-of-home, and digital points of sale. A plain (non-PMP) and 4-pack will also roll out in October.
Britvic's steps to soft drinks success
Protect loyalty in take home – Take home soft drinks shoppers are hugely valuable to convenience versus an average shopper, spending £894 a year versus £446 on average, with spend growing by £58 in 2020 [Kantar, 2020].
Recover and reset food-to-go sales – with soft drinks the leading category bought on food-to-go missions, it is well placed to support retailers recover and reset sales by having the right range to meet new consumer needs.
Hero functional wellness to drive more value per drink – provide a range of great tasting drinks for consumers to manage their health, whether that be sugar free, low calorie or natural options, or through functional wellness drinks with added benefits that offer a chance for retailers to drive up the cost per drink.
Energy giant Red Bull agrees that healthier options represent a big opportunity for retailers. A spokesperson said: "Red Bull has long committed to offering shoppers choice across the portfolio. From core SKUS like the iconic single-serve Red Bull 250ml to sugar free and flavours, the Red Bull proposition has something for every shopper and every retailer.
"As consumers increasingly pick up a sugar free alternative, the Red Bull portfolio has been enhanced to include a sugar free variant of almost every pack in the range. This has clearly resounded with shoppers as in the latest six months, Red Bull sold 33.3% more sugar free volume through multipacks – with these variants also growing penetration by 31.9%.
"Bringing a reformulated Red Bull Zero back to the market last year has driven brand growth and driven engagement with new shoppers. Selling more than 1.4m cans since its 2020 re-launch, Red Bull Zero is one of the biggest NPD contributors of growth to the overall Sports & Energy category, adding almost £1.9m of value as part of Red Bull's £35.4m MAT growth vs 2019. Due to strong rate of sale, trade and shopper demand for this pack, we have launched a Red Bull Zero 250ml four-pack to meet these emerging needs for bigger packs for sharing, storing and enjoying."
Matt Gouldsmith, Channel Director, Wholesale, Suntory Beverage & Food GB&I also sees the same opportunity: "We have seen a long-term trend towards drinks with lower sugar as consumers are becoming more aware of their health and wellbeing. Diet continues to outperform regular soft drinks, with a 63% volume share of total soft drinks. As such, retailers should ensure to stock up on price-marked formats of lower-sugar drinks such as Lucozade Zero and Ribena Light to capitalise on the ongoing trend towards lower-sugar choices."
While healthier options may be in the limelight with sugar free options mopping up almost two-thirds of sales, that still leaves a third of sales in traditional full sugar products, so there's still plenty of scope for sales, particularly around NPD from major brands like Ribena.
New this summer is Ribena Cherry Twist, available in price-marked 500ml bottles made from 100% recycled plastic – just as the rest of the core Ribena range is.
Sales of cherry-flavoured drinks are growing at 20.2% [IRI, Feb 2021] year-on-year. Given Ribena brings in more shoppers than any other juice brand [Kantar, 2021], Ribena Cherry Twist in its eye-catching bottle design is set to be a hit with consumers.
With one third of shoppers now choosing to buy from brands that they believe are doing social or environmental good, and 92% [Unilever] saying sustainable business practices should now be standard, the 100% recycled bottle should be another reason to buy for many shoppers.
"We've also unveiled new transparent sleeves to enable bottle-to-bottle recycling on our biggest brand, Lucozade Energy," says Gouldsmith. "The new transparent sleeves mean that all the brand's bottles can be funnelled into a clear plastic waste stream, helping give every bottle the optimum chance of getting recycled back into a new bottle."
Barr Soft Drinks is also embracing sustainability and has unveiled plans to become carbon net zero by 2040. Under its No Time To Waste initiative, the company will be bringing together multiple energy, packaging and waste programmes to become more sustainable.
Building on changes that have already been implemented, such as 100% recyclable soft drinks packaging, clear on-pack messaging and a 41% reduction in greenhouse gases, No Time To Waste will drive forward even more measures to reduce overall environmental impact. This will include, significantly reducing the use of virgin plastic through 100% recycled film on all multipacks, introducing paper straws on smaller juice packs and being one of the first in the UK to introduce plant-based plastics in its 1-litre cartons.
Retailer-tested advice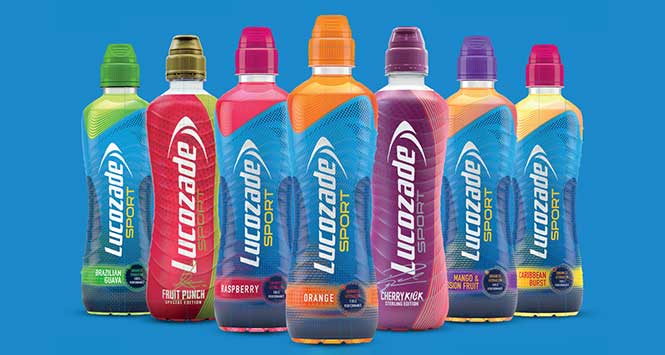 Suntory recently worked with independent retailer Suki Athwal of Shop Around the Clock, Kent, to find out how small changes can help to grow soft drinks sales:
Give drink-later drinks more prominence. Drink-later drink sales have grown by 8% during lockdown, so bringing these formats into the main chiller can help to drive sales.
Give your biggest sellers the prime position. To drive sales, put the biggest sellers on a priority shelf in line with where shoppers' eyes will naturally be drawn.
Range drinks by category, not supplier. A lot of retailers range their drinks by supplier – but shoppers don't shop this way. Range products together by type – colas with colas and all flavoured carbs together, for example – so shoppers can easily find what they want.