The Rockstar brand is helping to drive sales at Premier Broadway Stores in Oxgangs, Edinburgh, as the latest update of SLR's project with brand owner Britvic demonstrates.
---
Stimulant drinks are significantly outpacing the soft drinks category as a whole. Stimulants grew by 11.6% in the convenience channel specifically during 2020, doing particularly well in symbols and forecourts, and caffeinated energy drinks are now the number one single-serve drink in convenience (Nielsen).
Following the acquisition by PepsiCo of Rockstar Energy last year, Britvic is now responsible for the brand in Great Britain, and the company is working with retailers to drive stimulant drinks sales even further.
To demonstrate the opportunity for further growth within on-the-go soft drinks and the stimulant market in particular, SLR and Britvic have joined forces to work with Premier retailers Dennis and Linda Williams of Broadway Convenience Store in Oxgangs, Edinburgh. The project will aim to continue the momentum of stimulant drinks as lockdown restrictions ease, and to provide valuable new insights on the category for Britvic and the store team.
With a core range now implemented and some shelf stripping point of sale added to the chiller, Dennis is delighted with progress so far.
He says: "Rockstar is going very well. The price point of £1.19 is very good compared to some of the other products and customers look for it, as it's a good brand.
"The flavours have a point of difference, too. Our best seller is the Xdurance Blueberry Pomegranate & Acai." (This line was on offer at 2 for £2, price marked at £1.19, in Dennis's store).
Key soft drink category trends
ENERGY
Energy is one of the fastest growing reasons to choose a soft drink (Kantar), but shoppers buy energy drinks for a variety of reasons including both caffeinated stimulant drinks and caffeine-free 'pick-me-ups'.
ON–THE–GO VS TAKE HOME
Although packs for drinking at home have grown five times faster than singles (Nielsen) during the pandemic, stimulants grew in both take home and on-the-go (IRI). With lockdown restrictions easing, sales of on-the-go options are expected to accelerate.
VALUE FOR MONEY
Understandably, value for money is a key priority for many shoppers in the current climate. Rockstar is available in PMPs for the majority of its range.
He continues: "Rockstar Punched Tropical Guava also goes well. Part of the education for us is that it's all about keeping the right range. There is a core set of flavours that drive most of the sales, and with Rockstar there are not too many lines to deal with."
The brand is appealing to a wide range of customers, Dennis reports.
"The appeal is across the board," he says. "It's popular with young people, who are on their way to do some sport or just like the taste. But we also sell a lot to workmen, especially first thing in the morning when they need an energy boost before they start work.
"Overall, Rockstar is a strong brand that people are looking for, with a point of difference because of the flavour choice and the price point, and a manageable range for retailers."
Adrian Howe, Brand Manager at Rockstar, adds: "We are really excited to work closely with Dennis on this project in order to understand key insights and continue to fully immerse in what is still essentially a new brand for us at Britvic.
"We are looking forward to supporting retailers in Scotland by sharing this insight and key learnings so they too can increase their stimulant sales."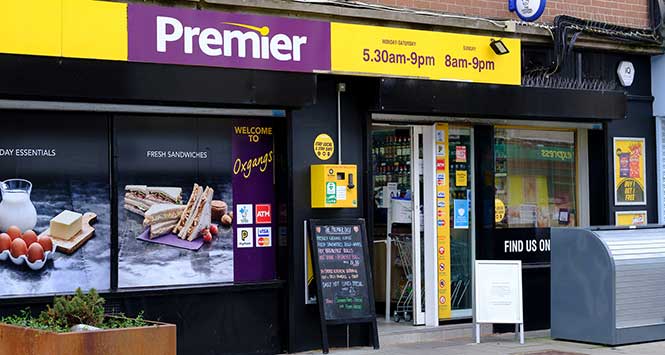 Plan your chiller
To make the most of the energy drinks category, it's crucial that retailers pay close attention to how they merchandise their range.
Rockstar should be merchandised with other stimulant brands within the energy drinks category, blocked by variant within the leading brands you have on offer. If you have room for four lines from Rockstar then you should lead with the core range of Original and flavours:
Rockstar Original
Punched Tropical Guava
XDurance Blueberry, Pomegranate & Acai
Juiced Tropical, Orange & Passionfruit
These represent the must-stocks for retailers and are all available in both price-marked and plain packs in the popular big can (500ml) format, which has proven successful with energy drinkers, seeing +20.1% growth (IRI) as well as 4 x 500ml multipacks for take-home purchases.