Pernod Ricard has unveiled two campaigns to help retailers drive sales of premium spirits in the run-up to Christmas.
'Expertly Selected Whiskies' is a range of five of the supplier's top-performing premium Scotch whiskies: The Glenlivet Founders Reserve, Chivas Regal 12 YO, Scapa Skiren, Aberlour 12 YO and Ballantine's Finest. Scotch whisky sales increase by 68% in the eight weeks ahead of the big day, and Pernod says that stocking the range has the potential to add over £1,000 to a store's annual sales. A full planogram is available to assist retailers merchandise SKUs correctly.
The second campaign – 'Mix with The Good Stuff' – taps into the growing demand for cocktails at home. This has grown by 23% in the last year, which has seen 22 million online searches for cocktail recipes. Pernod has selected three simple cocktails which are easy for shoppers to re-create. These are: The Espresso Martini, Jameson, Ginger & Lime and The Plymouth Pink G&T.
The cocktails can be created using spirits most retailers already stock, and the campaign encourages shoppers to buy a serve as opposed to a spirit, increasing the number of items per basket.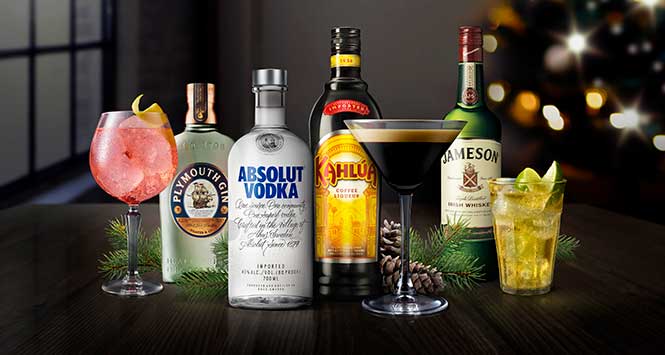 The 'Mix with The Good Stuff' campaign highlights that by increasing sales of Premium Spirits by 50% throughout November and December (116 bottles or 14 per week), retailers can take up to an additional £2,500.
POS kits for both campaigns are available upon request. Retailers should call 07979 396 468 to order.
Pernod advises retailers to begin ranging Premium Spirits from early November to ensure maximum visibility throughout the festive season.
"Ignore premium this Christmas and you will miss out," said James Middleton, Channel Director for Impulse at Pernod Ricard UK. "We are seeing success within the on-trade, where premium accounts for 50% of all spirits sold, which tells us consumers are willing to spend more on premium spirits. In comparison, 18% of all spirits sold within the convenience channel are premium, so for retailers, it's about upping volumes to make the most of the obvious opportunity.
"We've created two incredibly simple campaigns to help retailers capitalise on this demand, the aim being to encourage shoppers to trade up and select the brands they are enjoying in bars at home."