The new MyStore+ 'virtual sales rep' app from News UK and McCurrach aims to deliver real benefits for retailers, customers and brands by bringing them all closer together. SLR sets out to find out how it works in practice.
---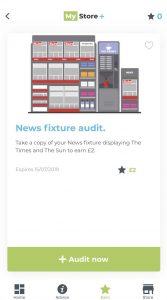 Boldly described by its creators as "the biggest tech innovation in convenience retail", the new MyStore+ app from Glasgow-based field marketing and sales solutions agency McCurrach and The Sun and The Times publishers News UK is an ambitious attempt to help retailers make more money by bringing them closer than ever to their customers and to major suppliers.
At its core, the app enables retailers to access category and brand advice, offers and financial rewards. Perhaps the easiest way to think of it is as a sort of virtual field sales rep, bringing all the benefits of a traditional sales rep but with a host of additional perks too.
The app brings brands and retailers together to deliver increased sales through tailored best practice advice, insights and support while also financially rewarding retailers who follow the advice in-store.
"MyStore+ makes it simple for retailers to grow their business through access to advice, offers, rewards and insights from leading brands across multiple categories," explains McCurrach Strategy and Marketing Director Gordon Neil.
"No longer do retailers need to go to multiple sources to grow their business; MyStore+ puts it all in one free to access app."
Some of the key benefits to retailers include:
Category and brand advice that will help retailers grow their business by helping them stock the right products and planogram their space to maximise sales.
Access to exclusive offers and rewards from brands for following advice, meaning they earn rewards whilst growing their business.
Tailored advice and offers for retailers' stores when they share insight with brands via the MyStore+ app.
MyStore+ also provides retailers with the ability to communicate directly with brands through a chat function within the app, making the connection personal.
The app also allows brands to deepen and strengthen their relationship with local retailers by allowing them to provide retailers with new content, offers and rewards to access all the time.
"MyStore+ has been developed to make it simple and cost effective for brands to provide retailers with the advice, offers and rewards that drive execution and sales in-store," says Neil. "This makes connecting with convenience retailers accessible for all brands."
News UK will also bring the power of its React retail activation proposition to retailers via the app, giving more benefit to retailers and helping them grow footfall, sales and profits. React is an exclusive way for News UK commercial partners to bring their campaigns to life in-store. It helps clients sample products to customers and retailers, increase distribution and drive incremental sales. It achieves this without incurring additional costs – and brings new commercial benefit to retailers into the bargain.
Want to get involved?
SLR is working with News UK and McCurrach to build a panel of Scottish local retailers who would like to start using MyStore+ to begin developing their businesses and earning offers and rewards for achieving high standards in-store.
If you would like to be considered for this groundbreaking and innovative panel, then simply get in touch with SLR Publishing Director Antony Begley on 0141 222 5380 or via email at abegley@55north.com.