The wave of industry consolidation has swept into the Forecourt sector with the news that Motor Fuel Group (MFG) has taken over rival MRH, currently the UK's largest petrol station and convenience retail operator.
The £1.2bn deal leapfrogs MFG into Britain's number one spot by number of sites, and makes it the second-biggest operator by volume of fuel sold.
MFG and MRH combined run over 900 sites, predominantly company-owned and franchisee-operated, and manage third-party fuel, convenience, and foodservice brands. These include fuel brands BP, Esso, Jet, Murco, Shell and Texaco and retail brands Budgens, Costa Coffee, Greggs, Spar and Subway, as well as the MRH-owned brand, Hursts. On a combined basis, MFG and MRH sold approximately 3.6 billion litres of fuel in 2017.
Alasdair Locke, Chairman of MFG, will remain Chairman of the combined business. Former Tesco boss Sir Terry Leahy will continue to serve on the board of directors and chair the Executive Committee of the Board.
The deal comes at a time when forecourts are developing an increasingly-sophisticated customer offer with a focus on food-to-go. For example, Ardeer Service Station, which won SLR's Retailer of the Year award for Mahmood Saleem last May, gives customers a 2,700sq ft Nisa Local, Subway, Costa, ice cream parlour and launderette alongside an 18-nozzle JET forecourt.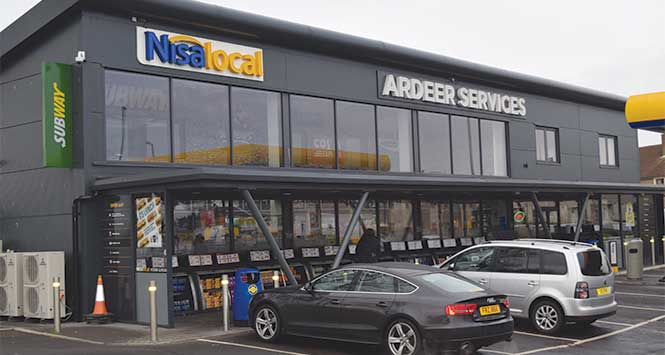 MFG has made a number of key appointments recently to bolster its retail and food-to-go offers, with Head of Food Services Paul Deary and MD for Business Development Michael O'Loughlin both joining from rival forecourt operator Applegreen. New Retail Director Paul Dennis was also brought on board, after stints with Sainsbury's, Asda and Conviviality Retail.
MRH recently signed a wholesale supply agreement with Booker to stock 370 of its forecourt stores nationwide with chilled and ambient lines.
"This is a transformational milestone for both companies that we believe will make us an even stronger partner for fuel brands and retail customers seeking convenient foodservice options," said Alasdair Locke, Chairman of MFG.
"We are excited to welcome the MRH team, who share a commitment to growth and innovation, as we work together to consolidate a highly-fragmented market and continue our expansion of retail offerings across the combined estate."
The deal is expected to be finalised in the second quarter of 2018, subject to customary regulatory approvals.