The cream of the Scottish local retailing industry gathered last month to celebrate all that's wonderful about our fine industry with a mountain of fantastic Rewards handed out to the very best of the best.
The SLR Rewards is now well established as the most rewarding night in local retailing in the UK, if not the world, with many of Scotland finest retailers recognised by their peers and rewarded with fantastic prizes – but there's no question that the night belonged to Mahmood Saleem whose Ardeer Services business in Ayrshire collected a trio of awards, including the biggie.
The spectacular £1.5m development won the New Store of the Year award and the ThinkSmart Innovation award as well as the overall and highly coveted Scottish Local Retailer of the Year title.
A beaming Mahmood Saleem collected the trophy as well as the unique Reward: a trip to Chicago in October to the NACS conference, the largest convenience retailing event in the world.
Mahmood's store was highlighted by the judges as a store that has rewritten the rule books on what a modern convenience store should be. There is simply nothing else like it in Scotland and arguably across the rest of the UK.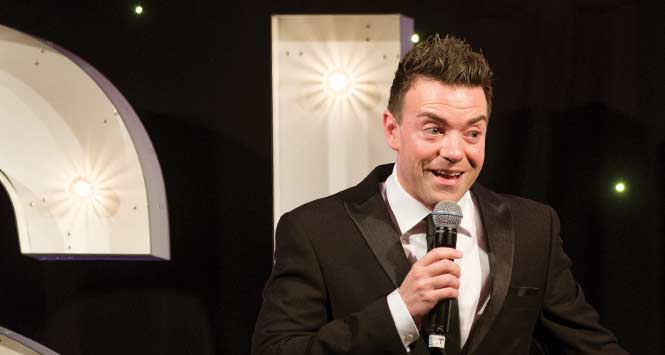 But the night, hosted by Des Clarke (pictured above), wasn't all about Mahmood as a host of fantastic retailers were honoured across 19 categories. Several were veterans of the SLR Rewards but, encouragingly, for many it was their first time on stage at the event.
Among those were Asif and Abada Akhtar whose work in Premier Smeaton stores in Kirkcaldy was recognised with the Community Retailer of the Year Award, a great achievement for a highly driven, caring couple who are the force behind most community-based events that happen in the Smeaton community.
Kate Salmon, industry stalwart and head of the Scottish Wholesale Association, was also rewarded for the 32 years and counting that she has given the Association, representing wholesalers and retailers with passion, pride and just a touch of steel when required! Her Industry Achievement award sparked a fully deserved standing ovation.
There was also a sombre moment to the proceedings as the memory of late industry colleague Ewen Chisholm was honoured following his untimely death on October 29 last year. Members of the audience kindly donated over £2,000 to the cycling-based charity set up in honour of Ewen by his wife Vicky.
The cheque was presented to Vicky by SLR Publisher Antony Begley following the event. Anyone who would like to donate to the charity can do so by visiting the official fundraising page found at: www.justgiving.com/crowdfunding/vickychisholm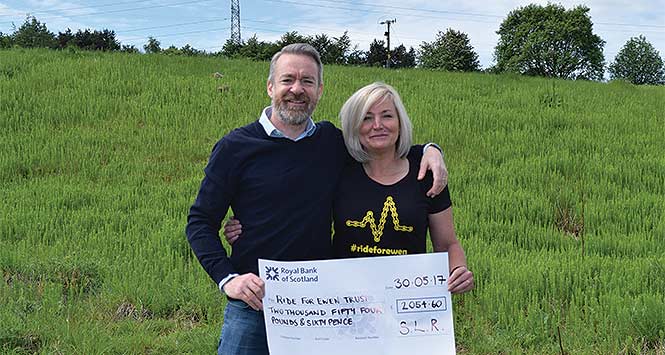 "The SLR Rewards was another fantastic event that celebrated everything we should be proud of about our industry," said Antony.
"There are some fantastic stores in Scotland, possibly some of the best in the UK. And there are some fantastic retailers. We at SLR are delighted to be able to provide a forum where we can celebrate excellence and Reward it with everything from trips to Chicago and Amsterdam to Champion's League tickets and money-can't-buy VIP events. Retailers deserve to be treated this way and it's our privilege to make it happen."
Beer & Cider Retailer of the Year
Day Today Wallyford
Tidy and polished, Day Today Wallyford is one of the best convenience stores in Scotland and very much at the heart of its community.
Friendly staff with an "all hands on deck" attitude ensure that it runs smoothly and remains well stocked at all times. The beer and cider offering is a prime example of owner Muhammad Aslam's willingness to work in partnership with his symbol group and suppliers.
He's absolutely nailed the category creating fixtures that are colourful, interesting and perfectly balanced to ensure customers can find what they want easily – at the same time enticing them into purchasing something new and different. Beer and cider stands out in the state-of-the-art chiller with its clever lighting making the display aesthetically pleasing.
Multipacks are displayed opposite with promotions highlighted. If you want a master class in the local retailing of beer and cider this is where you'll find a great teacher.
Impactful display
Comprehensive range
Easy to shop
Heart of the community
As the winner of this category, Day Today Wallyford picks up a VIP trip to see a Champion's League match in the 2017-18 competition, complete with flights, accommodation and the best seats in the house – all courtesy of of our sponsors Heineken.
Biscuit Retailer of the Year
Best-One @ Brownlies, Biggar
This is a shop that does things a little differently – it always has – and owners Donna and Bruce Morgan have entrenched themselves in the local community in order to get closer to their customers.
The good people of Biggar like their biscuits and the store is happy to accommodate their diverse tastes and desires by providing an extensive range that would make most category management planners nervous but hits the spot with customers, including the many tourists and visitors to the area who appreciate the comprehensive choice of gift packs. It's not every store that can list Galloway Oatcakes as one of its top-selling SKUs.
Always prepared to listen to advice and hungry for new ideas, the Morgans recently improved the layout of the category and delisted slower-selling lines to make way for more multipacks and promotions which have been helping to drive growth. More changes are in the pipeline.
Tailored range
Understanding customer needs
Constantly evolving
Friendly service
A special VIP trip to Amsterdam is on the cards for Bruce and Donna as winners in this category. The trip includes an overnight stay and a visit to the state of the art Pladis factory, where they will be sampling some of the finest biccies in the business!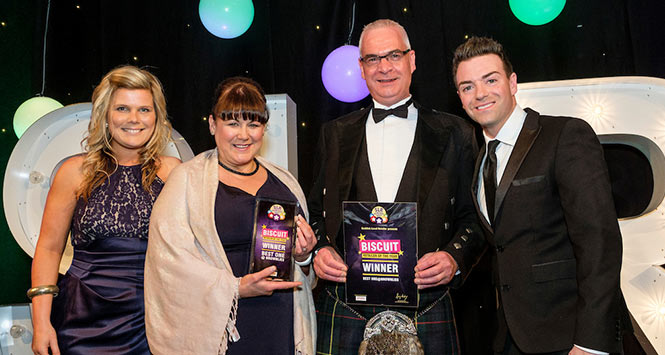 Confectionery Retailer of the Year
Spar Euro Garages, Lomondgate
There's something for every taste in Spar Euro Garages. As a forecourt store it carries more bags and sharing packs than the average convenience store while kids could be mistaken for thinking they are in Willy Wonka's factory such is the vastness of the range.
With 11 metres plus gondola ends, off-fixture displays and promotional, this is a show-stopping selection of confectionery. With dedicated space for seasonal products and the category blocked to drive sales, it's no surprise that sales are up 20% year on year.
Its clever layout also means that every customer has to pass confectionery en route to the till, where mints and gum are displayed at eye level.
A section this size needs a lot of work but the staff are well on top of things and wearing big smiles – something that's very important in a store that also taps into the west of Scotland tourist market.
Wow factor
Range and positioning
Friendly atmosphere
In-store theatre
The winners in this category are set for the trip of a lifetime thanks to £500 of Virgin Experience vouchers from category sponsors Wrigley. The vouchers can be used for anything from hot air ballooning to sky diving and are sure to make this a memorable win for Spar Euro Garages Lomondgate!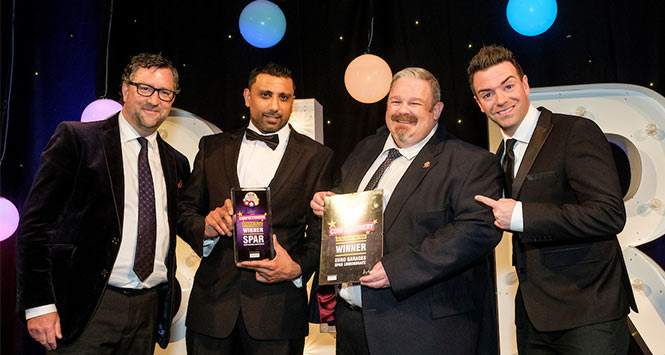 Crisps & Snacks Retailer of the Year
Spar Renfrew
One of the most reliable stores in Scotland, Saleem Sadiq's Spar Renfrew store gets the basics right every time.
The crisps category is no different with a best-in-class range, merchandised immaculately. The large and well-presented main fixture is complemented by several secondary and tertiary sitings to drive up impulse sales and basket spends while a good mix of pack formats and sizes ensures every taste is catered for. Meal deals and cross-category promotions also help boost crisp and snack sales as well as overall store turnover.
The judges said: "Crisps and snacks as a category is used to brilliant effect right the way through the store to drive both planned and impulse sales, as well as sales in other categories."
Immaculate main fixture
Great use of meal deals
Cross category promotions
Secondary and tertiary sitings
Saleem and his hard-working team at Spar Renfrew are going to be able to get even slicker and more professional thanks to not one but FIVE new Asus tablets that they collect as winners in this category, thanks to our generous sponsors Walkers.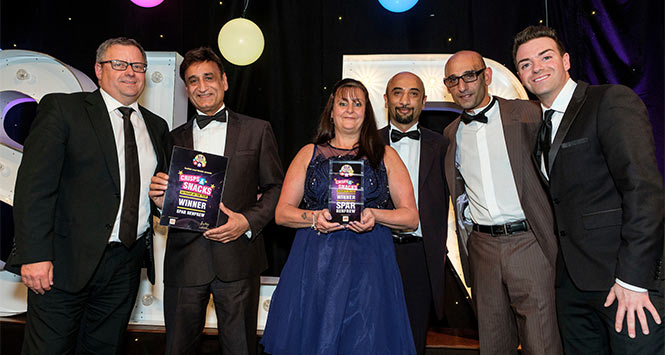 Making the most of milk
Spar Renfrew
Saleem Sadiq has long recognised the vital importance of milk, and has consistently worked hard to make sure the white stuff has its place in his store.
The fixture is spotlessly clean and beautifully presented while the range is tight and appropriate for the store's audience.
The fixture is also carefully sited at the end of a new wall of chilled produce to help boost impulse sales as milk buyers are tempted by a selection of tasty chilled goods going in both directions. The fixture is also nice and easy to spot from the front door.
The judges said: "Everything about the milk fixture in Spar Renfrew is just as you'd want it: clean, tidy, neat, easy to find, well stocked, good range, a promotion or two and good pricing."
Spotlessly clean
Faced up hourly
Tight, targeted range
Well sited in-store
As winner of this category, Spar Renfrew picks up the coolest bit of tech available at the moment: an Amazon Echo. Courtesy of SLR's online presence – slrmag.co.uk – issuing instructions and getting quick answers will be easier than ever before for Saleem!
Newstrade Retailer of the Year
Giacopazzi's Milnathort
News remains a massive and a massively important category for stores across Scotland – and no one knows this better than Giacopazzi's Milnathort.
As well as an impressive news and magazines fixture and a significant Home News Delivery service, the store has also recently invested in some cutting edge software to manage the category more efficiently and effectively than ever.
The team in-store also boasted a fantastic, in-depth knowledge of the category and their customers which is reflected in the high sales figures for the store.
The judges said: "This store is a great example of what happens when you really commit to the news category and use it to drive sales and footfall for the store."
Strong main fixture
Home news delivery service
Great use of technology
Commitment to the category
It's a money-can't-buy Reward for this store as sponsors News Scotland are providing two VIP places in their private box at the Hydro in Glasgow for the hugely anticipated Celine Dion concert in August this year – an experience the winners will never forget!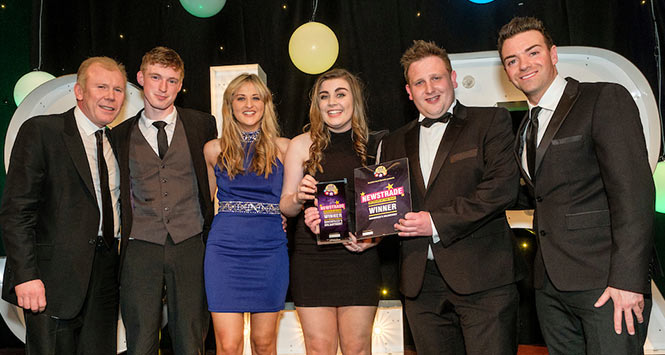 Soft Drinks Retailer of the Year
Londis Inveraray
Local retailers need to take the occasional risk, particularly when a competitor ramps up its presence in the community and that's exactly what Brian McCaughey did when the Co-op relocated and opened a new store in the popular Argyll and Bute town.
Always looking to improve his business the retailer – despite having fully refurbished 18 months previously – gave his store a mini-refit to create over 60% more space for soft drinks.
Investing £7,000 in a new remote soft drinks chiller has helped make soft drinks the store's second-most profitable category and being brave enough to take a risk by investing heavily in tough times has contributed to the store's growth and development in what was a challenging 2016.
Brian's understanding of the seasonal nature of his business has also played a pivotal role in keeping the store relevant to needs of local customers and visitors to the area.
Heavy investment in category
Understanding customer needs
Prepared to take risks
Outstanding range
It's holiday time for Brian and family thanks to £500 in holiday vouchers that he will be receiving as winner of the Soft Drinks Retailer of the Year Reward, thanks to our sponsors Coca-Cola European Partners. A well-earned rest is just what he'll need after all that excellent work.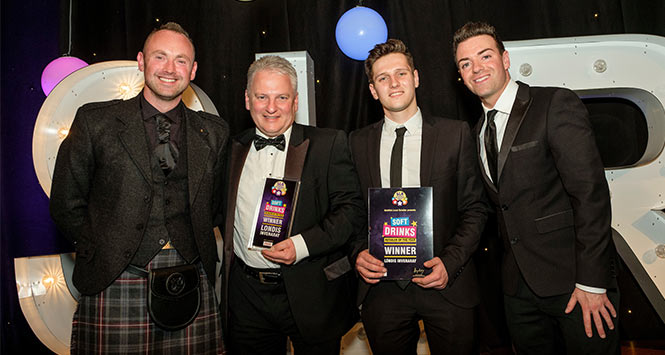 Spirits Retailer of the Year
Best-One @ Brownlies, Biggar
With a renowned range of malt whiskies attracting customers from near and far and regular whisky tastings, Best-One @ Brownlies has built up a reputation as the "go to" store in the area for spirits.
Recent changes have seen whisky merchandised by the six whisky regions and customers are invited to browse through tasting notes on all the malts stocked – this has helped boost sales. Premium spirits, gin in particular, are also enjoying good sales increases while both miniatures and gift packs are performing well.
This Aladdin's Cave for the whisky and spirits connoisseur shows what a local retailer can achieve when they create a point of difference and stock brands that aren't widely available locally. Donna and Bruce Morgan's decision to create a "store within a store" for alcohol in a shop that has a challenging layout means customers can browse at their leisure without blocking up the aisles.
Outstanding range of malts
Capitalising on premium gin
Contained display
Regular tasting events
The Reward for this category couldn't be more appropriate, given that it's sponsored by Glen's Vodka owner The Loch Lomond Group: it's an overnight stay for two with dinner, bed and breakfast at a plush hotel on the bonnie, bonnie banks of Loch Lomond!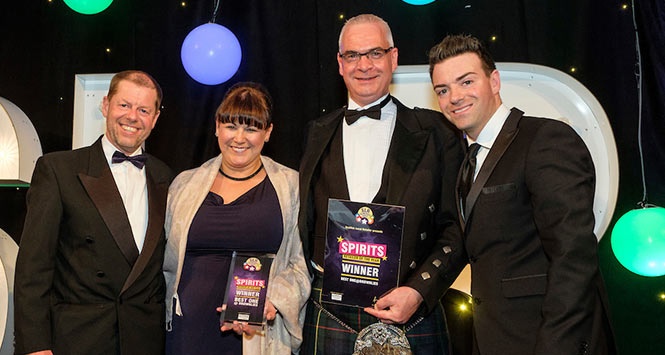 Community Involvement Retailer of the Year
Premier Smeaton Stores
Asif and Abada Akhtar's commitment to the local community is simply exceptional, way above and beyond the call of normal duty. It's not an exaggeration to say that the store is at the heart of pretty much every community project that takes place in the Smeaton area of Kirkcaldy.
From organising communal BBQs to supporting every local fundraising campaign, from helping revitalise the local community hall to buying an electric wheelchair for a loyal customer who couldn't afford one, their tale is an extraordinary one.
The judges said: "It's hard to understand and explain just how much this amazing pair put into the local community in terms of both time and money. Theirs is a truly inspirational example to all."
Heart of all community activity
Year-round fundraising
Outstanding generosity
Proactively supporting the area
Organising community events will be even easier in future for Asif and Abada thanks to a fantastic iPad Air 2 courtesy of our category sponsors AG Barr. The cool bit of tech even comes with its own smartcase to help the pair keep up their amazing community involvement work.
E-cigs Retailer of the Year
Scotfresh Denny
Vaping is one of the most important sales and profit opportunities in local retailing these days and nobody has grasped that opportunity better than Scotfresh Denny.
The store has placed the category front and centre with a dedicated, large scale gantry offering a full array of liquids, accessories and vaping kits to cater for every e-cigarette fan, from the beginner to the veteran vaper.
The staff were knowledgable and could advise, even on relatively technical queries, and were able to ensure every customer left satisfied and happy.
The judges said: "Vaping is a category that retailers really have to commit to if they want to get the best out of it and Scotfresh Denny shows what's possible when you do it well."
Large, highly visible gantry
Great range of liquids
Full set of accessories and kits
Strong staff knowledge
After all the work that went into winning this category, Scotfresh Denny has earned a well-deserved break which will be made a lot easier with £1,000 of Expedia vouchers from our sponsors blu. A little time in the sun will be just what the winners need to come back fresh and revitalised.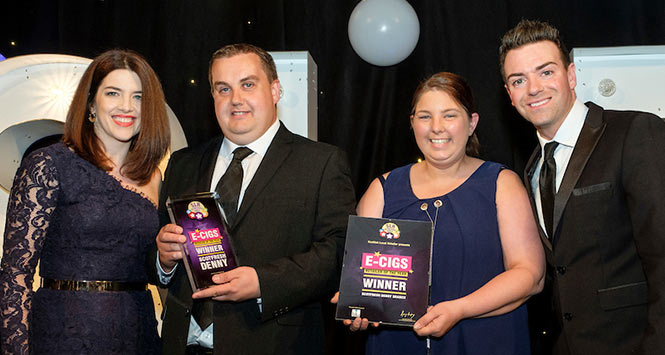 Food to Go Retailer of the Year
David's Kitchen Glenrothes
As a business launched with the intention of having food to go at its heart, it's no surprise that's David's Kitchen continually performs well in this category. The Glenrothes branch has continually succeeded in raising the bar for all food to go retailers and this year is no different.
A significant refit and the addition of a top notch new bean-to-cup coffee machine and a freshened-up menu means the choice of high quality, freshly prepared food and drinks has never been better for the store's customers. As always, everything is immaculately presented and customer service is exceptional.
The judges said: "David's Kitchen is a fine example of what is possible when retailers are prepared to back their own ideas with time and investment to deliver a best-in-class solution."
Food to go at heart of offer
High quality range
All freshly prepared on site
Refit and increased investment
What better prize for retailers who spend their lives making food for other people than the chance to go and enjoy having one of Scotland's top chefs prepare food for them? The winners are heading to the renowned Peat Inn in Fife for a tasting menu and relaxing overnight stay in plush surroundings.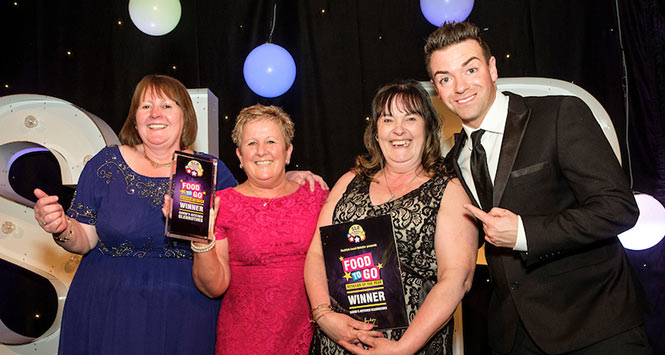 Fresh & Chilled Retailer of the Year
Nisa Local Pinkie Farm Convenience Store
Fresh and chilled has long been the mainstay of a modern convenience offering and Nisa Local Pinkie Farm Convenience Store in Musselburgh has recognised that by placing fresh and chilled at the very core of its offer.
A massive range of fresh produce and chilled goods is the first thing shoppers encounter when they enter the store, while clever merchandising merges traditional farmers' market style fixtures with ultra-modern refrigeration units to great effect. Lots of locally sourced produce adds to the appeal in Colin Smith's fine store.
The judges said: "Pinkie Farm pulls off the neat trick of balancing a rustic, farmers' market style appeal with a modern, clean chilled offer which is easy to buy from and a pleasure to shop."
Fresh & chilled at heart of offer
Massive range
Locally sourced produce
Innovative merchandising
Life in the fast lane is nothing new to Colin and his team, so the prize of a fantastic rally experience should hit the spot, courtesy of our sponsors Direct Shelving Supplies. The Reward involves the chance to drive a high-powered rally car as well as a thrilling trip in the passenger seat alongside a pro driver.
Best New Store of the Year
Ardeer Services
Not to put too fine a point on it, Ardeer Services is simply stunning. This mega development involved a huge investment of around £1.5m but it's not the size of the spend that's most impressive, it's the quality of the concept and the precision of the execution that makes this development so extraordinary.
Leveraging the power of big name brands like Nisa, Subway and Costa, Mahmood Saleem has built a service station that offers something for everyone, regardless of their reason for visting the store. Innovation abounds throughout what is a truly impressive business.
The judges said: "There is quite simply nothing else like this store in Scotland. It is truly unique and has been built by a retailer who truly, deeply understands local retailing."
Leveraging the power of brands
Huge investment
Stunning execution
Innovation throughout
You know what would be just the ticket for a hard-working retailer? VIP tickets to one of the four biggest music festivals in the UK, courtesy of sponsors Britvic. A real opportunity to relax, forget about the shop for a little while and enjoy some great tunes and a party atmosphere.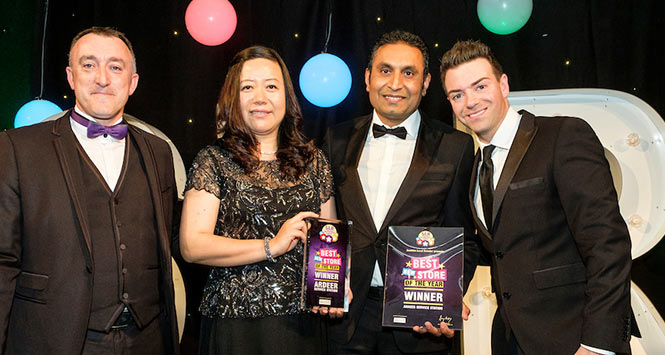 Best Refit of the Year
Day Today 10 O'Clock Shop
When Mahmood Rahman set out to refit what was a tired, dusty store he set out to do it in style – and that's exactly what he achieved with this hugely impressive store. High quality shopfitting has brought Mahmood's vision to life with the standalone food to go section of the store a particular highlight.
Modern meets traditional with a careful choice of materials ensuring the store feels bang up to date but homely and welcoming. The whole store is a success with the refit rendering it utterly unrecognisable from its former incarnation.
The judges said: "It's hard to believe this is the same store because the refit has transformed it into one of the most modern, well thought out stores in Scotland with great chilled and food to go offers."
High quality shopfitting
Stunning food to go section
Balance of modern and traditional
Great macro space planning
VIP tickets to one of the four biggest music festivals in the UK, courtesy of sponsors Britvic, will also be winging their way to Mahmood. A real chance to get away from it all and enjoy a few days of well-earned down time from the store."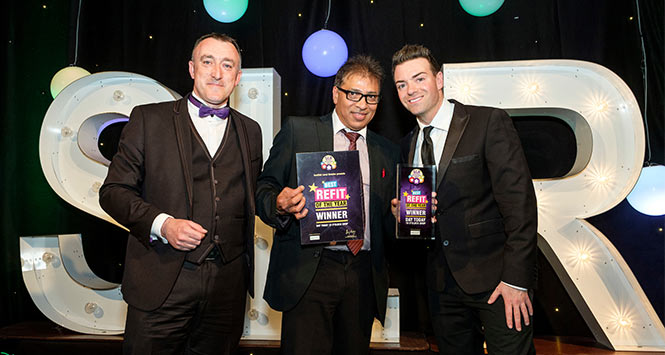 Responsible Retailer of the Year
Day Today Lochside, Ayr
Working in partnership with the local police, health professionals, local support groups and Trading Standards officers puts Sukhi and Jarnail Sangha's Day Today store in Ayr's Lochside right at the heart of the community.
While most retailers are alert to customers' problems or those with specific issues, Sukhi and Jarnail have taken responsible retailing to a whole new level by taking giant steps towards getting to know their customers. Whether its drugs or problem drinking, the couple and their staff know the signs and do everything they can to help using empathy, humour where appropriate and always retaining full confidentiality.
Age-restricted items are clearly highlighted and staff fully trained, and regular information events are held in-store to help educate on social issues. Tidy, modern and well laid out, the store is welcoming and friendly – it's not difficult to see why so many customers view it as a safe haven where they can shop without being judged and get help if they want it.
Welcoming and friendly
Rapport with customers
Works with police and health professionals
Holds educational events
It's another highly appropriate Reward in this category, thanks to our sponsors TLT Solicitors. Sukhi and Jarnail will collect six places on TLT's personal licence training course which will save them a few quid and get them off to a flyer with next year's entry for this category into the bargain!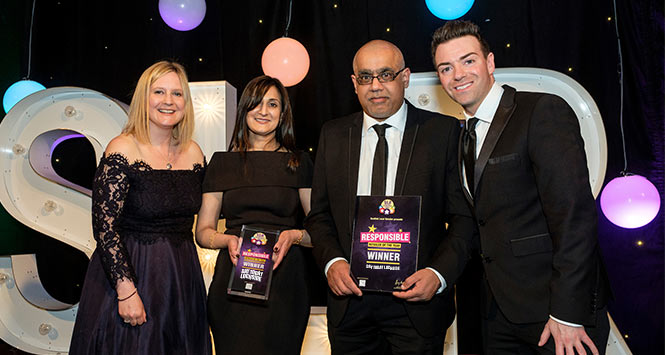 #ThinkSmart Retailer of the Year
Ardeer Services
Innovation sits at the heart of Mahmood Saleem's monster £1.5m development of Ardeer Services. From ultra-efficient computer-controlled energy usage systems to bespoke vending-style tobacco units, from leveraging the power of mega brands to creating a new way of looking at the forecourt concept, the store is stunning.
Spending £1.5m is a major commitment but spending is this well is admirable with so much innovation being built into the fabric of the building to future-proof it long into the distance. A truly inspirational development.
The judges said: "A lot of the innovation at Ardeer is obvious to the customer but much, much more of it is invisible, hidden away in the background but contributing to a truly next generation store."
Computer-controlled energy systems
Bespoke unique tobacco units
Creative leverage of big brands
Outstanding green credentials
No stranger to innovation and technology, Mahmood picks up a smart new Apple Watch 2 as his Reward in this category, thanks to our sponsors PayPoint. Just the job for staying in touch, on time, on schedule and ahead of the game in Ayrshire.
Team of the Year
Sinclair General Stores
Sinclair General Stores on the tiny island of Sanday, just off Orkney, is a store like no other we've ever come across.
For a start, the island only has a population of 400 so the store has to cater for a wide range of requirements that most local retailers would rarely if ever encounter. Running a store like this is only possible with a team that owner Jackie Sinclair describes as "some of the best people you could ever meet". Working at the store is more of a vocation or passion than a job and every member of the team contributes something different. An inspirational story!
The judges said: "What Jackie and her team have achieved on this tiny island is nothing short of phenomenal. Every team member seems to have four roles and all of them bring passion and enthusiasm."
Passion, commitment and drive
Exceptionally broad set of skills
A vocation more than a job
'Whatever it takes' attitude
For a category like Team of the Year, the Reward had to be something special that everyone could share in – which is why sponsors The Retail Data Partnership settled on a bumper luxury hamper that the winning team could share out to celebrate their success.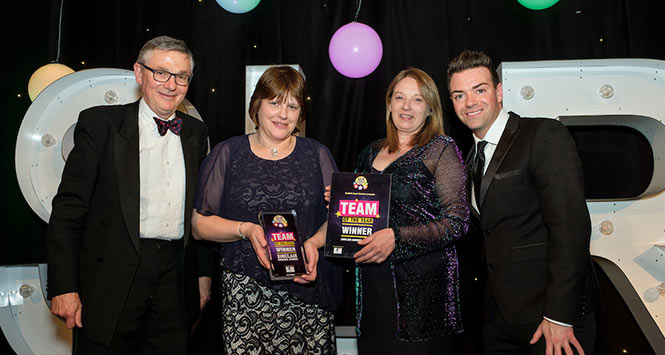 Lifetime Achievement
Kate Salmon, SWA
After more than 30 years with the Scottish Wholesale Association, it was only right and proper that the inimatable Kate Salmon was recognised at this year's SLR Rewards.
While Kate's future with the organisation is yet to be fully decided, there is no question that in the last decade or so she has transformed SWA into the household name it is today, driving innovation in an array of directions, launching new events, building the lobbying arm and generally fighting the good fight on behalf of wholesalers and retailers across Scotland. One of the true characters of this industry, she will be missed when she finally does retire.
The judges said: "Kate is a force of nature, as anyone who has ever met her will be fully aware. Her commitment to the SWA and her flair for 'getting things done' can only be admired."
Over 30 years with SWA
Driving force
Overseen transformation
Built a sustainable future
For a woman as hard working and committed as Kate, she deserves all the recognition, respect and more that comes with the Lifetime Achievement Reward, and her dedication is bound to impact and echo throughout the industry for many years to come – celebratory drinks are on Velocity Worldwide.
Scottish Local Retailer of the Year
Ardeer Services
It takes a special store and a special retailer to win the ultimate Scottish Local Retailer of the Year award – but Ardeer Services is that store and Mahmood Saleem is that retailer.
Committing to a £1.5m investment is admirable enough but it's how Mahmood has spent this money and the quality of thought that has gone into developing this store that makes Ardeer Services so very, very special. The attention to detail is mind blowing; the big picture strategy just as impressive. To hear Mahmood explain the thinking behind every aspect of the store is to journey into the mind of a genuinely exceptional local retailer.
The judges said: "Ardeer Services is up there with the best local retailing developments ever seen. No detail has been judged too small to obsess over. Everything there is there for a reason."
Huge £1.5m investment
Stunning attention to detail
Unique, ground breaking concept
First rate execution
As befits a category as important as this, the Reward is something very special indeed: a trip to Chicago in October to attend this year's NACS conference, the largest convenience retailing event in the world. The event should provide Mahmood with some great ideas to continue developing his store.