With shoppers traditionally seeking to make healthier choices at this time of year after the excesses of the festive period, low and no sugar is the way to go with energy drinks.
---
New Year's resolutions often mean that, after the excesses of Christmas and New Year, many shoppers are looking to make healthier choices at this time of the year. With a tough year behind them however, and the prospect of a tough start to 2021 ahead of them, many shoppers will be still be looking for a boost to get them through the day, which is great news for retailers in general and the huge energy drinks category in particular.
Today Sports & Energy is now worth £1.3bn, with growth totalling over £25.3m vs 2019 [Nielsen, Aug 2020]. This growth has been fuelled by the increasing demand for Functional Energy which have added over £130m vs 2019 and are fast approaching a billion-pound segment, today worth over £900m annually. The consistent performance of Functional in the category has ensured that Sports & Energy has remained in growth despite slower performance in other segments and Functional Energy is the fastest growing segment in Soft Drinks at +6.1%.
A big beneficiary of this trend has been category captain Red Bull which, over the past year, has seen volume per buyer increase by a whopping 37.4% [Kantar, Aug 2020].
Offering choice is at the centre of a strong energy offer and especially at the start of the year as consumers increasingly pick up a sugarfree alternative. Red Bull has reacted to the shift to sugar free with an expansion of its range to include a sugarfree variant of almost every pack in the range. This has seen Red Bull launch Sugarfree 473ml, Tropical Sugarfree Edition in 2018, along with Coconut Berry Sugarfree Edition in 2019.
Red Bull Zero was relaunched earlier in 2020 with a reformulated taste profile, responding to shopper demand for a great tasting energy drink without sugar. Red Bull Zero has sold 1m cans since launching earlier this year and is one of the biggest NPD contributors of growth to the Sports & Energy category, adding almost £1.3m of value as part of Red Bull's £23m YTD growth vs 2019 [Nielsen]. Red Bull Zero is now available in a 250ml 4-pack to meet this profitable retail opportunity.
Irn-Bru Energy now in 500ml cans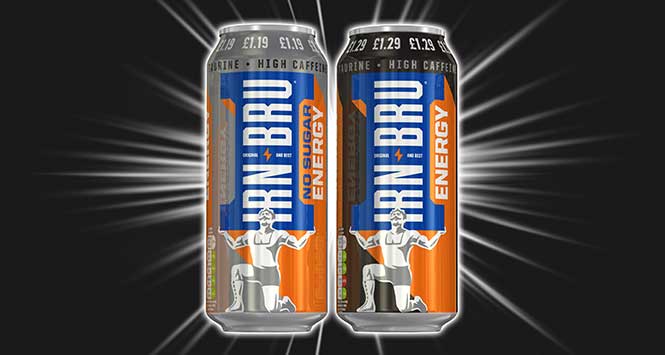 Barr Soft Drinks is set to deliver growth in the £1.4bn energy drinks market with the addition of a 500ml big can variant to its Ian-Bru Energy brand.
"Energy is the biggest and most profitable drink-now segment in the UK, with over one in three soft drinks sold in convenience stores being an energy drink [IRI, Nov 2020]," says Adrian Troy, Marketing Director at Barr Soft Drinks.
"However, the top 20 energy products are split equally between big and small cans, with 60% of shoppers always buying the same size can [Kantar, Jun 2020] ."
Troy says Irn-Bru Energy is growing four times faster than the total energy market [IRI, Sep 2020] and delivering incremental sales, as half of Irn-Bru Energy shoppers buy it in addition to their normal energy product
Irn-Bru Energy 500ml will be available in full sugar (£1.29 RSP) and no sugar (£1.19 RSP) and retailers should stock both variants as each product attracts a different type of shopper, says the company. The launch will be supported with an unmissable £1m brand investment from next month, including heavyweight outdoor and digital advertising, complemented by a huge sampling campaign.