September
Download the PDF for more information here.
Hot snacking specialist Kepak Convenience Foods (KCF) has unveiled innovative plans to enable retailers to significantly increase profits from the chiller cabinet,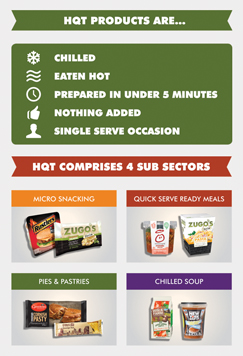 now a key shopper destination. KCF is the driving force behind the emergence of a new category – Hot, Quick & Tasty (HQT) – described by KCF Marketing Director John Armstrong as 'one of the most significant moves in convenience chilled food retailing' for decades. "We've taken a long hard look at the chilled snacking category and through research have identified a group of products that suit the hot, quick snacks usage occasion. "We're urging retailers to re-look at how they approach foods that are eaten as 'hot, quick snacks as it's very evident from all the research we have done that this sector is poised for strong and sustained long term growth." The chiller is the prime location for products that are eaten as snacks or quick to prepare meals. "Every week, consumers go to the fridge for food and drink almost twice as often as the cupboard (42 fridge visits vs. 24 cupboard visits*2 ). That's why the fridge is the ideal location for HQT products that in many cases also deliver higher cash margin than their ambient equivalents," adds Armstrong.
The beauty is that retailers are already selling many of the products that form the HQT category and we're seeing a rise in the launch of new products that fit the criteria. "To make the most of the opportunity retailers need to merchandise the products together to reflect eating occasions," says Armstrong. "This makes shopping the fixture easier and gives customers the choice they're looking for. There's also real scope to make this dynamic new category more visible through effective POS and promotions."

SLR's store recently implemented HQT. Store manager Gerard Begley says: "The HQT system is a interesting new way to look at how we merchandise hot snacks such as those from Kepak Convenience Foods. Over the next month we'll be implementing the planogram and I'm confident that customers will see the benefits, which will lead to increased sales for us – which is what it's all about, after all."

October
Changes in people's eating habits are providing convenience retailers with the chance to grow chiller cabinet profits. Three square meals a day have made way for snacking as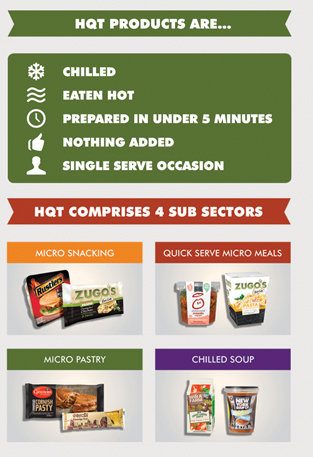 and when it suits, in or out of the home, as people turn to food that can be prepared quickly and conveniently, often to fuel their busy lifestyles.

The really good news for retailers with chillers is that the fridge now dominates the home as the main source of food, with people taking food and drink out of fridge an average of six times a day, almost twice as often as the cupboard*. Kepak Convenience Foods has recognised an opportunity and is leading the development of a new chilled category – Hot, Quick & Tasty (HQT) – grouping together a range of products that are ideal for the hot, quick snacking occasion.
As people spend an average of just four minutes in a c-store, getting the basic principles correct is crucial to maximising sales of HQT products: Q Ensure HQT products are merchandised together to reflect similar eating occasions.  Increase visibility of HQT products by using POS such as shelf barkers and branded shelf trays which will draw shoppers' attention to the fixture and help manage stock levels.
Install a Kepak branded microwave, or heat eat unit, giving shoppers the chance to heat products in-store. Where sited, sales have risen dramatically. Orders can be placed with R H Hall on 01296 663400.


HEAT UP YOUR HOT, QUICK & TASTY SALES THIS WINTER
As the weather becomes colder, shoppers are looking for Hot, Quick & Tasty (HQT) snacks to help them warm up and fill up. HQT, the new chilled category developed and led by Kepak Convenience Foods, groups together a range of products that are ideal for the hot, quick snacking occasion based on shopper research. HQT products are chilled, prepared in under 5 minutes, eaten hot and fulfil the single serve occasion without the need for anything to be added or eaten with them.

HQT comprises four sub sectors and helps to fulfil a broad range of shopper missions including lunchtime, dinner and fridge-filler quick meals. Micro Snacking – microwave snacks including the Rustlers core range and ZUGO's Deli Café. Micro Pastry – microwavable pastries and pies, such as Ginsters Cornish Pasty Quick Serve Micro Meals – quick meals heated in the microwave, like Innocent Thai Curry Veg Pot Chilled Soup – includes New Covent Garden Tomato & Basil Retailers can drive sales throughout the day by ensuring their chillers are well stocked with Hot, Quick & Tasty options and by installing microwaves so customers can heat and eat their purchases straight away.Kepak's all-in-one microwave and stand has helped to boost sales for hot, quick & tasty products by more than 30%. The 'Heat and Eat' stand is preprogrammed to cook the best-selling Rustlers and ZUGO's Deli Café hot snacking SKUs, but can be used to cook any Hot, Quick & Tasty products. It comes with a built-in bin to keep the surrounding area tidy.

December
The fridge now dominates the home as the main source of food with people visiting the fridge six times a day, that's almost twice as often as the cupboard.*3 Retailers can take advantage of this by stocking the brands that shoppers are looking for and Rustlers is one of the key signpost brands for chilled. Rustlers sits within the Hot, Quick & Tasty (HQT) category which is consumed by 60% of all households and is forecast to grow to £1 billion within 10 years. John Armstrong, Kepak Marketing Director says: "The chilled market provides profitable alternatives to lower value ambient products but it still needs to grow its share of the total microwaveable food market. Fast-growing Rustlers is the brand to lead the way." Increasingly people are now shopping by mission and snacking at all times of the day. Retailers can make the most of this by merchandising the HQT four sub sectors together (below) to make shopping the fixture easier for consumers.
Micro Snacking e.g. Rustlers burger, subs and wraps 

Micro Pastry e.g. Ginsters 

Quick Serve Ready Meals e.g. Zugo's Deli Café Pasta Pots 

Chilled Soup e.g.  New Covent Garden Soup Recent research has highlighted that 7 out of 10 consumers prefer Rustlers to other micro burgers making it a must-stock for Scottish retailers.
Kepak will be continuing its support for the UK's number one micro snacking brand which is valued at £82 million.*4 "Rustlers has been on TV for the past 11 years and next year will be no different. We'll be starting 2014 with a brand new TV ad that will not only appeal to our current consumer base but also open the brand up to new consumers which means bigger profits for retailers. Our message to retailers is clear: stock up on Rustlers and you will increase your profits!"

January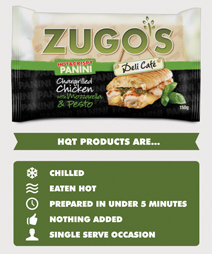 2014 looks set to be another bumper year for Hot, Quick & Tasty, the fast-growing snacking category that is taking the chilled cabinet by storm. Led by Kepak Convenience Foods, the nation's number one micro-snacking company, annual sales of Hot, Quick & Tasty (HQT) products, which are already eaten by 60% of all households, are forecast to reach £1 billion in the next ten years. In the next 12 months marketing activity for HQT – and for micro-snacking products such as Rustlers and ZUGO's Deli Café – will be stronger than ever. "This is going to be another big year for retailers stocking Hot, Quick & Tasty products," says John Armstrong, Kepak Convenience Foods Marketing Director. "Rustlers and ZUGO's Deli Café will be backed by high impact support such as TV advertising and sampling and, with lots of NPD in the pipeline, there has not been a better time to meet the fast-growing consumer demand for the best-performing products in the microwaveable food market."

The 'new' Rustlers TV advert breaks in February and is set to be one of the most talked about ads of the year- watch this space! "TV advertising makes a real difference to any brand – and Rustlers is no exception, particularly when you take into account the fact that over 40% all meals are eaten in front of a TV," adds John Armstrong. As consumers continue to shop by mission and snack throughout the day at the expense of main meals, retailers can capitalise on this by merchandising the four HQT sub sectors together, making the HQT shopping experience as easy as possible. In addition to micro-snacking products, HQT comprises micro pastry (e.g. Ginsters), Quick Serve Ready Meals and Chilled Soup – all products are chilled, eaten hot, for the single serve occasion, prepared in under 5 minutes, with nothing added to them. Armstrong is also urging retailers to stock the products that shoppers know and trust, not me-too brands that serve to devalue the category.
February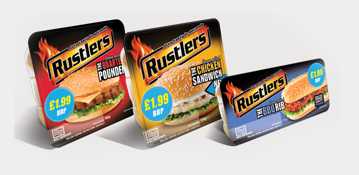 Television advertising is one of the best ways for brands to reach massive audiences and drive sales in-store. With people watching more TV than ever before, across a wide range of platforms, Kepak Convenience Foods is going to drive sales of Rustlers, the number 1 micro-snacking brand, with their biggest ever spend TV advertising campaign (£1.5million). The campaign will benefit the HQT category as a whole, as it will drive consumers to the fixture throughout the course of the day. The new 30-second 'Satisfy Your Hunger Monkey' advert spearheads a busy year of marketing activity for the Rustlers brand. The advert is Rustlers' 12th consecutive year on TV and is set to reach 12 million people, each of whom will see it at least five times each. The advert runs from 3rd February until 9th March. Retailers are urged to stock up now to meet the increased demand. The commercial comes at a time when research highlights that one of the main potential barriers to growth is a lack of visibility in-store, with one third of shoppers claiming that the biggest challenge they face in relation to buying HQT products is retailers not making them visible enough or merchandising them together. Check out www.kepaktrade.co.uk for more information.
John Armstrong, Marketing Director, Kepak: "There are three simple things that retailers can do to make the most of brands' marketing activity. First of all, focus on big brands that are advertising on TV and investing heavily. Then, ensure these products are available all year round. It is important that these products are visible, so use POS to highlight products that your shoppers will have seen on TV."
March
The fast-growing Hot, Quick & Tasty (HQT) category provides convenience and independent retailers with an unrivalled opportunity to boost chiller cabinet sales. With sales growth of 24% over the last 5 years*1, the category is set for accelerated growth as more retailers adopt key HQT merchandising principles and more HQT products are launched to meet growing consumer demand. The wide choice of HQT products meets consumer demand for any-time-of-day snacking, in or out of the home. HIM CTP research showed that 79 per cent of purchases in convenience outlets are made by shoppers on an 'eat now' mission. HQT products, such as Rustlers burgers, subs, wraps and noodles, ZUGO's Deli Café pasta pots and panini, and pasties, sausage rolls, veg pots and chilled soup, help to fulfil a broad range of these occasions. Products in the HQT category are chilled, prepared in under 5 minutes, need nothing added to them and are for the single serve occasion. They sit in one of the following sub-sectors: Q Micro snacking e.g. Rustlers burgers, subs, wraps & ZUGO'S Deli Café Panini Q Quick Serve Micro Meals e.g. ZUGO'S Deli Café Pasta Pots & Innocent Veg Pots Q Micro Pastry Q Chilled Soup To make the most of the HQT opportunity, retailers need to give these high demand and high margin products the space and visibility they need. As well as ensuring that a range of HQT products are available, visible throughout the day and merchandised together, it's important to offer customers a way of heating their snacks in store, so they can 'heat then eat'. The Kepak branded microwave and 'Hot Snack Station' are both inexpensive additions to a store and can boost sales of hot snacking products by as much as 280%, without the concerns over waste. See www.kepaktrade.co.uk for more information. Major increases in sales of HQT products have been recorded in every convenience outlet in which HQT has been implemented. What's more, in every recent trial, micro-snacks (Rustlers & ZUGO'S Deli Café) have been the best performers, highlighting the lead role they are playing in this dynamic category.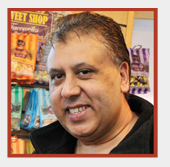 Retailer Sunder Sandher has installed a Hot Snack Station in his store. He said: "It has boosted sales of the eight Kepak hot snacking SKUs I sell by more than 30%. The key is to site the microwave and stand as close as you can to the chiller cabinet, so people realise they can cook products in store. The unit is compact and easy to manage, with pre-set cooking times which make life easy for customers."
April
Scotland's Hot, Quick & Tasty (HQT) market is going from strength to strength as retailers recognise the profit potential of this dynamic new chilled category. With more consumers than ever buying HQT products, which are now eaten by 60% of all households, there's never been a better time to support the fastest-growing category in chilled food retailing. Changes in people's eating habits and shopping patterns are contributing to the surge in demand for HQT products, with any-time-of-day snacking replacing formal meals. HQT products sit in one of the following sub-sectors: Q Micro snacking e.g. Rustlers & ZUGO'S Deli Café panini Q Quick Serve Micro Meals e.g. ZUGO'S Deli Café Pasta Pots & Innocent Veg Pots Q Micro Pastry Q Chilled Soup To make the most of the HQT opportunity, retailers need to give these high demand and high margin products the space and visibility they need. Recent research highlights the role that HQT has to play in meeting the rising demand for food to go products, whether they are to be eaten in the shop, at home or at work. "This latest research showed what a key role Hot, Quick & Tasty products have to play in many convenience outlets," says Kepak Convenience Foods' Marketing Director John Armstrong. "People are now turning more to their local
stores for food to go products. Stocking beacon brands such as Rustlers and ZUGO's Deli Café will attract shoppers to the fixture, meeting the fast-growing demand for products that can be prepared quickly and conveniently, in or out of the home." Consumer awareness for HQT products, and heavily supported Rustlers and ZUGO's Deli Café, is at an all-time high. "That's why it's so important that retailers stock the products that their shoppers know and trust, not the me-too products that devalue the category and stifle its growth."
Retailer Rav Garcha
is among the many retailers who buy into the role that HQT products play on the chilled fixture. To maximise the sales opportunity, he's installed a microwave and makes good use of Kepak POS. "The microwave has helped enormously. It enables us to sell micro-snacking products all day long, so we sell more food to go products as they can be heated in-store as oppose

d to at home."