Tobacco remains the most resilient category in retail and is still a massive footfall, sales and profit driver for retailers – despite challenges that no other category has faced.
---
At the core of every local retailing outlet remains the tobacco category which continues to deliver footfall, sales and profit – despite facing challenges that no other category has had to contend with. Undoubtedly the most resilient category in local retailing, tobacco is no less important to retailers than it has ever been.
With everything that has happened over the last year, the tobacco market still continues to be one of the biggest and most resilient FMCG categories in the UK and a category that drives footfall and revenue for retailers nationwide," says Ross Hennessy, Sales Vice President at JTI UK.
So it is just a case of keep on keeping on? Yes, and no, says Hennessy. The category continues to evolve and among the most persistent trends has been customers seeking out good quality tobacco products at affordable prices – and this is one of the key drivers in continued impressive performance of RYO.
"With 8.1 million kilograms of rolling tobacco sold in the UK each year [IRI, Jan 2021], this category offers a significant opportunity to maximise sales," says Hennessy. But it's not just in RYO that value and price are critical.
"Price remains a key factor for existing adult smokers," adds Hennessy. "To remain competitive, retailers should stock up on Value RYO products, such as Kensitas Club – which is the second fastest growing tobacco brand in Scotland and JTI's Sterling Rolling Tobacco, which is currently the UK's fastest growing tobacco brand [IRI, Dec 2020].
Imperial Tobacco has launched two new RYO formats and a limited-edition design for its Lambert & Butler RYO range to celebrate one year in the market. Launching exclusively into the independent channel, the limited-edition packs are available in 30g and 50g formats with RSPs of £12.80 and £21.00 respectively.
Another key trend is convenience, which is why 3-in-1 formats have performed well in recent times. JTI's Hennessy comments: "Our Sterling 3-in-1 Rolling Tobacco, which transitioned from a box to a pouch last year, offers existing adult smokers the fuss-free and convenient format they want, at the same value price as before."
Also worth keeping an eye on is cigarillos. A massive category in the US, cigarillos continue to grow in popularity in the UK. "With a current market share of 36.1% cigarillos are the fastest growing cigar sector and are now worth circa £6m a month [IRI, Dec 2020]," says Hennessy. "To capitalise on this growth, retailers should stock up on products such as Sterling Dual Capsule Leaf Wrapped, which is the number one cigarillo brand, with a 92.6% share of the UK cigarillo market [IRI, Dec 2020].
JTI is building on the growth of the product with the recent launch of the line in a 20 pack. "The 20 pack follows the same stick configuration as the 10s, with a mentholated Virginia blend tobacco and capsule filter that when crushed releases a peppermint flavour," says Hennessy.
"Sterling Dual Capsule Leaf Wrapped offers a good value and high-quality product, with an affordable RSP of £9.10 for a pack of 20 cigarillos."
Imperial Tobacco is also seeing success with its new Crushball Cigarillos variant from its JPS Player brand. Duncan Cunningham, UK Corporate Affairs Director at Imperial Tobacco & blu, says: "JPS Players Crushball Cigarillo, the menthol alternative, comprises an American Blend tobacco, wrapped in a natural tobacco leaf and features a menthol crushball within the filter. This provides consumers with the choice of releasing the fresh flavour contained within or smoking as a standard cigarillo."
The JPS Players Crushball Cigarillo is available to buy in packs of 10 with an RSP of £4.20 in a price marked pack.
Heated tobacco
One tobacco category that has long been threatening to burst into life is the heated tobacco category. Philip Morris was first to establish a foothold in this category with the launch of its IQOS product with a vision for a smoke-free future.
Kate O'Dowd, Head of Commercial Planning UK & Ireland at Philip Morris Limited, says: "Despite this increase in traditional tobacco sales, the exponential growth of smoke-free categories – which include heated tobacco products and e-cigarettes – continues to build unstoppable momentum.
"At the end of 2020, a survey carried out by KAM Media on behalf of PML, found that more than a third (38%) of all retailers expect more adult smokers to switch to smoke-free categories in 2021. Despite comparatively small sales in relation to traditional tobacco, smoke-free products are eating into the market share of cigarettes. The sales of heated tobacco products, for instance, grew by 270% in 2020."
O'Dowd advises that it is vital that retailers provide a wide range of alternatives to ensure differing preferences, such as taste and sensory experience, are met. "Increased choice may be the difference in an adult smoker switching to a less harmful alternative over continued smoking," she says.
To help that drive, PML will be launching a new Digital Trade Engagement platform, HEETWAVE OPEN. The move strengthens the digital support the company offers retailers with online training tools that improve knowledge of PML's expanding smoke-free portfolio, whilst also encouraging more peer-to-peer advice sharing through the platform and an FAQs section to provide stockists with an initial reference point, should they need support.
The latest major scale entrant to the heated tobacco category is JTI's Ploom solution. Lyle Mitchley, Reduced Risk Products & Brand Portfolio Manager at JTI UK says: "It's predicted that by 2025 there will be nearly one million Heated Tobacco users nationwide and that traditional retail will contribute to two thirds (67%) of this volume [JTI estimates].
"To help retailers profit from this category, we recently launched a new heated tobacco product, Ploom, which is unique in its set up with its sleek design and carefully crafted technology. Offering existing adult smokers and dualists (smokers and vapers) an alternative but familiar tobacco experience by heating tobacco instead of burning it.
Ploom uses EVO tobacco sticks which are available in four different flavours with an RSP of £4.50 including plain tobacco and menthol and berry menthol variants.
Heated tobacco top tips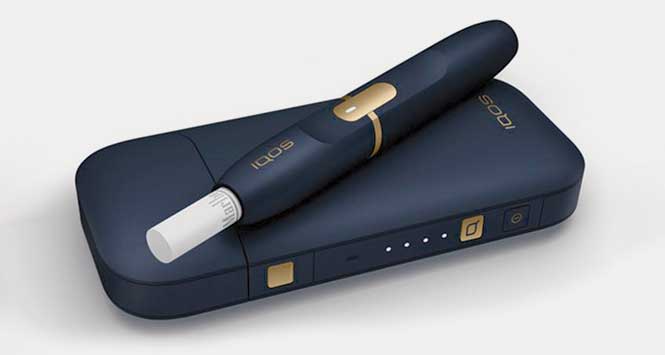 Philip Morris offers the following advice in the growing heated tobacco category:
Fully educate your staff on the heated tobacco category.
Ensure existing and new IQOS customers know you stock heated tobacco (HEETS) – speak to your local IQOS representative about POS and signage.
Stock a variety of smoke-free alternatives, as well as a range of variants within each, to offer your adult smoker customers that all-important choice.
Nicotine portfolio
A significant trend in tobacco over the last couple of years has been the rise of the 'nicotine portfolio' where consumers choose different products for different occasions.
Duncan Cunningham, UK Corporate Affairs Director at Imperial Tobacco & blu, says: "The tobacco market remains heavily price-driven and this has led to an uplift in consumers switching into Roll Your Own (RYO), as well as value Factory Made Cigarettes (FMC). We're also seeing a rise in dual users buying both RYO and FMC for different occasions, as more shoppers move to a nicotine portfolio approach. In fact, our figures show a quarter of consumers are now dual smokers. Retailers must be well-equipped with a strong product range across all categories in order to cater for this trend and keep one eye on their sales so they can adapt their range to meet the needs of their customers."
Accessories
This increasing consumer shift towards RYO products also presents new sales opportunities for tobacco-related accessories.
Cunningham advises: "In order to tap into this trend and take advantage of the incremental sales on offer, retailers should make sure they're fully stocked at all times of filters, papers, lighters and other flavour-related innovations like Rizla Flavour Cards and Rizla Polar Blast Crushball filters, to cater for the rising number of consumers buying into the RYO segment.
"In 2019, we launched our Rizla Flavour Infusions range which has been extremely well received by both the trade and consumers, winning in SLR's New Product Launch of the Year Awards 2020 in the Tobacco Accessories category.
Rizla Flavour Infusions comprise flavour cards that can be used with traditional factory made cigarettes or roll your own tobacco products. Simply insert a flavour card into a packet of cigarettes or roll your own tobacco and wait at least 60 minutes, or leave it in longer for a stronger, more intense flavour.
Also making big inroads in the Scottish flavour cards market is Swan. Republic Technologies recently launched its new range of Flavour Fusion Cards from leading filter brand, Swan.
The Flavour Fusion Cards enable consumers to create their own level of flavour in a packet of cigarettes or roll-your-own tobacco in just 60 minutes and are available in two variants, Fresh Burst and Menthol (RSP: 39p per card). Each outer contains 25 individual cards.
"Following the change in legislation last May, there has been a considerable rise in the number of consumers making a conscious decision to find competitively-priced flavour alternatives to menthol cigarettes," says Gavin Anderson, Head of Sales at Republic Technologies (UK).
Republic Technologies has been busy in the last year with a raft of interesting NPD. "Value for money remains key, but so too does the tactile aspect of rolling, which also has the added benefit of reducing consumption as smoking becomes less instant," says Anderson. "convenience-driven RYO shoppers are looking for different solutions for a variety of smoking occasions. That's why our NPD includes new and exciting flavour alternatives which meet these needs."
"Last year we introduced Swan Crushball Menthol capsule filters, which proved to be really popular, and our new Flavour Fusion Cards enable retailers to offer shoppers even more choice in flavour and format. The cards not only provide smokers with the ultimate in flavour impregnation, they enable retailers to capitalise on the growing interest in roll-your-own flavour innovation."
Cigarettes
The factory made cigarette market remains, however, the key driver in the category and there's plenty for retailers to get excited about. Imperial Tobacco has recently launched
three new products recently under the Embassy Signature umbrella. The range launched with Gold and Silver variants that are available to buy with an RSP of just £9.50 per pack of 20s, plus Embassy Signature Gold in packs of 100 at an RSP of £47.50.
Embassy Signature Gold Superkings was next to join the range's line up as a straight swap for Embassy No.1 Red Superkings. Priced to align with the rest of the range with an RSP of £9.50 per pack of 20s, the new addition helps to increase the availability of the Embassy Signature range and target superkings down traders and switchers looking for premium features at a value price point.
The latest addition to the range, Embassy Signature New Crush, comprises a modern blend of the finest Virginia tobaccos wrapped in premium paper with a unique cooling sensation filter. When coupled with flavour cards, New Crush provides one of the closest menthol alternatives available on the market today. The new variant is available to buy now in Superkings, also priced at £9.50 per pack of 20s and £47.50 per pack of 100s.