It's a revolution that arguably first began in earnest decades ago with the launch of Diet Coke but the transformation of the soft drinks industry is almost complete with low and no sugar drinks now the focus of all marketing and NPD activity – so where are the thanks and congratulations?
by Antony Begley
---
If you've been a local retailer in Scotland for the last decade, you'll be familiar with the drill: the Scottish Government selects a product category or an issue and decides that it's the root of all evil. Alcohol, tobacco, fat, sugar. Take your pick. Then it realises that fixing the root causes of abuse of said category or product would take generations to solve – and the Government doesn't have that amount of time to play with, so it goes for the easiest solution: restrict supply.
Let's be honest, alcohol abuse, obesity and tobacco consumption are problems that have developed over generations and are going to take generations to solve. The reasons why adults over-consume has very little to do with price and availability and everything to do with wider societal issues.
When the government then decides to act to further its progressive agenda, more often than not this then involves local retailers and the whole convenience and grocery trade supply chains making massive and invariably very costly changes to the way they operate in order to comply – and all based on evidence that is often poor quality at best.
As far as I can see, there's very little analysis going on of whether all the tobacco and alcohol legislation actually achieved the goals set out for it. We appear to live under an 'on to the next thing' government with little thought for whether previous attempts at legislation worked or not.
So now we have a dark tobacco market with plain packs, we have some of the most draconian drinks legislation in the western world, we have minimum unit pricing, we have the threat of bans on certain promotions and bans on where products can be sited in-store. And soon we will have a sugar tax on soft drinks.
Legislation
What is remarkable is that, after the initial battle to question whether proposed legislation is sensible – or indeed legal – the manufacturers involved, and the local retailers involved, have shown very willing to comply with rules and regulations that frankly make it much harder for them to run sustainable businesses.
With hastily-drafted legislation comes badly-worded laws – and if you want to go looking for loopholes in tobacco and alcohol legislation in particular, you could fill your notepad in double quick time.
As the most obvious example, consider the fact that Scotland's 32 councils can't even agree on how to interpret the current licensing legislation themselves – and receive no support from the Government on how to do so.
Yet despite this, the industry has uniformly decided to play it straight, ignore the loopholes and carry on with the "spirit" of the legislation, rather than picking holes in the wording and seeking to exploit loopholes to get around the laws. That deserves some credit, surely. But you'll wait a long time on anyone thanking the local retailing industry and supply chain for doing their bit, even though they often fundamentally disagree with many aspects of the legislation.
The Government seems to overlook the fact that local retailers have long had their customers' interests at heart and have strong bonds with the communities they serve. The reason this happens? Look no further than last year's SGF Conference when the Government's position was made clear: "When left to their own devices, people make bad decisions," was the Government's statement, made on stage in front of the audience. So there you have it. The Government knows better than the people that voted it in.
Case study: AG Barr
AG Barr's commitment to reducing sugar across its portfolio led the company to make the landmark move of taking 50% of the sugar out of its iconic classic Irn-Bru recipe, a move that generated much debate. The company's commitment to low and no sugar lines, particularly its Irn-Bru Xtra product is clear and its portfolio of healthier carbonates, energy drinks, juice lines and waters is now very extensive.
The company recently unveiled its new, edgy 'Don't Be A Can't' £2m support package for the Irn-Bru brand.
"Irn-Bru advertising is always eagerly anticipated by Scottish consumers, driving consistent shopper awareness and demand and increasing retailer sales," says Adrian Troy, Marketing Director for Barr Soft Drinks.
"The new campaign continues to reflect the cheeky, maverick attitude for which Irn-Bru is well-loved and will move the brand on from the popular 'Gets You Through' advertising campaign."
Irn-Bru will also continue to invest in its partnerships with the SPFL, the Football League and Sky Sports' flagship Saturday football programme, Soccer AM, bringing the brand's unique personality to the fans at grass roots level and building on the success of Irn-Bru Xtra.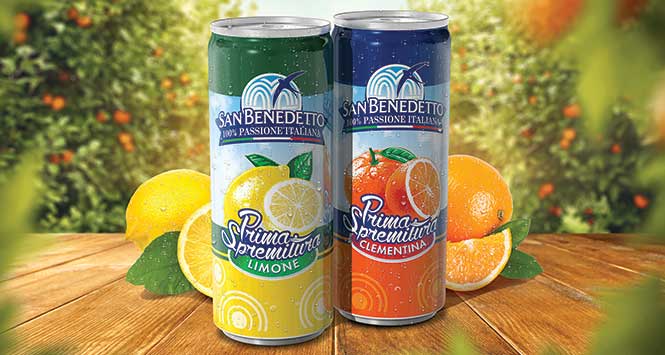 In January, the company announced that it was bringing the authentic taste of Italy to UK shoppers with San Benedetto – the premium Italian soft drinks brand that's high in taste and contains less than 70 calories per can.
"San Benedetto contains 12% juice and is made with the first squeeze of the fruit which ensures only the highest quality juice is used, delivering a completely unforgettable taste," says Troy. "And with less than 5g of sugar per 100ml and a suggested RSP of 85p, the new SKUs are an indulgence that UK consumers can enjoy every day."
Originally formulated by a small local producer in Venice, San Benedetto has over 100 years of rich Italian heritage. Nowadays, the San Benedetto group is active in over 100 countries and is the biggest all-Italian soft drinks group in Italy. The range includes two flavours – Limone (Lemon) and Clementina (Orange).
Most recently, the company has launched a new, first-of-its-kind product for the water category: Strathmore Botanics, made with spring water infused with natural botanicals and fruit flavours, with zero calories and no added sugar.
Available in three flavours – Orange & Mandarin; Apple & Elderflower; and Pear & Elderberry, and presented in a bespoke 500ml PET bottle – the new range taps into the growing popularity of natural botanical tastes that consumers are increasingly enjoying across other categories.
Heavy-handed
So, to the latest industry to get it in the neck: soft drinks. Next month's sugar tax is another heavy-handed tool to force the industry down the road of removing sugar from its drinks. The issue that stands out like a sore thumb here is the fact that the soft drinks industry has been migrating towards low and no sugar for a long, long time without any encouragement from the Government – and usually in response to changing consumption patterns.
Diet Coke has been on sale in the UK for about 30 years! Additionally, Coca-Cola European Partners has launched no fewer than 29 drinks since 2005 with no or less sugar.
What's more, in the last couple of years pretty much every penny of marketing spend from the major soft drinks manufacturers has gone on drinks that are low or no sugar. Irn-Bru Xtra, Diet Coke, Coke Zero Sugar, Pepsi Max and Diet Pepsi have been soaking up all the marketing dollars in recent years, to all intents and purposes.
The same story plays out when it comes to NPD. Very few soft drinks launched into the UK market by the major players in the last few years have been high in sugar.
But does the industry get praise for helping move the national diet issue forward? No, it gets harsh legislation and a combative approach that portrays them as soulless purveyors of obesity and the reason behind our nation's admittedly poor general standard of health.
Once again, the Government has largely refused to engage with the industry on the issue in any meaningful way. It hasn't been quite as bad as the situation during the tobacco years, when the Government point-blank refused to even talk to the tobacco manufacturers, but the conversations that have happened have not led to any significant change in the way Government has approached the sugar tax.
Them and us approach
The Government's apparent fascination with creating a "them and us" situation on every key debate is baffling. Surely it would be wiser to engage enthusiastically with interested parties, hear all the arguments then make an informed choice? Instead, it looks for all the world that the Government makes up its mind then digs its heels in regardless of what it subsequently learns on any given issue.
The result is yet more impractical and very costly changes to an industry already suffering badly. What's more galling in this particular instance is that the direction of travel for the soft drinks industry was towards low and no sugar anyway. And the argument that the travel wasn't quite going quick enough just doesn't stack up.
As local retailers are aware, the current soft drinks market is increasingly becoming unrecognisable from the way it was just five ago. It is a vitally important category for local retailers and that fact should not be lost in the debate. A partnership approach is needed now more than ever between Government and industry if the very future of the local retailing industry is not to be thrown into doubt.
Let's not forget that retailers and industry are not the bad guys. We've been working for years on improving the health of our customers and we receive virtually no thanks or praise for being there at the coal face, helping to change consumer habits – but we need support and what we do not need is constant castigation and dismissal of our legitimate commercial interests. No profits means no convenience stores – and where would that leave Scotland?
Scotland's soft drinks market is now worth around £848m [IRI, Dec 2017] and continues to be one of the most profitable categories for convenience retailers and the second-highest bought category in Scottish convenience, after newspapers [HIM, 2017].
And the fact remains that the soft drinks industry is on board with shifting consumption patterns and is working exceptionally hard to accelerate that shift to low and no sugar drinks.
Case study: CCEP
CCEP's recent annual major trade press event was remarkable for a number of reasons but two in particular stood out: the first was the sheer volume of NPD activity and the second was the fact that the NPD activity focused without exception on low and no sugar products.
Sales Director Gary Black highlighted that since just 2014, an amazing 20% of sugar has been taken out of soft drinks in the UK market and predicted that by the end of 2018 Great Britain would be the only country in the world where more than 50% of all Coke lines sold would be low or zero sugar.
The company is focusing on a "grow the core, and add more" strategy that centres on getting the core range right and in growth, while also offering consumers more choice – and it's on the "more choice" front that CCEP is working very hard in terms of NPD.
The event saw the launch of, among other things, Fuze Tea, new variants of Diet Coke and Coca-Cola Zero Sugar and a new variant of Sprite.
Fuze Tea
CCEP has announced the launch of the globally-successful, premium iced tea brand Fuze Tea in Great Britain – a fusion of the flavours of fruits, botanicals and tea extracts, with two low sugar variants.
Already established in 40 countries and one of the fastest-growing brands in The Coca-Cola Company portfolio, Fuze Tea initially launched in 2012 in 14 international markets and saw accelerated growth to billion-dollar status in less than three years.
Blends include Black Tea Peach with a touch of hibiscus and Green Tea Mango with a hint of chamomile. The tea extracts in Fuze Tea come from 100% sustainably sourced tea leaves, contributing to Coca-Cola's global aim to sustainably source 100% of its key agricultural ingredients and raw materials by 2020. Fuze Tea is also low in calories – between 14 and 19 calories per 100ml depending on the flavour – and sweetened with stevia.
The two variants are available in 400ml PET on-the-go bottles and 4 x 400ml PET bottle multipacks. At approximately 4g of sugar per 100ml Fuze will be Soft Drinks Tax exempt. The launch is supported by a £4m marketing campaign across TV, print, and digital and social channels. In-store sampling activity will target millennials – the largest iced tea consumer group.
Diet Coke / Coca-Cola Zero Sugar
CCEP is launching two new variants of Diet Coke and one for Coca-Cola Zero Sugar, in a move to build on the growing consumer demand for light colas and flavour options. Diet Coke, the number two soft drinks brand in GB [Nielsen, Aug 2017], sees the addition of Exotic Mango and Feisty Cherry. This is the first time the brand has introduced new flavours since 2003 and the variants will be the first in the Diet Coke portfolio to feature a new contemporary design.
Coca-Cola Zero Sugar Peach will also be available following the success of the brand's Cherry and Vanilla variants in 2017. It will feature a new, sophisticated red can design to celebrate the iconicity of the Coca-Cola brand.
The new flavours will be available in a range of pack formats, including 500ml PET and 330ml cans in both price-marked and plain packs, 1.25ltr and 8x330ml can multipacks.
A £10m marketing campaign will support the launch and will include sampling, POS, out of home, digital and social media activity to help drive consumer awareness.
Sprite
Also launched is a Sprite brand refresh and a new Sprite Lemon Lime and Cucumber No Sugar variant as part of the brand's biggest investment in over five years.
Introducing a new bottle and brand re-design across the entire Sprite portfolio, the new look will retain the iconic green colour Sprite has used since 1961, whilst up-weighting refreshment cues with lemon and lime imagery on all can and bottle formats.
The dimples that currently feature on existing 500ml bottles of Sprite will for the first time form part of the 2ltr bottle design, representing the drink's refreshing, citrus bubbles.
In addition to the new look, Sprite Lemon Lime and Cucumber No Sugar has been launched to help retailers tap into demand for light flavoured carbonates. Made from 100% natural flavours and available in 330ml cans, 500ml and 2ltr PET bottles, Sprite Lemon Lime and Cucumber No Sugar contains zero calories and is free of caffeine and preservatives.
Sprite will be backed by a £3.3m marketing campaign, spanning digital and print advertising channels. Over 400,000 consumers will also have the opportunity to taste the new variant through in-store sampling. The whole Sprite portfolio will be Soft Drinks Tax exempt.
Evolving market
Adrian Troy, Marketing Director at Barr Soft Drinks, comments: "As the market has evolved, more and more people are looking for low and no-sugar options that deliver all the taste of their favourite soft drinks, for fewer calories. Barr Soft Drinks is encouraging retailers to ensure that their soft drinks range includes a wide variety of regular, low and zero sugar variants."
As well as reducing sugar in its iconic Irn-Bru core product, AG Barr now offers a whole array of low and no-sugar drinks, including Irn-Bru Sugar Free (Scotland's No.1 low-calorie flavoured carbonate [IRI, Dec 2017]), Irn-Bru Xtra (which has delivered £11m of sales since launch), Rubicon Spring (sparkling spring water with fruit juice and only 15 calories or less per bottle), Rockstar Revolt (zero sugar energy drinks), Snapple Iced Tea (no added sugar range and just 10 calories per bottle), San Benedetto (12% juice soft drink, less than 5g of sugar per 100ml) and Strathmore water.
It hardly looks like the company has been resisting the shift to low and no sugar, and it's the same story at the other giant of the soft drinks industry in Scotland, Coca-Cola European Partners (CCEP).
While CCEP has chosen to go down a different route with its full sugar Classic Coke variant, retaining it as a special occasion treat option for customers, the vast majority of marketing spend and NPD is on low and no sugar lines, and long has been.
Case study: Highland Spring
Scottish water giant Highland Spring has long benefitted from its naturally sugar-free status but is now highlighting to retailers that the advent of the sugar tax may encourage more consumers to consider what they are drinking.
Carol Saunders, Head of Customer Marketing, Highland Spring Group, comments: "Consumers are drinking more water than ever before and the sub-category is outperforming the wider soft drinks market, which declined by 0.1% in volume in the 12 weeks prior to January 2018 [IRI, Jan 2018]. Of the sub-categories that showed growth, Bottled Water contributed 41%, with overall volume sales of Plain Water increasing by 5.6%. This growth is also seen in the convenience sector with Plain Water volume sales increasing by 2.3% [IRI, Feb 2018]. We largely attribute this to the rise in consumer demand for healthy hydration options.
"The increasing consumer and media focus on health, as well as the imposition of the sugar tax, continues to be a major driver of product choice and is a significant consideration for consumers when choosing between drinks. Therefore, retailers need to make sure their range appeals to health-conscious consumers by offering options low in or free from sugar and calories."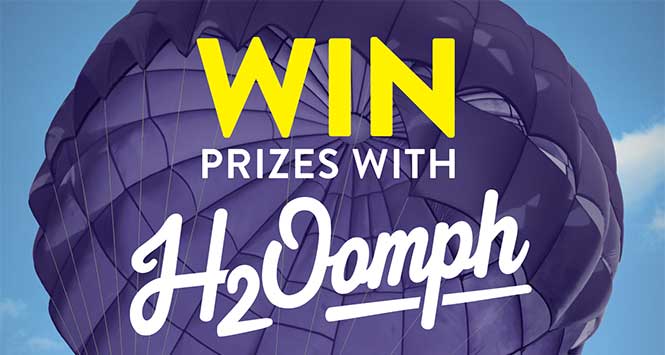 The company has unveiled its latest campaign, titled 'H2Oomph' which encourages consumers to enjoy life "with added value". The activity kicked off with a bold new on-pack promotion running from February through to June and forms part of the brand's ongoing 'Brave By Nature' positioning.
Reinforcing the message that Highland Spring consumers are naturally driven to do more each day, 'H2Oomph' shows consumers how being hydrated can allow them to make the most of their everyday moments. Consumers will be given the opportunity to shake up the norm by winning experiences with added "oomph" – familiar activities that have been maximised to their fullest. From a weekend break in an unusual location, to 4D cinema tickets and aqua assault courses, winners will be given the chance to do something a bit different.
The instant win mechanic will appear on Highland Spring's Still 500ml flat cap and 750ml sports cap on-the-go single bottles and multipacks in stores nationwide until June and will give shoppers the chance to win one of 10,000 prizes on offer.
The on-pack promotion will be supported by a fully integrated communications plan that will include in-store activation, out of home and digital advertising, alongside PR and social media activity – all implemented from April 2018.
The news also comes as the brand unveils a packaging refresh for its 1ltr, 750ml and 330ml glass bottles. Launching in March 2018, the design mirrors the fresh new look introduced to the PET range, updated in 2017, and highlights the brand's provenance and heritage messaging with a modern, sleek design.
Wide choice
Amy Burgess, Trade Communications Manager at Coca-Cola European Partners, says: "For retailers, offering a wide choice of different products, including a range of flavours and variants, as well as pack formats, is the key to making the most of soft drinks sales.
"Especially important is keeping a wide selection of low or zero sugar drinks, and retailers should constantly review their soft drinks range as manufacturers innovate new lighter options to meet rising consumer demand for healthier options.
"Throughout 2017 we have continued to focus on innovation in response to shifting consumer trends like health and wellness, premiumisation and convenience."
Note once more that CCEP has launched no fewer than 29 drinks since 2005 with no or less sugar, helping people make informed choices whilst reducing their sugar intake. A great example is Coca-Cola Zero Sugar which launched in summer 2016 and was supported by a £10m marketing campaign, the company's biggest brand investment for a decade.
Burgess again: "Since then we have distributed 15.4m samples nationwide to drive trial of Coca-Cola Zero Sugar and have launched two new flavour variants – Coca-Cola Zero Sugar Vanilla and Coca-Cola Zero Sugar Cherry. As a result, Coca-Cola Zero Sugar has become the fastest growing cola brand in Great Britain, up +41% [Nielsen, Sep 2017]. Now worth £136m in value in Grocery, Coca-Cola Zero Sugar is the fourth-biggest cola brand in the country."
What that means is that Zero has attracted 1.6m more households so far – and the company has just unveiled a £10m rebrand of Diet Coke and launched two new Diet Coke variants and one for Coca-Cola Zero Sugar. Does that sound like a company not trying hard enough to convert shoppers to low and no sugar?
Consumption patterns
Lucozade Ribena Suntory has likewise reformulated all its products to fall into the "less than 5g of sugar per 100ml" band of the Soft Drinks Tax and means the manufacturer's core portfolio is entirely "sugar tax-free" as well as offering shoppers a low or zero sugar brand alongside the reformulated ranges of each core brand.
These are only some examples from three of the largest soft drinks companies operating in the UK, but the trend is repeated more or less across the board for drinks companies large and small. It is abundantly clear that while some of these moves to focus on low and no sugar were undoubtedly driven by the impending sugar tax, many of them have been in the pipeline for years and reflect a natural shift in consumption patterns.
Has the Government's intervention been strictly necessary? Is it just jumping on a politically risk-free bandwagon and hoping to make some political capital from a trend that was well underway on its own anyway? And has it potentially caused significant damage as manufacturers shift investment into complying with the sugar tax and away from other areas where there would arguably be more benefit for all stakeholders – wholesalers, retailers and shoppers included?
The truth is that we will never know but the sugar tax is just the latest example of the Government acting with what many see as a wilful disregard for industry and for local retailers. This approach cannot go on forever. The future must be more collaborative if the local retailing trade is to enjoy a sustainable future and remain able to serve communities across Scotland that rely on their local store, as the recent snow-fuelled chaos demonstrated only too clearly.
Case study: LRS
In November 2016, Lucozade Ribena Suntory (LRS) publicly committed to making its entire range Soft Drinks Tax exempt, a major commitment for a company of that size with some huge brands.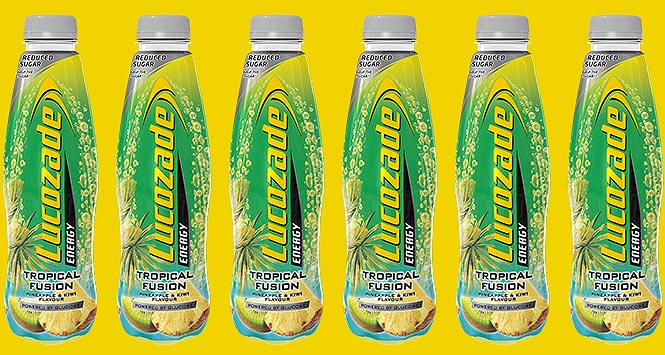 Scott Meredith, UK Sales Director, LRS, comments: "As part of our overall commitment to health and wellbeing, we outlined our plan to reformulate all drinks to be under 5g of sugar per 100ml in November 2016. This means the core portfolio is entirely 'sugar tax-free'. We have invested heavily in fine-tuning the reformulation of our range to ensure it's business as usual for retailers when the levy comes into force.
"We also offer customers a low or zero sugar brand alongside the reformulated ranges of each our core brands. This enables retailers to offer their consumers a full range of choice. Lucozade Zero, for example, was launched in 2016 to help retailers tap into the growing trend for low sugar soft drinks and has gone from strength to strength since it first hit shelves. The most popular soft drinks launch of 2016 [IRI, Nov 2016], Lucozade Zero is still growing at 39% [IRI, Dec 2017] year-on-year, illustrating the popularity and importance of lower-sugar soft drink options."