The average adult eats over 10 biscuits a week, making it one of the most frequently shopped categories in stores. With recent concerns over the UK's high intake of sugar, lower calorie options are rising in popularity as the 'baked not fried' message gains traction, so combine these with more indulgent biscuits to offer the best range and the best chance to profit.
by Émer O'Toole
---
Demand for biscuits in the impulse channel is growing faster than the total market. To take advantage of this, retailers need to take a look at why people are shopping the biscuit fixture and their purchasing habits. Customers shop the biscuit category by mission and a third of all biscuits are bought on impulse in the convenience channel. In order to capitalise on this market the most popular biscuits effectively. The introduction of single-serve biscuits such as Maryland chocolate chip cookies 40g grab bag meets demand for sweet and savoury biscuits that can be eaten on the go.
Don't underestimate the importance of cross-category promotions. As more than 80% of biscuits are consumed with a drink, convenience retailers will benefit from siting 'on the go' biscuits beside sandwiches and cold drinks as well as hot drink stations as biscuits are an ideal product to have with tea or coffee.
In response to the move away from sweet options, savoury biscuits are growing seven times faster than the total savoury market. The Burton's Fish 'n' Chips brand is a popular bagged savoury biscuit and sells well in the impulse and savoury biscuits market. "Savoury is bang on trend at the moment. The fact they're baked not fried ticks the better for you box and the pack sizes allow for portion control," says David Costello, Burton's Biscuit Company's Head of Category and Shopper Management.
"Undoubtedly the biggest move in Biscuits has been the accelerated shift away from fried and towards baked snacks in savoury," says Hena Chandarana, Trade Communications Controller at United Biscuits. "This has been a major movement in the history of the biscuit marketplace and as more, and increasingly innovative, new products enter the market, consumers continue to respond positively."
United Biscuits' reasons to bet on biscuits
The UK loves biscuits, they are in 99% of household cupboards, more than any other snack category
Biscuits are purchased more frequently by consumers than other snack categories – bought 44 times a year on average
Biscuits are included in almost 1 in 5 (17%) grocery shopping baskets, more than any other snacking sector
The Biscuits category has a proved track record of resilience in a difficult economy. It is currently worth upwards of £2.3bn, and has been in continuous growth for the past 10 years
UB projects a £500m RSV opportunity, achievable by 2020.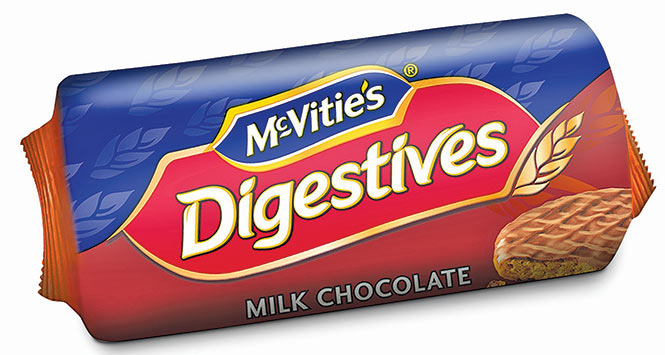 The way people are consuming biscuits and other snacking products has changed in recent years, says Chandarana, with people increasingly shifting from the set three main meals a day to more frequent, smaller eating occasions. "On-the-go is one obvious occasion rising out of busier and more mobile lifestyles and is a major growth driver across most snacking categories."
Biscuits in particular are primed to capitalise on this trend. There is a gap in the market due to the significantly fewer on-the-go formats currently sold – currently 93% of biscuits are sold in take-home formats, versus just 7% for on-the-go packs. This compares to 14% for crisps and snacks and 12% for confectionery on-the-go. Support of this trend is therefore an area that will form a big part of UB's plans over the coming year.
UB is currently experiencing its best ever total volume share for sweet biscuits, with MAT currently at approximately 28%. "At the heart of this success remains our Masterbrand strategy which has provided a clear identity for our brands and offers a consistent look for shoppers across packaging, advertising and messaging", says Chandarana.
In 2015 UB introduced new ranges and developed existing ones as part of this innovation strategy. This included the launch of McVitie's Delichoc and the relaunched McVitie's Breakfast range which now includes two new products – McVitie's Breakfast Oaty Breaks and McVitie's Breakfast Fruit & Oat Bakes. As part of this, in 2015 we continued to extend our successful McVitie's Sweeet campaign with new ATL campaigns, including bringing our McVitie's Breakfast range to TV for the first time as part of a £3m media investment.
Must-know trends for biscuits in 2016
It's go, go, go with on-the-go

With increasingly frequent and smaller eating occasions this is a major growth driver.

Value still key to shopper loyalty

Transparent pricing and clear value for money is still of utmost importance to consumers, so a range of price points is crucial.

Health never higher on the agenda

Offering a range of choice and available pack formats assists consumers.

Savoury is steaming ahead

Savoury is seeing an accelerated shift away from traditional fried products towards baked savoury biscuits.
Stocking biscuit options that are lower in sugar and higher in fibre could address consumers rising concerns over sugar levels in biscuits. Nairn's Oat Biscuits in Stem Ginger, Dark Chocolate Chip, Fruit & Spice and Mixed Berries, contain 40% less sugar than the average sweet biscuit. Nairn's only uses wholegrain oats — a great source of soluble fibre — in its Oat Biscuits, meaning they contain more fibre than most other biscuits on the market, which makes them a great healthier range of sweet biscuits to stock for shoppers who want to increase their fibre intake.
United Biscuits new go ahead! Cookie Bites and Pud Bakes appeal to the consumer trend of snack grazing and offer a treat throughout the day at 99 calories per bag. Launching in two flavours — White Chocolate & Raspberry and Chocolate & Orange — go ahead! Cookie Bites will be available in packs of six at an rrp of £1.99. Go ahead! Pud Bakes will launch initially in a Cherry Bakewell flavour — with more flavours to come — and will be available in packs of five at 141 calories per bar.
However, indulgent biscuits are still popular, accounting for more than 45% of basket spend on biscuits. Borders Biscuits Dark Chocolate Ginger, Milk Chocolate Ginger and its new Cookies range are expected to grow this year. Customers shop the biscuit fixture by mission and a third of all biscuits are bought on impulse in the convenience channel so make the category impossible to miss by locating biscuits in high footfall areas at the front of store. Biscuits shoppers buy more on impulse than the average c-store shopper and are more inclined to try new products. Draw shoppers to the biscuit aisle by making it appealing and easy to navigate, which will have a positive impact on biscuit sales. In general, shoppers buy biscuits as a top-up because they've run out, they're looking for a family treat or buying for a special occasion so it is important to cater for all of these shopping missions. Customers are becoming more price savvy as well. According to the 2016 Shopper Stock Take Index, 20% of shoppers now use price comparison sites and 30% look up and use deal or voucher websites. Making prices and promotions easy to spot will be the key to customer satisfaction.
Biscuits is one of those categories that is bought every day and Scotland's independent retailers can boost biscuit category sales by taking more account of the reasons shoppers are buying biscuits – and merchandising the category accordingly.