Consumers are more interested in the sustainability credentials of the products they buy and the retailers they buy from than ever. With suppliers making massive strides in creating more sustainable products, the time for retailers to capitalise on these trends in-store is now.
---
Every credible study of consumer buying patterns over the last couple of years has shown one thing very clearly: shoppers are more focused and more interested in the sustainability credentials of the products they buy and the retailers they buy from that ever before.
This very significant trend is already affecting buying decisions, with many shoppers shunning products, brands or retailers that don't pass muster.
This huge shift has not escaped the attention of producers and suppliers. Practically across the board, suppliers have been dedicating themselves to reducing their carbon footprint in a whole array of creative, innovative and commendable ways.
Sustainability has gone from being the worthy but dull preserve of CSR (corporate social responsibility) departments to becoming a vital thread that runs through everything that many huge companies do. All of the major soft drinks suppliers, for instance, have moved mountains over the last few years as some 65% of soft drinks shoppers claim that sustainability is important in their decision-making [Streetbees, 2020]. Even more tellingly, 9% of consumers cite sustainability unprompted at point of purchase for their choices, a 125% increase on 2019 levels.
Case Study: Yazoo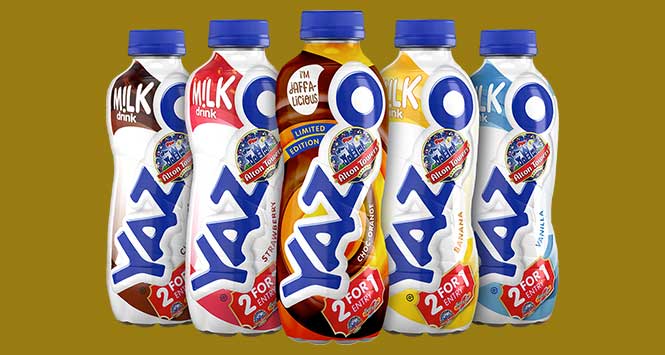 The UK's number one traditional flavoured milk brand [IRI, Dec 2020], YAZOO, has officially transitioned to 100% rPET packaging across its 300ml and 400ml packs. The packs, which are on shelves now, also feature easy peelable sleeves to make stripping and correct recycling even simpler.
Increasing from the previous 20% figure and expected to save over 32m kilograms of non-recycled plastic, the change has been finalised ahead of its end of 2021 schedule, with the rest of the range due to follow next year.
Sustainability is a huge priority for us, it's just as important to YAZOO as it is to consumers," says Kate Allison, YAZOO Marketing Manager at FrieslandCampina UK. "We've been on the journey to become a more circular brand for some time, and this latest project is a big phase of that."
We're really proud that we've hit this milestone ahead of our plans and it means we can get started on the next steps sooner. We've already introduced Tetrapak cartons and bendable paper straws across our No Added Sugar range, and we're always looking for new ways to make changes to our business, in line with environmental concerns."
And you know that the landscape has changed dramatically and sustainability is slowly becoming 'cool' when self-proclaimed beer punks BrewDog put their carbon negative commitments front and centre in many of their consumer-facing comms.
With pressure, then, from both the consumer and supplier ends of the supply chain, now is a great time for local retailers to step up the plate and start putting sustainability higher up their own business agendas.
While all retailers already recycle their plastic, cardboard and food waste (by law) and many use LED lights and low energy refrigeration, you'd be hard pressed to find a store that communicates this fact to its customers. This is a simple, easy win for retailers – and the fact that it very rarely happens suggests that sustainability remains resolutely in the 'when I get around to it' category for time-pressed store owners and managers.
Understandable as that may be, sustainability is a huge issue for shoppers and it's only getting bigger. Cop26 in Glasgow later this year will only serve to ratchet the pressure up even further and the arrival of DRS, be that next year or more likely the following year, will turn the pressure up yet another notch or two.
Case study: Highland Spring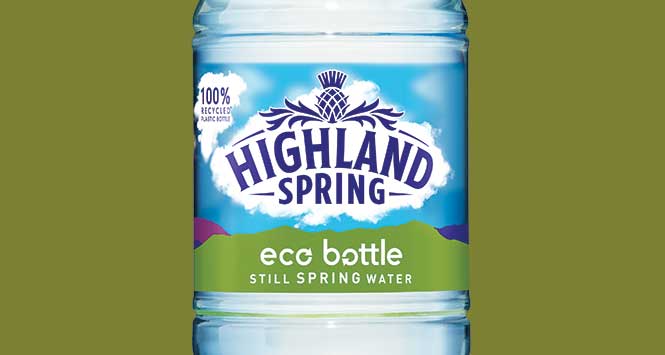 "Providing healthy hydration in an environmentally sustainable way" is, says Highland Spring, the core purpose of its business. The company has been ranked the most ethical natural source water brand for the 12th year running in The Good Shopping Guide's ethical rankings and says environmental sustainability "will continue to underpin all our activity in 2021".
The company will be increasing the number of products available in recycled plastic (rPET) and will continue to focus on ultimately reaching 100% rPET across all Highland Spring products as the quality and quantity needed becomes available, with a target of 50% recycled content in bottles by 2022. In the meantime, every Highland Spring bottle can be recycled to give it another life.
Highland Spring is also continuing to work with Hubbub, an environmental charity that encourages consumers to make better choices when it comes to looking after the environment and recycling, particularly 'on-the-go'. Highland Spring worked with Hubbub on the #LeedsByExample campaign to change consumers' behaviour when it comes to disposing of their rubbish, with the ultimate aim of increasing recycling rates for food and drinks packaging. The Leeds pilot scheme was extremely successful and was rolled out across Swansea and Edinburgh, with more towns and cities to be added to the campaign.
The launch of Highland Spring's 100% recycled and recyclable eco bottle marked a significant milestone in the producer's efforts to help consumers understand the value of plastic as a material which should be kept in the circular economy. This move was followed by the roll-out of the Wild Life kids eco bottle, which underlined the business' commitment to remain at the forefront of environmentally sustainable innovation.
So why not take a fresh look at sustainability sooner rather than later? The great news is that you probably already have a load of success stories to tell, even if you haven't thought about it much before.
Why not generate some social media posts telling your shoppers about all the recycling you do? A few bits of in-store POS could help add to the story and then you could get into discussing low energy lighting, heating and refrigeration. You've already done the hard part: all you have to do now is tell your shoppers about it.
Also great news is that the fact that the sustainability credentials of your store are improving with every day that passes without any effort on your part: the products you receive into your store every week are quickly improving thanks to the efforts of suppliers.
Case study: Suntory Beverage & Food GB&I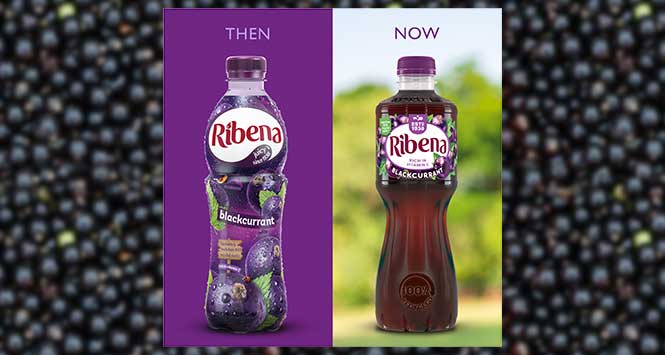 "Our Growing for Good vision drives us to make sure what we do as a company always benefits the wider community so that as we grow, so does our ability to do more for our society and the environment," says Matt Gouldsmith, Channel Director, Wholesale, Suntory Beverage & Food GB&I. "This is the mindset that has led us to support our retail partners in their own CO2 reduction journey."
Gouldsmith adds: "The importance of stocking great-tasting, big brands with positive sustainability stories now cannot be understated. Retailers making them a prominent feature of their range will reassure customers that sustainability is being taken seriously."
As a Suntory Group business, the company has committed to reducing greenhouse gas emissions by 50% from direct operations and by 30% across its value chain by 2030, as part of an existing global commitment to reach net zero emissions by 2050.
Since 2015, the company has reduced its carbon footprint in GB&I by a quarter thanks to a new energy and water-efficient bottling line, continued investment in warehousing and operations efficiencies and using increasing amounts of rPET in primary packaging.
The shift from using virgin plastic made from fossil fuels to rPET reduces CO2 emissions by approximately 79% and the company is on track to use 50% sustainable plastic packaging across its drink bottles by 2025.
New transparent sleeves on Lucozade Energy enable 'bottle-to-bottle' recycling. This means the bottles can be funnelled into a clear plastic waste stream, helping to give every bottle the optimum chance of being recycled back into a bottle.
New packaging for Ribena 500ml bottles last year made the brand the largest selling soft drinks brand with bottles made from 100% rPET that are also 100% bottle-to-bottle recyclable.
Paper straws are now a permanent feature on Ribena juice cartons, saving up to 16 tonnes of plastic from being produced per year.
Again, why not leverage this information by telling your customers all about it?
The very fact that you're talking about sustainability on social media and in-store will undoubtedly resonate with some of your customers and, arguably, community retailers have more of a responsibility to keep an eye on their carbon footprint than other retailers.
You can lead from the front with a little time and effort and enhance your store's reputation into the bargain.
To help give you a flavour of the work being down by major suppliers, here are four case studies which illustrate both how seriously suppliers are taking this challenge and how you can leverage their efforts in-store to show your shoppers that sustainability matters to you.
Case study: Quorn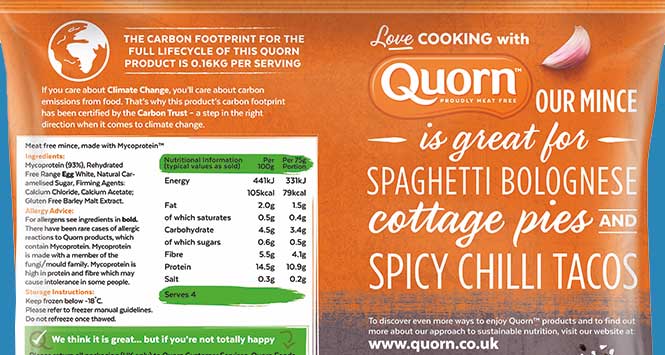 Quorn is the UK's No. 1 meat free brand, with annual sales in excess of £203m and is the first meat free brand to introduce carbon footprints to its packaging.
"Quorn has been a trailblazer in the meat-free sector since we sold our first product in 1985," says Gill Riley, Marketing Director at Quorn Foods UK. "Now, as a £203m brand, we believe it is our responsibility, along with other food and drink companies like ours, to come together to make a positive impact on the planet."
"Delivering sustainable nutrition is at the heart of everything we do," says the company, which is why it has joined over 100 leading businesses by signing up to The Climate Pledge, committing to achieve net zero carbon emissions by 2040.
Earlier this year Quorn launched a new 'Helping the Planet One Bite at a Time' campaign to show shoppers that switching to Quorn is an easy and tasty change everyone can make "that comes with huge benefits to people and the planet alike".
The company is continuing to roll out the carbon footprint of its products onto its packs so consumers can make informed decisions at the point of purchase. It's an initiative the company believes needs a collective effort from across the food and drink industry to empower more consumers to make food choices based on the environmental impact.