When it came to refurbishing its Moredun store in Edinburgh, Scotmid realised a vision of creating the UK's most innovative and complete energy efficient retrofit. The result is one of the most remarkable convenience stores operating today.
by Kevin Scott
---
When the doors opened on the refurbished Scotmid Moredun store in the south of Edinburgh last October there was more than a passing interest. This was no ordinary refit. In fact, this was the biggest and most innovative energy efficient refit of its kind in the UK. The hugely ambitious project brought together seven companies and agencies in addition to Scotmid itself. The result is effectively a best practice store for energy efficiency. In short, it's a remarkable achievement and every independent retailer has something to learn from it.
There's no scientific reason why Moredun was chosen. As the Project Manager for the refit David Greenshields says, it was purely serendipitous. "The shop was due for a refurbishment and we'd been looking to do this, so it was all a case of good timing," he says.
Store Manager Rose Spence adds: "I'd been pushing for a refit for a couple of years. I was hoping for new shelving and maybe a new floor. What I've got is just incredible. I love it."
There is a visible excitement when staff talk about the store, which in understandable when you see what's been achieved. "We'd been playing with energy in store refits for a while, but the improvements in this store are just crazy," says David.
If you want to put a number on crazy, then consider that the energy savings across the store have reached 58% year-on-year.
That's due in part to the ambitions of the partners involved in the project. Thankfully, Scotmid's vision was warmly welcomed by a number of players, with grants being added to the huge sum invested by Scotmid itself. Among those involved were Resource Efficient Scotland, Curve Energy, KB Refrigeration, CBES Construction Solutions, Climate Electrical Services, Thermal Image UK and the Post Office – which was happy for the unit operating within the shop to become part of the experiment.
"It's got absolutely everything working efficiently," says David. "We're learning a lot from it, and we're branching out elements of what we've installed at Moredun into other stores undergoing refits."
In fact over 30 stores are being developed this year using some of the technology. None will be done to the scale of Moredun, but the idea of a concept store is that learnings from it are able to be implemented elsewhere.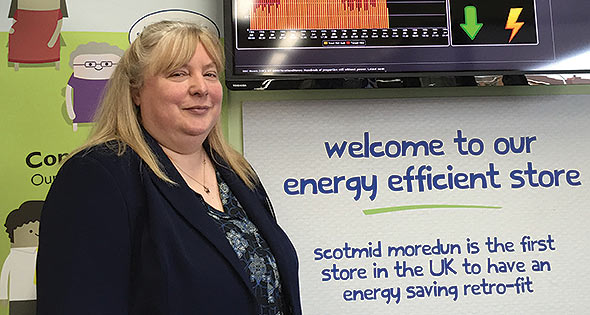 So what of that technology? Scotmid Moredun has been fitted with a range of state-of-the-art technologies to reduce energy consumption. At the heart of this is a sophisticated building management system, nicknamed 'the brain' which uses real-time data to make efficient use of its resources – such as lighting, heating and refrigeration. "I like to look at the dashboard to see what I'm saving – I'm a retailer, so it's all about the bottom line," says Rose.
Everything works automatically and is on sensors. Bright day outside? The external lights will dim thanks to sensors that measure the natural light levels outside the store – known as LUX levels.
The interior lighting is divided into five zones which are controlled depending on levels of natural light and footfall – for example, in the hours when the post office is closed, the lights are dimmed by 50%.
Likewise the chillers: outside of licensing hours, the beer and wine chiller reduces its temperature automatically. The chillers all have doors, LED lighting and sensors – plus interior condensers which are used to distribute heat elsewhere in the building, though David admits that's still in early stages of development.
In addition, an air curtain blows out ambient air to stop heat from escaping when the store doors open – and it only clicks into life when those doors are open, again working as efficiently as is possible. Every last corner of the store has been considered.
What's more, it is all monitored remotely at Scotmid HQ, meaning if any areas aren't performing as well as they should, they can be adjusted. "It's incredible," says Regional Business Manager, Jason Bartie. "We can tell when a member of staff is in the back office, as the lights are on sensors and so we can tell where and when they are being switched on."
This may sound a bit Big Brother, but that's not the reason for the monitoring equipment. This is a learning process for everyone involved, and the longer the store operates the more will be learned – not just by Scotmid, but by its partners too.
"Because it's an old store, it's been great to see the difference in costs," says Rose. "There's been so much interest too; we've had so many visitors, from the local schools to Marks & Spencer, all looking to see the system in action."
The store also has a meeting room, which is more of a classroom, and it's all too easy to be hypnotised by the huge monitor detailing the energy usage in the store. It's used not only by Scotmid, but by its partners, and local schools have even been brought in to see energy saving at work.
Staff love it too, says Rose. "Some of the people who work here have been with the store over 30 years so to see this, all the work they've put in is paying off. It's being well looked after."
The community too have taken the new-look store to heart. It would be difficult not to. The shop is adorned with material showcasing its energy efficiency, how it works, and the difference it's making. The pinnacle of this is a community area next to the entrance, which highlights the work being done in the store and also contains a large screen that compares energy use in real time with the previous year. The decision to be so open with the community is proving a masterstroke. "We do try and give back to the community," says Jason. "That's what Scotmid is about. By involving them it feels like they're investing in it. This is something of a hard-pressed area and we're pushing a really strong message of the benefits of being energy efficient. They've not had anything like this before."
Rose adds that the changes have been warmly welcomed in store, with customers praising the shop for its new look, as well as the efficiency of its equipment. And that can't be forgotten. At the heart of all this is a community convenience store which must provide a strong range of products for its customers. Moredun achieves this with a slick, clean looking store that comes in at just over 3,000 sq ft. The new store is in fact smaller than previously – with two investment units on either side of the shop. Incredibly, just 14 linear metres of shelf space was lost. The sales uplift is marginal, but when your costs savings are at 58% then the shop becomes far more profitable than before. "It's about the bottom line," says David. "With this refit, it wasn't just about growing sales. We've done that and that's great, but it's the savings we're making – and some of the technology has a three year payback – which leaves us in great shape."
With Scotmid Moredun we can see a different side of retail technology at work. With margins being squeezed ever tighter and standard cost cutting going only so far, energy efficiency provides an opportunity to make huge savings while upping your green credentials at the same time. And what's not to love about that?