The IGD Shopper Confidence Index declined by four points to -9 in March 2020. This is the lowest it has been since September 2019 when it was at a low of -10.
The index blends four key measures that relate directly to the food and consumer goods sector to calculate an overall indication of shopper confidence:
Household finances: expect to be better or worse off
Food prices: expect to get less or more expensive
Focus on quality vs. saving money: future and current focus
Trust in industry: across a range of measures
These measures are combined, and the Index score is calculated. The index can vary from -100 to +100, where -100 is a very negative outlook and +100 a very positive outlook. It produces a monthly indication of GB shoppers' food and grocery confidence, with trended data going back to 2013.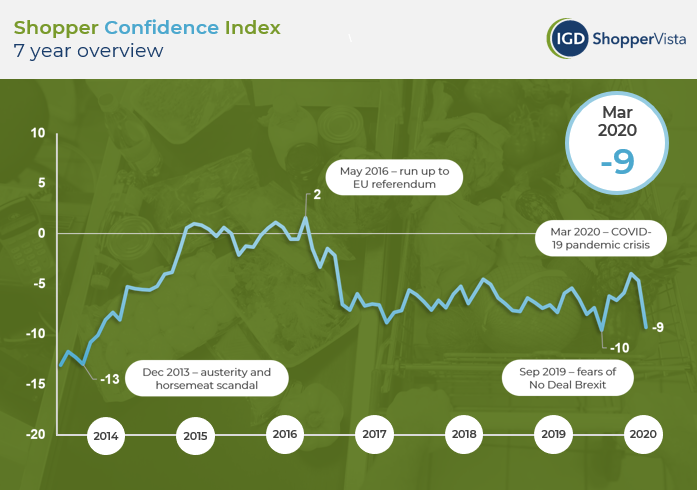 Additionally, IGD ShopperVista data for March 2020 revealed:
While shoppers are most concerned with their household financial position going forward, as well as worries around future rises in food prices, they recognise and appreciate the efforts of the food and grocery industry during this period.
Overall, shopper confidence has declined significantly across the country, both North and South, with the lowest levels among middle-aged (45-64s) families.
Recently 58% of shoppers claim to have stockpiled food and groceries. This has remained stable over the last week.
Implications for the future around savvy shopper behaviours are re-emerging. This could lead to more focus on cooking from scratch, reducing food waste and a focus on essential categories.
Simon Wainwright, Director of Global Retail Insight at IGD, said: "The IGD Shopper Confidence Index aims to help industry stay close to shopper sentiment by acting as a diagnostic tool on a month-to-month basis, as well as a foundation to make future predictions.
"Understanding these dynamics can help underpin new product launches as well as shopper communication strategies. This pace of change is going to make it harder to create any long, or even, medium term category plans. Keeping on the pulse of how shoppers are feeling has never been so vital."