Scotmid has reopen its Barnton store in Edinburgh following a major refit.
A sales floor increase in size from 2500sq ft to 3000sq ft has allowed Scotmid to introduce an enhanced customer offering such as an expanded Cook frozen range and extended food-to-go range, comprising new breakfast lines; made in store filled baguettes; toasties and burritos; chicken and wing tubs; pizza sandwiches; and made to order 12" pizzas.
The fit out saw the replacement of the shop front windows and doors and the removal of the suspended ceiling to open up the height and space within the sales area and enhance the overall look and feel of the store.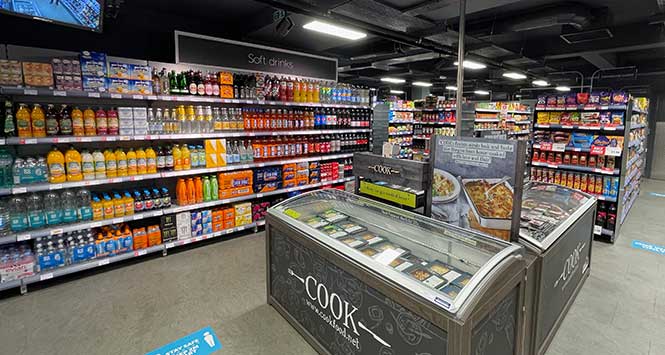 The renovation also included the latest Scotmid branding and design as well as:
New LED lighting
New ventilation and air conditioning systems
State of the art Hauser refrigeration cabinets run on energy efficient refrigerant gas
Bakery cabinets, digital screens, self-cleaning oven, pizza bench, bakery equipment and food-to-go range including Costa
Self-scan and traditional till options with in-built customer screens
Internal ATM
COOK frozen foods
New signage and graphics
Dark grey ceiling and walls and new Amtico flooring
Wi-Fi, Safe i, mood media sound system, security tagging, CCTV, security alarm and fire alarm installations.
Many of the changes were made as part of a commitment to the UK Government's Clean Growth Strategy, with the aim of improving energy productivity and to invest in low carbon generating technologies. Scotmid has been making these changes since 2015, which include LED lighting, aerofoils, temperature management and store energy management systems. More than 150 Scotmid stores are now fitted with – at minimum – LED Lighting.
During the refit, Scotmid moved into the vacant premises next door to ensure customers were able continue shopping.