Scottish Local Retailer of the Year
Dennis and Linda Williams, Premier Broadway Convenience Store, Edinburgh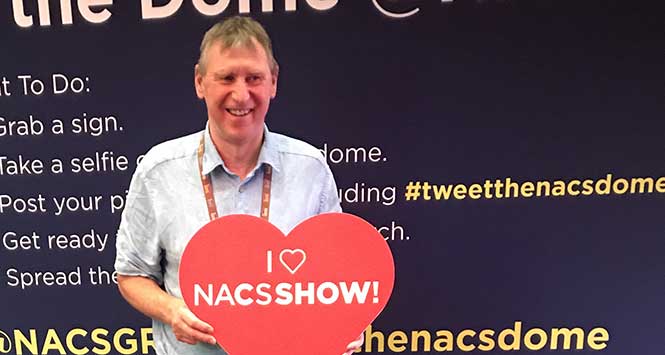 Linda Williams drew the short straw on this one with Dennis graciously accepting the invite to fly to Las Vegas for the NACS Conference 2018. He reported back: "Honestly, it's hard to even begin to describe NACS because it's mind blowing. More than 50,000 people go from across the globe and it's certainly the most astonishing retail event I've ever been at in all my years as a retailer, the SLR Rewards aside of course!
"It's also difficult to summarise what I learned because I learned so much from watching presentations, wandering around the exhibitions and just talking to retailers from all over the world. A couple of the biggest trends, just like over here, are coffee and food-to-go. Coffee is massive in the States, just massive. Chicken is a big thing over there too – it's a far more important part of many c-stores' business than it is over here and I think we can learn from that. Fried chicken, spicy chicken, grilled chicken, you name it. When I came back we quickly added a couple of chicken burgers to our deli menu and they're flying already – so it works!
"Vaping is also huge in America and they seem a lot further down the track than we are. It's very much part of everyday life over there and I think that's the way it's going to go here too.
"But as I say, it's too difficult to explain how impressive NACS is. I would just advise every retailer to go if they get the chance. Thanks for the opportunity SLR!"
Beer & Cider Retailer of the Year
Spar Renfrew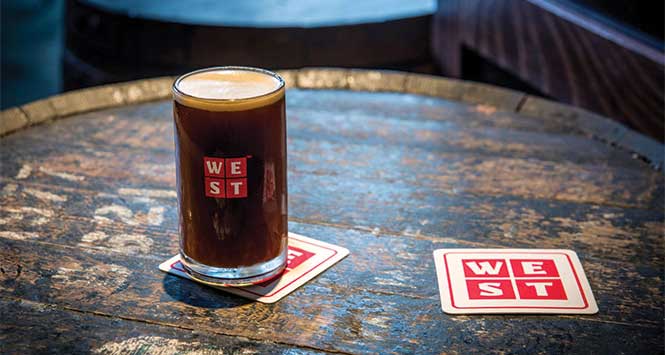 Saleem Sadiq is another serial award-winner with a fantastic team around him that allows the store to continually hit the heights. His Reward lets him treat the team to a very special night out: a tour of WEST Brewery followed by a meal at WEST on the Green for 10 people!
Biscuit Retailer of the Year
Redding Road Supermarket, Falkirk
Shabaz Ali jetted off to Amsterdam for an all-expenses paid trip to see the fair city. The Reward even included spending money and a tour of sponsor pladis's factory in Zaandam, including all the biscuits he could eat! He told SLR: "It was a fantastic trip, it really was. We were treated really well, put up in an amazing hotel and driven around like kings. The factory tour was actually really interesting and getting to spend some time in Amsterdam was brilliant. Thanks to everyone involved."
Confectionery Retailer of the Year
Lifestyle Express, Rutherglen
A Virgin experience of a lifetime worth £500 was the Reward for Kesh Bagha for winning out in this highly important category.
Crisps & Snacks Retailer of the Year
Premier Broadway Convenience Store, Edinburgh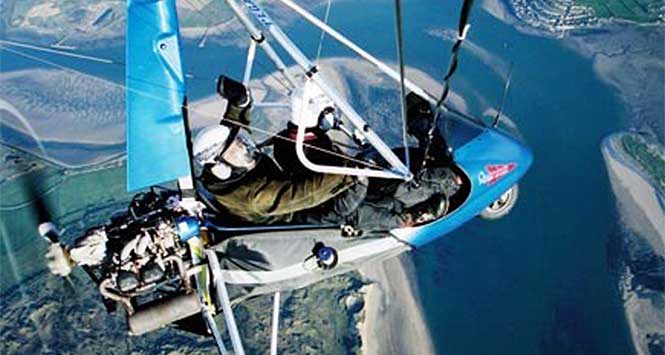 Dennis Williams got the trip to NACS in Las Vegas so it's only fair that Linda claims the microlight Reward on offer for this category. With a hectic few months behind them Linda hasn't actually been able to use the Reward yet, but SLR will definitely be there when she does. No way we're missing that one!
E-cigs Retailer of the Year
Spar St George's Cross
A brilliant Red Letter Day was the Reward for Iqbal Sadiq in this category, courtesy of blu, who were really impressed with Iqbal's commitment to the category.
Food-to-go Retailer of the Year
David's Kitchen, Glenrothes
Aptly enough for winning a Reward for serving food to people all day, store manager Keith Fernie's prize was a posh night out for four where he and his team could be on the receiving end of some top-notch service and food for a change. Keith told SLR: "We used the Reward to have a little team night out to reward some of the people who have consistently made this store so successful. We had a very lovely night and it was nice to get a bit of recognition for a good job well done."
Fresh & Chilled Retailer of the Year
Penny Petroleum, Jet Kirkmuirhill (Spar)
Vicky Hennessy collected a superb indulgent two-night escape for two people for coming top of the pile in this category, a great Reward for a store that blew the judging panel away after a top drawer refit.
Lottery Retailer of the Year
Premier Linktown Local, Kirkcaldy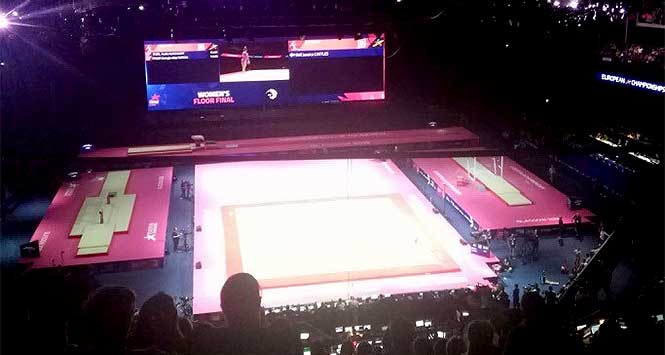 A true community-minded retailer, Premier Linktown Local owner Faraz Iqbal generously donated his Reward of four tickets to the Gymnastics European Championships in Glasgow to local club Sandra's Gymnastics. Sandra herself is a former Scottish gymnastic champion and was delighted to have the chance to take some of her pupils along to see how the world's best do it.
She even donated money to the local Youth Club to say thanks, so it was a true community initiative. Nice work Faraz!
Newstrade Retailer of the Year
Premier Turriff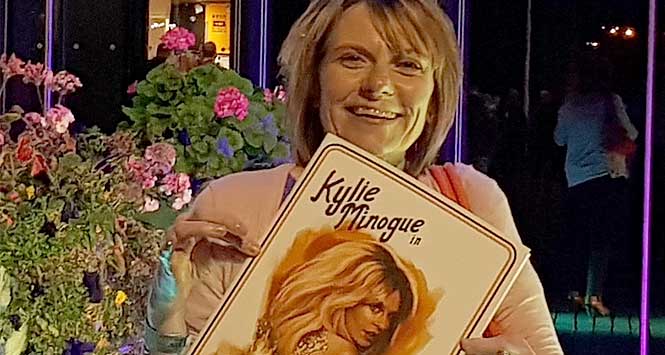 Turriff retailer Ian Smith and his wife Shona were treated to a money-can't-buy night as guests of News Scotland in their posh box at the SSE Hydro to see the one and only Kylie Minogue. Ian told SLR: "What a night! Shona absolutely loved it and the people at News Scotland couldn't have been nicer. We felt like we had the best seats in the house and News Scotland put us up in town too, so we had a really wonderful evening. Thanks to SLR and News Scotland."
Soft Drinks Retailer of the Year
David's Kitchen, Falkirk
An amazing £500 voucher for the experience of a lifetime was the Reward for manager Diane Greenough, a well-deserved prize for what is an outstanding store that hits the highest standards consistently.
Spirits Retailer of the Year
Doonfoot Day Today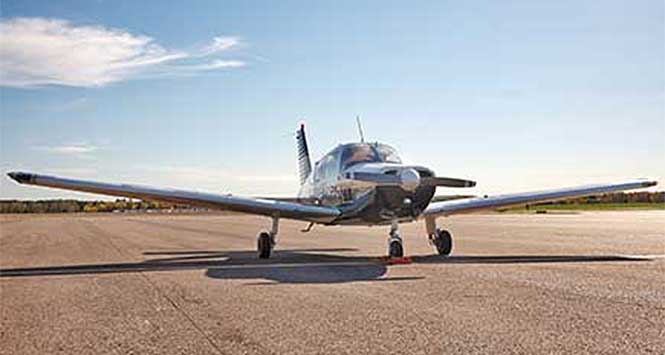 Ross McPherson's store is a gin lover's heaven with hundreds of gins available, as well as a massive array of vodkas, whiskies, rums and more. Let's hope he doesn't sample too many before he takes to the skies on his High-Flying Aerial Adventure where he will have the chance to pilot the plane himself.
Community Retailer of the Year
Premier Smeaton Stores, Kirkcaldy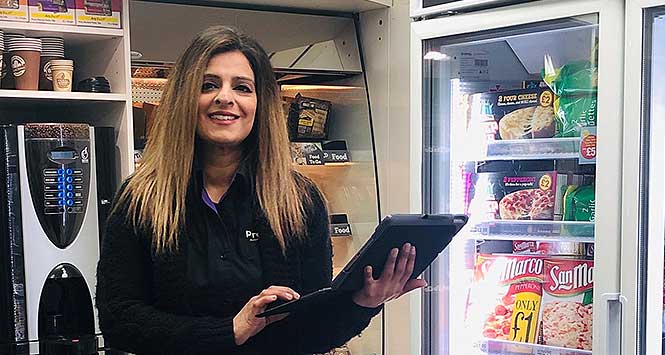 Asif and Abada Akhtar have made this award their own recently with a commitment to the local community that is mind-blowing. For their efforts this year, they picked up an iPad with smart keyboard. Asif told SLR: "The iPad is used for all sorts within the store, it's become a handy companion. We use it for social media activities and to organise and schedule dates and events. Apps also help with bookkeeping and accounts. Outwith the store I can access its CCTV and EPoS systems remotely, so we can always keep an eye on things and place orders with suppliers for delivery if need be."
Forecourt Retailer of the Year
Jet Ardeer (Nisa)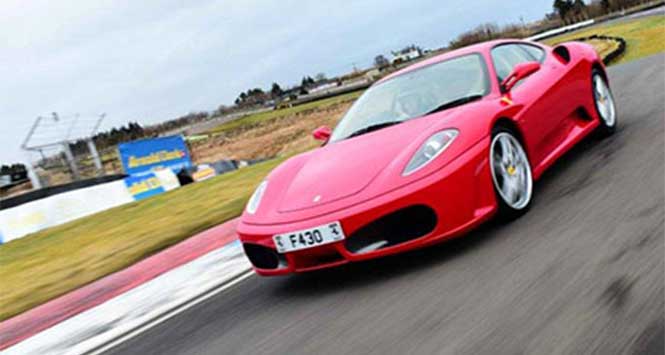 Former Scottish Local Retailer of the Year, Mahmood Saleem picked up a Ferrari F430 track day for winning this category. Who wouldn't like the chance to rattle round the race track in a Ferrari?
New Store of the Year
Costcutter Dundee Road, Forfar
Shahbaz Majeed collected a great prize from sponsor Bolt Learning: a year's worth of free online training for all store staff, including the choice of five separate modules. Ideal for keeping the staff and already top-notch store moving even further forward.
Best Refit of the Year
Spar Hillfoot, Bearsden
Also benefiting from a year's worth of free online training from Bolt Learning for all his staff was Ian Gillespie whose refit saw his store transformed.
Responsible Retailer of the Year
Family Shopper, Blantyre
No stranger to winning this particular category, Mo Razzaq once again demonstrated how committed he is to responsible, progressive retailing – and to help him keep that up he bagged five places on sponsor TLT's SCPLH personal licence training courses.
Team of the Year
Day Today Bourtreehill, Irvine
Manager Imran Ali is very proud of the team he has built in Bourtreehill and rightly so because they do him proud all day every day. The store collected a shiny new iPad to help them provide even better service to their customers and stay organised.
ThinkSmart Retailer of the Year
Family Shopper, Blantrye
Serial award-winner Mo Razzaq added another to the collection with this Reward which included a funky Apple Homepod. Being a community-focused retailer, Mo used the Reward as a prize for a great charity raffle in store to raise funds for a local charity. That's just fine with us!