Isle of Gigha Post Office and store plays a central role in Channel Four's new TV series, Murder Island, which features four teams of amateur detectives trying to solve a whodunnit.
The six-part series is based around a murder plot, written by crime novelist Ian Rankin, which will see members of the public take on the role of detective and conduct an investigation. They have one week to compete to solve the murder.
Filming took place at the post office with actors and the sleuths also often popped in to speak with Postmaster Joe Teale and his wife Hannah to tap into their local knowledge of the island.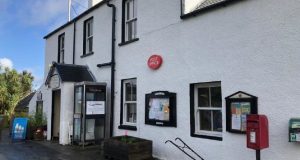 Isle of Gigha Postmaster, Joe Teale, said: "We had to ensure that the shop could still serve the community. There was lots of filming here. On one particular night there was filming at the post office and outside until 1am in the morning, with lots of action going on. They had huge amounts of lighting, so it looked like it was actually filmed during the day."
The population of the island nearly doubled when filming took place with 10 actors, teams of wannabe detectives, and production crew.
The Isle of Gigha could not accommodate everyone, even with the island's hotel and holiday lets, so 42 camper vans had to be brought by boat from the mainland, along with supplies to build a police station for the 'detectives' briefings.
Teale said: "When Ian Rankin wrote the story based on a remote Scottish island, he didn't specifically have the Isle of Gigha in mind, but we have more facilities than many islands, some great buildings and beautiful landscape to provide an interesting setting for filming.
"There has been a buzz on the island since we heard that filming was going to take place and chatter amongst the islanders about the murder mystery. We have not seen the series ahead of time so people are wondering which parts of our island will be shown and who they may recognise. The Isle of Gigha community still don't know who the 'murderer' was. We will have to watch the series, like everyone else to find out."
The series, made by STV Studios, starts today (5 October) at 9.30pm – after the Great British Bake Off.