The Scottish Grocers' Federation has been revolutionised under boss Pete Cheema and now in its centenary year enjoys 'more influence than ever' – which is just as well as the challenges to the industry are coming thick and fast.
by Antony Begley
---
There has probably never been a tougher time to be Chief Executive of the Scottish Grocers' Federation with the local retailing sector arguably facing the sternest challenges in its long existence – but when former Spar retailer Pete Cheema took the helm in 2015 he told everyone who would listen that he intended to reform the Federation from the ground up to build an organisation ready for the daunting challenges ahead.
Granted, in 2015 there was no way of knowing that the two or three years that lay ahead would see a wholesale restructuring of the industry with a glut of mega mergers and takeovers, new and damaging legislation, rocketing costs and massive shifts in consumer buying habits.
Despite all that however, Cheema has undoubtedly made good on his promise and in many aspects the Federation has literally never been stronger. Financially the organisation is fully robust for the first time in many a long year, membership numbers are climbing every month, the annual calendar of events has never been busier and, possibly most importantly, SGF has now established itself as a major lobbying organisation both at Holyrood and Westminster.
There is absolutely no doubt that SGF has the ear of many extremely important politicians and influencers at Holyrood these days, to an extent that was unthinkable before. The fact that First Minister Nicola Sturgeon is now established as a regular headline speaker at the annual SGF Conference is a case in point.
"Our increasingly strong relationships with a growing number of senior politicians in both Edinburgh and London is the result of a lot of very hard work by the team at SGF and those relationships are bearing fruit for the whole convenience retailing industry in Scotland," says Cheema.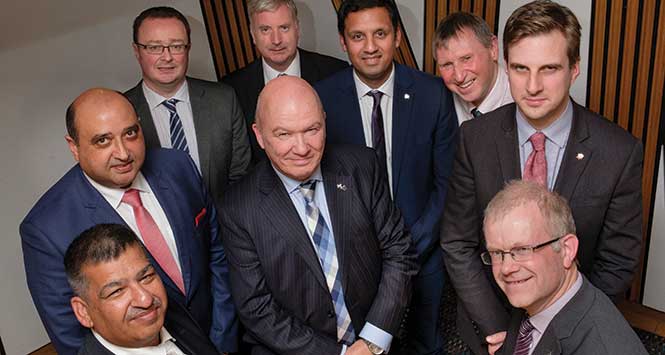 The importance of this achievement cannot be overstated. For too long the local retailing sector's voice was absent from the corridors of power, a function of the fact that, despite being a massive industry, it is composed of a plethora of very small businesses. Speaking with a united voice and having our opinions and input heard on a regular basis required us to come together in an organised and formal way, something the industry never quite managed to achieve.
The establishment of the Scottish Parliament Cross-Party Group (CPG) on Independent Convenience Stores, however, created the platform the industry had long craved and is a legacy that Cheema and his right-hand man, Head of Policy and Public Affairs John Lee, will always be able to look back on with pride.
"The establishment of the CPG was a real watershed moment for the SGF and for the industry," believes Cheema. "For the first time ever we had regular and extended access to many of Scotland's leading politicians from every major political party. Since that historic inaugural launch event, the CPG meetings have continued to attract very significant numbers of retailers, wholesalers, suppliers and academics which reflects the passion that this industry has for engaging with the decision-makers. Equally importantly, the CPG has also attracted 10 or 12 MSPs each time, all of them keen to hear from us and keen to understand our concerns and use those learnings to help shape policy-making in the future."
The new bonds created with politicians of all parties have become increasingly vital over the last year or so as the industry has been beset by wave upon wave of challenges.
"I don't think I'm over-stating the case when I say that the last year or two have been among the most tumultuous in the Federation's 100-year history," says Cheema. "Thanks to this, the convenience retailing industry is facing an unprecedented level of pressure from all sides and is facing massive hikes in the cost of business coupled with a barrage of legislation. My message to the Scottish Government is that the cumulative cost burden to retailers is becoming dangerously high and the Government needs to be careful not to destroy the largest private sector employer in Scotland."
Indeed, work that SGF has been doing with Stirling University around the effects of the living wage and the 'multiplier effect' has shown that the 'real' cost of living wage increases are far higher than the headline published increase. Cheema explains: "In real terms the increase in costs to retailers is more than double the official increase. In other words, an anticipated rise of 30p per hour or so actually costs retailers around 67p an hour, once you factor in all the other related costs."
The consequences of a constantly rising wage in tandem with flat or falling sales can be seen all around us, he says: "What's happening in the real world is that the number of people employed in our sector is falling and middle management getting stripped out. Even the top management is being stripped out and replaced by owners who are working more and more hours to make ends meet."
On top of this is a constant deluge of legislation. In the last six or seven months alone we have seen the introduction of the soft drinks industry levy and minimum unit pricing, once more creating mass confusion among shoppers that retailers are left to deal with at the counter.
Yet more challenges of this type lie ahead including the impending Deposit Return Scheme (DRS), a complex and nuanced challenge that Cheema feels the Scottish Government must get absolutely right if it is not to seriously damage the local retailing industry.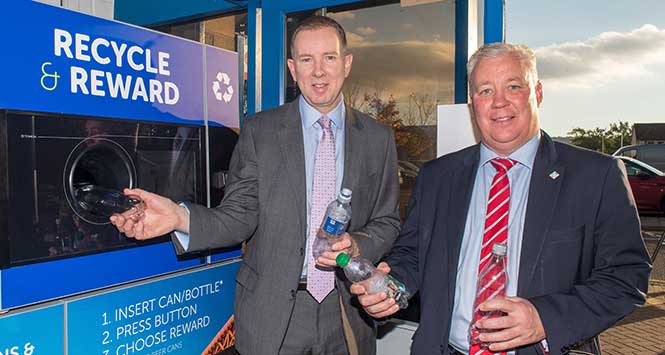 "At SGF we've spent a lot of time understanding DRS, examining how it works in other countries, engaging with experts in the field and having input into how a DRS scheme should work in Scotland," he says. "A delegation from SGF visited Sweden, Lithuania and Norway to study DRS in detail and those learnings have been vital in allowing us to provide informed, high quality input into the establishment of an efficient, workable scheme"
Cheema expects DRS to be managed by a Scottish operator and believes that SGF should be part of the operating group. He adds: "We also feel strongly that the Scottish Government and Zero Waste Scotland should not be involved because we don't want damaging 'leakage' in the system. Models in other countries that run successful DRS systems usually feature system operator groups that include the national trade federation plus the manufacturers who are central to the commercial infrastructure of the system. It's vital that the scheme is managed and run by people who understand it at a practical level."
SGF has also taken a very pragmatic and practical approach to tackling another issue that frequently causes retailers problems: licensing. Cheema recently took the decision to set up a professional licensing training arm of the Federation, managed by Scottish licensing stalwart Janet Hood.
"The training will be carried out at Federation House and will allow local retailers to carry out all of their required licensing training here in Edinburgh," explains Cheema. "In an increasingly regulated environment, training is going to become key in the future. That's why we have also embarked on a partnership with Love Learning which means that over 16s earning under £22,000 a year will be entitled to a £200 grant to cover the costs of their licensing training. We can also help with access to funding for food hygiene training and under-age sales training which makes the training effectively free."
There's no doubt that Cheema's direct approach to making things happen has transformed the SGF into a very different Federation from the one he inherited. Some feathers had been ruffled along the way but when major change is long overdue, tough decisions have to be made – and Cheema, recently made an OBE, hasn't been afraid to make them.
"I run the SGF like it's my own business," he says. "I take it very personally, I work very long hours and I am utterly committed to the representing the convenience retailing sector to the very best of my abilities. I like to think that the SGF in 2018 is a highly professional organisation doing exactly what a strong industry body should be doing. We are evolving in line with the needs of our Members and they have never been better represented.
"But – and it's a big but – there's still a lot more work to do so I would encourage everyone – retailers, wholesalers and suppliers – to get behind SGF and make it work even harder for them. In particular I would encourage our retailer Members, and that includes all symbol group retailers, to get involved with us by coming along to events, giving us feedback and participating in important dialogues. This is your Federation and only by working with us can you maximise the benefit we can bring to your businesses."
SGF Events Panel
A core focus on the SGF's activity has been to bring retailers, wholesaler and suppliers together more often.
January
Wednesday 30 | SGF Cross Party Group Meeting, Scottish Parliament, Edinburgh
February
Thursday 7 | SGF Crime Seminar, RBS Business School, Gogarburn
March
(TBC) | SGF Study Tour, Dunoon
April
Wednesday 30 | SGF Mini Summit, McDonald Inchyra Hotel, Falkirk
May
Wednesday 22 | SGF Cross Party Group Meeting, Scottish Parliament, Edinburgh
June
(TBC) | SGF Networking Event, RBS Business School, Gogarburn
August
Wednesday 28 | SGF Cross Party Group Meeting, Scottish Parliament, Edinburgh
September
Wednesday 11 | SGF Golf Outing, Cameron House, Loch Lomond
November
(TBC) | SGF Annual Conference
Wednesday 27 | SGF Cross Party Group Meeting, Scottish Parliament, Edinburgh