Weekly turnover at a Paisley convenience store has increased by 70% since it was taken over by new owners in December last year, according to Nisa.
The 3,000sq ft Nisa Linwood was bought by the Ahmed family one week before Christmas and began trading immediately, with development work carried out overnight and during quieter trading periods.
By early February 2019 the store, which previously traded under a rival fascia, saw turnover increase by more than 30%, with a range of measures introduced to grow the business.
Owner Aadil Ahmed said: "Before we were able to commence the full refurbishment, we implemented a number of changes including introducing Co-op products, installing a free-to-use cash machine in the window and most importantly, focusing on building a good relationship with the community. We feel good customer service has been one of the main factors contributing to the success of the store."
By May, and before the refurbishment had been carried out, sales had increased by a further 20% with new lines constantly introduced to the store.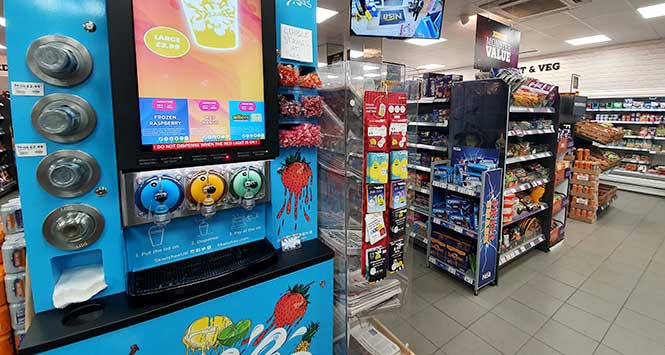 The store was refurbished at the end of May with steps taken to improve it and create a welcoming shopping environment.
Aadil said: "We decided to follow a similar layout to Nisa's Stoneleigh 2019 store with split aisles encouraging customers to walk through the middle to promote impulse products – this is working a treat. We also raised the shelving height and added gallow arm signs to aid customers around the store. But the main purpose of the refurb was to introduce food-to-go, Equi's ice-cream and coffee."
Using six months' worth of EPoS data to create the new layout allowed products to be removed which weren't working and focus on the ones that were. Removing old freezer islands enabled the floor area to be maximised and the facings of fast-selling products extended.
The signage was completed in July with the latest Nisa Evolution fascia installed; since the finishing touches were added sales have increased by a further 17%.
"We know the Nisa sign, lighting and graphics made a huge difference as we see a lot of new customers are still coming in," said Aadil.
"Since December we have increased weekly turnover by more than 70% and we feel there is still scope to improve that and with Christmas around the corner we feel it is certainly achievable."