The new regulations will help shoppers make much more informed choices about the pre-packed food they buy – and could even save lives, says Geoff Ogle, Chief Executive of Food Standards Scotland.
---
Starting today (1 October 2021), British shoppers can expect to see far more detailed ingredient information carried on all the pre-packed food they buy – be that sandwiches from their high-street delis, fresh pizzas from major supermarkets, even small packets of specialist sweets from family-owned local shops.
The most common reason for food recalls now is because of issues around allergens.
Every food and drink business will be required to list every single ingredient used in what the industry calls 'pre-packed for direct sale' (PPDS) items, but most importantly, they will also have to clearly highlight any one of 14 core allergenic ingredients they might contain, such as molluscs, gluten, fish and sesame.
PPDS technically covers any food item that's packaged, so that the contents cannot be altered before being sold to the customer.
Sesame, of course, was at the centre of one of the UK's highest profile cases of tragic allergic reaction in recent years, when in 2016, 15-year-old Natasha Ednan-Laperouse died after unknowingly eating a baguette which had been made with sesame seeds.
Her devastated family – and others affected by what's considered by many experts to be a growing national epidemic of intolerances and allergic food reaction – spent the next three years tirelessly campaigning for better laws to protect allergen suffers from serious or life-threatening reactions to food or drink, to ensure we can all avoid such tragedies ever happening again.
'Natasha's Law' now requires all British food businesses to have complete lists of ingredients printed on all PPDS food product labels, before they are offered directly to the public, even from market stalls, food trucks, or ice-cream vans.
Food Standards Scotland has always been fully committed to better clarity on food labels, because informed consumers can make better, more informed decisions that help consumers protect themselves.
The new law's introduction is a massive step ahead for transparency for consumers of the UK's food labelling requirements.
It makes it quicker, easier and clearer for around 200,000 food allergy sufferers in Scotland to make safer choices when buying their food.
Latest figures suggest there were 567 Scottish hospitalisations due to anaphylaxis in 2020.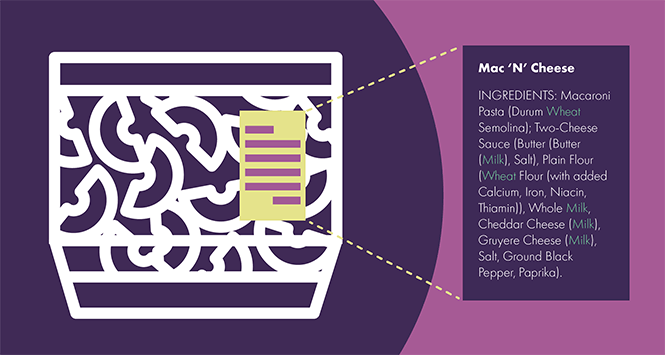 If this new law can save just one illness or tragic loss of life from allergic reaction to something in food, it's legislation well founded.
Of course, we also appreciate this more complete food signposting now required is a step change, and a potentially complicated one, for many Scottish food and drink producers.
Our figures show 11,230 Scottish businesses – the vast majority small to medium companies, but also 265 larger firms – could be directly affected by the legislation and so could face having to foot potential costs of extra facilities or staff to handle the process.
So FSS has for months been working with countless retailers of PPDS products to ensure they are fully supported and guided in making the necessary changes as they transition to this new era of more comprehensive food labelling.
Core to this has been an exhaustive nationwide engagement process to assess the benefits, risks and impacts of this new legislation accurately and economically.
We have developed a range of products, practical guidance and online resources, including an allergen training package for them to access, and businesses can also use the free FSS MenuCal tool.
It means, for instance, fresh sandwiches prepared and placed into packaging before lunchtime shoppers eventually buy them, or food prepared and packaged which an operator then sells at a market stall, will have to be comprehensively and clearly labelled.
At hundreds of supermarkets, everyday items such as boxed salads packed on site and placed onto a refrigerated shelf prior to sale, will also have to have their ingredients more thoroughly signposted.
Buns or cakes made by local bakers, too, packaged on the same premises before being sold to others, will now have to have their contents roll-called in full.
Essentially, this new law means the complete gamut of Scottish packaged food produce will now be better protected for millions of us, our families, our friends and loved ones, who might have food allergies.
Even one case of an allergic reaction to something hidden within our food, is one case too many.
With it now firmly in place, coupled with more awareness by everyone to what they are eating, and the financial and operational sacrifices being made to comply right now by food companies across Scotland, we are confident that ultimately Scottish lives will be saved as a result.