In an open discussion with SLR, My Local Chief Executive Mike Greene discusses why he has returned to retail, what made him acquire 140 failing Morrisons c-stores, and his plans for the chain – where there is a major focus on fresh and local products.
by Kevin Scott
---
Heads turned on 9th September when it was announced that Mike Greene – a man labelled a 'retail veteran' but really much more than that – had sealed a £25m deal to acquire Morrisons entire convenience chain – 140 stores in total.
Ahead of his presentation at the SGF Conference – his first public appearance since the deal, SLR caught up with Greene to discuss why he has decided to return to convenience, and what his plans are for the chain that will now be called My Local.
Contrary to common knowledge, M Local does have a foothold in Scotland, albeit with a single store in Edinburgh, and another that Morrisons closed (more on that later). Greene hints that Scottish expansion is on the radar but it is unlikely before 2017. Nevertheless, Greene's expertise in convenience retailing makes the deal of huge interest.
A bit of background first: Greene's first foray into retail was as a paperboy before working for Martins and Spar, among other ventures. Despite being declared bankrupt, he recovered to found the research consultancy him! before selling that business. He has been chairman of ACS, sat on the board of NACS and even appeared on Channel 4's The Secret Millionaire. Since that life-changing experience, Greene and his family have become involved in over 40 charities, though it is retail that remains his driving passion.
"I loved my time at him! but I missed stores," he says. "It's good to be back – it's something I always wanted to do."
He first identified Morrisons' failing convenience division earlier in the year and with the backing of Greybull Capital was able to close the deal.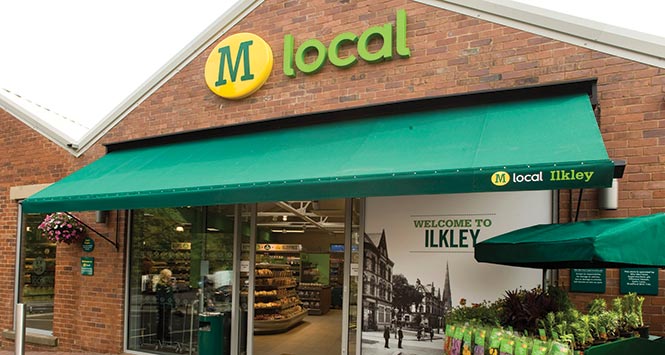 Morrisons' convenience division lost £36m last year, which on the surface doesn't make it too appealing. "Most of that was through its distribution costs," explains Greene. "Some of the stores are doing between £60-70,000 a week – there's huge potential."
The challenge faced by Morrisons was that those distribution costs were two to three times what an independent would pay, while overheads resulting from Morrisons head office along with an overspend on set-up made it impossible to turn a profit.
"When you take those elements away, we'll be profitable in year one," says Greene. Of the 140 stores acquired, 10 have been closed by Morrisons. Those will be reopened at a rate of around one a week once the major rebranding is in place. And that itself is one of the biggest retail turnarounds in convenience history.
For any retailer who has ever carried out refurbishments while minimising the impact on takings, the rebranding from M Local to My Local is shiver-inducing stuff. On Sunday 25th October all 130 stores around the UK closed their doors between 2-5pm to allow a team to move in, de-stock, rebrand, re-stock, put new systems in place and replace the fascia outside, before reopening as a My Local the next morning at 7am.
"We've got a great team on board," says Greene, with a laugh. "It's the exactly the sort of challenge I missed."
The stores will be serviced by Nisa, after a five-year deal was signed. "We need to be strong on fresh, healthy and own-label and that's where Nisa is strong. Heritage is a great brand and it's not directly linked to the group in the way Spar or Budgens products are. Plus the McColl's deal showed that Nisa can service a huge number of stores."
My Local will become the group's second biggest customer, after McColl's. "There is capacity there since Costcutter departed, and we're happy to fill some of that space," says Greene.
From the top down
By building a strong team from senior management down, Greene has a strong belief that the skills, passion and dedication of everyone involved will make a success of the business. Among his key appointments are former him! exec Jonathan Rons and former Nisa symbol boss Raj Krishnan. The biggest eyebrow raiser though was the appointment of former Nisa CEO and joint MD of him! International, Neil Turton, who has joined My Local as Trading Director.
"The senior management team we're putting together is fantastic," says Greene. "The passion they have for convenience retail is second to none."
Store managers will work for the company as opposed to being symbol members, but Greene says there will be an element of freedom. "There are great teams in all the stores. They are passionate and love the convenience sector. That's a challenge supermarkets have – their staff see what they do as just a job, whereas I think there's more of a personal investment in convenience."
Since acquiring the business, Greene has been seeing a fair section of the British countryside as he attempts to visit every store in the estate (when we spoke to him he was en route to Wales and had just a handful of stores left to see). "I love it," he says. "The staff have been bloody brilliant. Often you'll find in convenience that staff training consists of shadowing someone, so good and bad habits are picked up. These guys have had world class training from Morrisons, but they think like convenience retailers."
So the plan is to maintain Morrisons standards of training and discipline while engendering an indie mentality. Ingeniously, managers will have their own input thanks to 'Dear Jon' letters – which they can pen to Jonathan Rons, detailing how they believe their stores can be adapted to suit their local audience. By having 130 managers doing this, the business can benefit from the input of everyone. "It's been genuinely humbling to visit the stores", says Greene. "Staff are talking like they're part of My Local even through the rebranding hasn't taken place yet."
The five F's
Fresh food, fair price, full range, fast and friendly service. Those are the principles upon which the business will operate. Fresh is a word that crops up a lot in the conversation. Greene believes that as convenience evolves and more shoppers see the sector as a destination for everything they need on a day to day basis, it can compete with the multiples on fresh. "They're better at it because they invest more in it," he says. "But I wouldn't say all of them are even that great at it. If you're going to do fresh properly you need to invest around 4% of your spend in it, know that you'll have wastage and deal with it."
He continues: "Supermarkets tend to give fresh too much space. I'd rather have less space and have that looking abundant with stock. If you give it too much space, it leads other categories to underperform as they won't have sufficient space."
The key then is investment and education. You need lots of both to make fresh work, but it can lead to sales increasing throughout the whole store. Fresh can be a gamechanger for c-stores who get it right – it can raise the reputation of a store, as a good fresh offer creates hugely positive perceptions that carry into every category.
Local sourcing will play its part in My Local too. Every store will source 5% of its range from suppliers within a 15-mile radius, while up to 20% can come from regional producers. "There's got to be that balance. A store in Cornwall and Scotland can't have the same range, so we'll be building that local side as we grow food to go, coffee and so on."
Put simply, it's about getting the offer right. There's no point stocking £15 wine that's on central allocation in a store in a housing scheme, for example.
Premium pricing?
Profits at My Local will be driven in part by an increase in prices, which will roughly increase margins by 2%. "We're going to be pitched around the same level as the Co-op," says Greene. "I've seen enough research over the last 20 years to know that shoppers will pay that bit more for convenience. We will offer a fair price relative to the location."
As an example he cites the fact that an M Local on Oxford Street in London was selling soft drinks 50% cheaper than a Subway next door. Bump that price up and it's still cheaper.
Community spirit will also thrive in the stores. Each shop will work with a local charity within one mile of the store, through localgiving.com – a charity that counts Greene as a patron. This will dovetail with Nisa's Making a Difference Locally. "That one mile is important," he says. "From him! I know that the vast majority of shoppers come from within that one-mile radius."
The newest player in the ever-expanding convenience sector is well on its way. "I was excited by it even at the point I was having initial discussions with investors, but now, going round the stores, it's unbelievable."
Sales in some stores are up 10% since Greene took over, and that's even before rebranding took place.
"We can go further," says Greene. The question for Scotland is whether that growth will come north of the border – with Greene saying more stores, and even franchises could be on the table. There's no firm commitment on anything other than getting everything where he wants it by the end of 2016 – but whatever happens it's going to be a fascinating journey.