Gulf puts some Oomph into Scotland's forecourts
Certas Energy is investing in the Gulf brand with a refreshed programme of investment and innovation to drive increased revenues and profits for retailers.
In the fast-changing world that is forecourt retailing, Larbert-based Certas Energy has announced plans to continue investing to future-proof the Gulf brand and drive improved revenues to the forecourts of its Scottish network.
Recent demonstrations of that long-term commitment include an eye-catching new forecourt image, an industry-first forecourt loyalty platform and an exclusive arrangement with software technology leader, Orbis Tech.
All are major investments that signal Gulf Retail's commitment to "become the supplier of choice for Scotland's independently owned forecourts".
Making waves
Investment in a fresh new modern image was hailed as another step forward by the company as Gulf looks to improve every aspect of the its dealer package. Before embarking upon this project, the company undertook extensive research among consumers and dealers. The clean 'curvy' style was deemed to best maintain the strongest elements of the Gulf brand and has been positively welcomed and looks set to widen its appeal among motorists and shoppers.
"We wanted to create a modern, fresh and eye-catching look that could work across a wide variety of forecourt shapes, sizes and layouts," explains Gerry Welsh, Retail Marketing Manager, Certas Energy. "It also required a practical approach in terms of costs, installation and maintenance. Special considerations were made to ensure that the design system would be flexible enough to fit on any forecourt as almost every forecourt has a unique footprint. A modular construction approach ensures production costs are kept to a minimum whilst making sure the integrity of the design is always maintained."
Technical exclusive
A second major strand of Certas Energy's recent work has been the signing of an exclusive agreement with Orbis Tech, the EPoS site system software technology leader. The deal extends across the Certas Energy COCO estate and Gulf-branded dealers will enjoy at least a 15% saving on software upgrades, POS, back-office and head-office systems, with the Orbis Tech set-up costs already absorbed by Gulf Retail.
The shift to Orbis Tech was a strategic business move that allowed Gulf Retail to establish a single head-office, back-office and point-of-sale platform across its entire estate. The advantage of Orbis over many 'legacy' systems is that as well as being fully integrated, it is a cloud-based system which improves security, provides information in real time rather than at the end of a shift, and allows access at anytime from anywhere, believes Welsh.
"Providing our Gulf Dealers with the tools to improve revenues and profitability is fundamental to the Gulf philosophy," he comments. "Orbis Tech has created its reputation in the retail and hospitality sectors and is now making significant in-roads into petrol retailing. Its product and service solutions will further empower Gulf retailers in their day to day business operations and allow them, on site or remotely, to fully exploit consumer demand for convenience-led cross promotions with fuel, coffee, food-to-go, groceries and any other retail offerings."
Adding some Oomph
The third major initiative sees Gulf Retail roll out its Oomph loyalty platform using the latest technologies to drive new revenues to Gulf dealers. The solution enables dealers to strengthen customer retention across the network.
Working in partnership with Azpiral, the market leader in customer engagement solutions for the forecourt and convenience sector, this major new initiative allows Gulf dealers to talk to their customers and tailor offers to specific groups via SMS, email and a dedicated phone app.
Its versatility extends to the point of purchase, where customers are rewarded with points for utilising the app and smart card. Accumulated points are redeemable to support local charities and gain entry to a 'big ticket' monthly draw. Dealers can further reward their customers with bespoke offers such as in store-discounts, free coffees and car washes.
"Oomph results from requests by forecourt businesses, large and small, who see great merit in providing their customers with a nationwide loyalty platform with local marketing capabilities," adds Welsh. "By integrating their EPoS with the Gulf platform, dealers can also understand more fully the buying behaviour of their customers.
"We are in discussions with several global brands to further develop the 'Monthly Prize Haul' and shall use our COCO estate across Scotland as a test bed for new ideas. We plan to make Oomph the most engaging loyalty platform in the industry for consumers and the most cost-effective for dealers and can see no bounds to its future potential."
---
Full steam ahead for JET in Scotland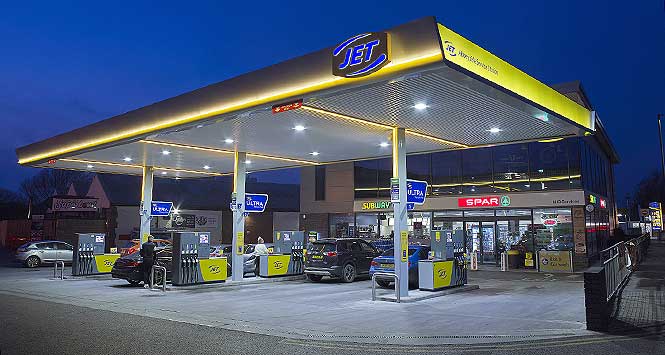 Following the launch earlier this year of a new image prototype and the subsequent hiring of a new Retail Business Manager, JET is fully geared-up and focusing heavily on the Scottish independently-owned sector. There are around 50 Jet-branded sites currently in Scotland.
The new-look branding at JET Abbeyside in Selby, North Yorkshire, a company-owned site, was developed in response to dealer and consumer feedback and incorporates an array of improvements, including an angled canopy with additional LED lighting, clearer signage, branded premium fuels and an innovative pole sign with clear pricing of all products.
Overall the new image creates a welcoming environment and offers a refreshed contemporary look that is still distinctively JET, says the company. The prototype is still being piloted at company-owned sites before a further trial at a number of JET's independently-owned sites is undertaken.
Mary Wolf, Managing Director UK Marketing at Phillips 66, comments: "We are proud of JET's UK heritage, and we are dedicated to remaining a strong, reliable brand that is competitive in the market. We've listened to the consumer, and to our dealers and have developed a new image that is modern and inviting, and provides a safe, friendly, clean environment for consumers.
"By strengthening our brand and reimaging our forecourts we will support our dealers to better compete in today's challenging fuel market."
JET's focus on growing the brand was subsequently bolstered with the appointment of Oliver Müller as Retail Business Manager to drive further growth in the company's UK dealer network. Müller joined from JET's Hamburg office in Germany and took over from Sönke Voges.
Having joined the business in 2002, he has an extensive retail background including time working in the Phillips 66 head office in the United States.
Wolf comments: "Oliver brings a wealth of retail experience and knowledge to the role along with huge passion for the JET brand, making him ideally placed to execute our exciting plans for the JET brand and to grow and strengthen our dealer network. We are very pleased to have Oliver in his new role."
---
Prestwick Londis named Forecourt Retailer of the Year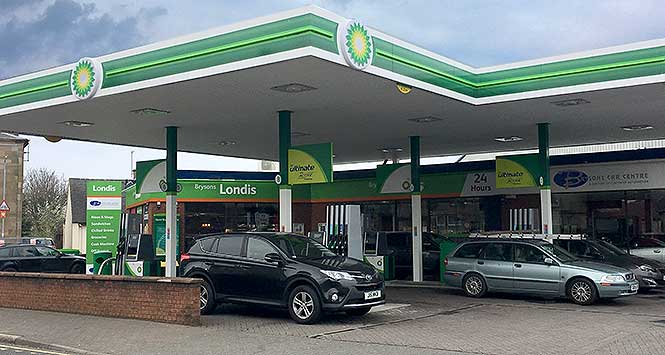 Following a massive-scale refit of his 117-year-old business, Walter Bryson's Londis forecourt in Prestwick has been named Forecourt Retailer of the Year at this year's SLR Rewards, sponsored by Lucozade Ribena Suntory.
Founded in 1902 by a gentleman by the name of David Bryson, the Brysons forecourt and car centre in Prestwick is one of the oldest forecourt businesses in Scotland. The third-generation enterprise is now managed by David's grandsons Walter and Peter and is undoubtedly stronger as a business than it ever has been. The secret to that success over 117 years boils down to one key thing: a desire and appetite to continually redevelop the business to keep it relevant and vital for the many customers who use it every day of every week of every year.
The latest example of this is last year's huge refit that basically rendered the new store unrecognisable from the one it replaced. Remarkably, the one it replaced wasn't too shabby in the first place but Walter's passion for staying ahead of the curve and not just keeping up with it meant that a full-scale refit was the preferred option. And this isn't the first time that Walter has had the courage to effectively rip everything up and start again.
Walter explains: "We have a lot of competition in this part of the world and we could see that the world was changing, and shopper demands were evolving fast. We knew we had to keep ahead of that evolution and while it would have been cheaper and easier to tinker with the store and update a few areas, we felt that to really deliver a future-proofed store that would be relevant for the next five or 10 years, we had to make some significant improvements."
Another secret of the 24-hour store's sustained success has been a willingness to spend big when it's required. Cutting corners is not Walter's style, as the refit makes clear. But while the refit would dramatically enhance the look and feel of the spacious forecourt, the principal aim was to shift the key focus of the store onto food-to-go.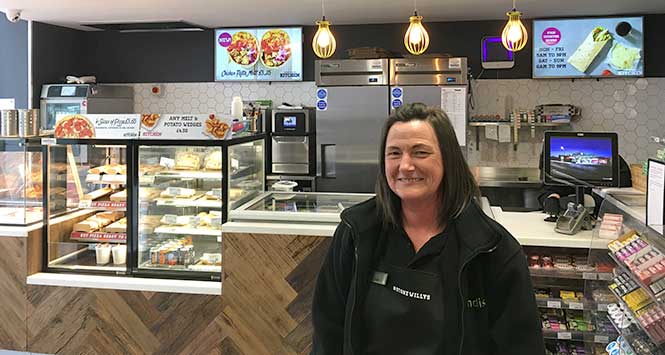 "We'd been doing food-to-go for a couple of years and it had been growing. We'd been adding new lines and solutions as we went but the refit let us start again almost from scratch and build the sort of store we would want to shop in," says Walter.
The result was that around half of the store was given over to the burgeoning food-to-go offer. A full serve-over counter was added along with additional chilled food-to-go space. The chosen provider was Stone Willy's, which offered Walter a full hot and cold food-to-go solution. This includes hot and cold filled rolls, baguettes, pasta pots and hot pizza wraps. A Covent Garden self-service soup dispenser was added, as were slush and Tango Ice Blast machines. The Costa coffee offer was also upweighted with the addition of a second machine.
The refit also added a huge plate glass window that allows fuel customers and passers-by to clearly see the new food-to-go counter. This has helped drive footfall and impulse sales. The local schoolchildren have also taken to the new offer with a passion. Visit any weekday lunchtime and you'll see a queue out the door.
Critically, the full food-to-go section of the store was fitted out to the highest standards which Walter felt was vital in giving customers the confidence to buy from it.
"Food to go is reliant on customer confidence," he explains. "If the unit is messy, untidy or half-empty then customers are less happy to buy from it – so we've set standards very high and we're totally focused on keeping them that way."
As for the rest of the store, much of the grocery range has been removed along with a huge cull of slower-selling lines. This drastic measure made Walter nervous at the time, but his courage has been rewarded; food-to-go sales are up 31% and the store's overall margins have increased significantly too.
But it wasn't all about the store; the forecourt drives 69% of sales and was given a new lease of life with a full refit, entirely in line with the slick new look of the store.
Tom Gaw, National Account Controller for the SLR Rewards category sponsor Lucozade Ribena Suntory, comments: "The standard of entries in this category was incredibly high, but Walter and his team blew us away when we visited their Prestwick store. They really are the gold standard of forecourt retailing and very worthy winners. Congratulations from all of us at Lucozade Ribena Suntory!"